This page has been copied from Wikipedia under the provisions of the GNU Free Documentation License.
Please help Baseball Wiki by revising it.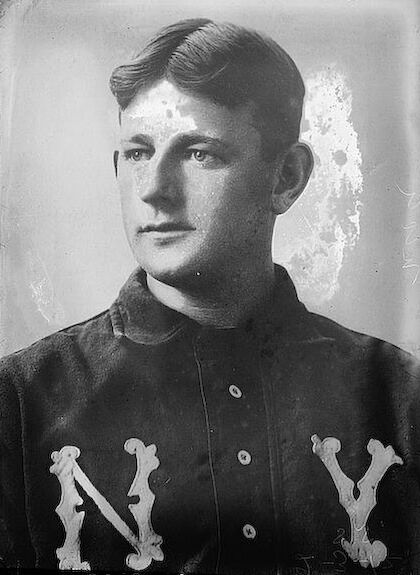 John Dwight Chesbro (June 5, 1874 – November 6, 1931) was a Major League Baseball pitcher at the turn of the 20th century. He was nicknamed "Happy Jack".
Chesbro, a spitballer (spitballs were legal until 1920), broke into the majors in 1899 with the Pittsburgh Pirates. He pitched for the Pirates until 1902 and in his final year went an astonishing 28-6 with a 2.17 ERA.
In 1903 Chesbro moved to the newly formed New York Highlanders (soon to be New York Yankees) and pitched the franchise's first game. In 1904, he had one of the finest years in the history of pitching, starting 51 games and completing a modern record (since 1900) of 48 complete games. (Vic Willis holds modern NL record of 46 complete games while posting a 1.82 ERA, struck out 239 batters, and 41 wins over 454.7 innings pitched. He nearly led the Highlanders to the 1904 American League pennant over the Boston Americans, but lost the next-to-last game of the season when one of his spitballs got away from him in the top of the ninth. Boston scored on the resulting wild pitch, and the Highlanders were shut out in the bottom frame. The batter followed with a single, so the winning run likely would have scored anyway, but many felt that, if the runner were on third, pitching patterns and psychology would have been different. Chesbro's wife tried, unsuccessfully of course, for many years to have the "wild pitch" changed to a "passed ball" call.
His 41 wins are the most ever for a modern-era baseball season. It is one of the oldest major records in baseball, or in any other sport. Like many of the pitching records set in baseball's first half century, it is virtually unbreakable under current pitching practices. In addition to his 51 starts, he also made 4 relief appearances, getting a decision in 96% of them, for a record of 41-12. Today, complete games are a rarity. The most recent pitcher to have even as many as 40 starts in a season was Charlie Hough in 1987.
Chesbro retired in 1909, having accumulated a 198-132 career record and been part of two pennant-winning teams (in 1901 and 1902).
Chesbro was selected to the Baseball Hall of Fame in 1946, with 10 other players baseball players and figures, and was inducted in 1947.
See also
External links