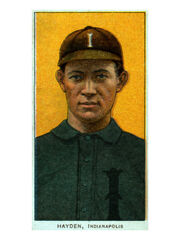 John Francis Hayden (October 21, 1880 - August 3, 1942) was a reserve outfielder in Major League Baseball who played between the 1901 and 1908 seasons for the Philadelphia Athletics (1901), Boston Americans (1906) and Chicago Cubs (1908). Listed at 5'9", 170 lb., Hayden batted and threw left-handed. A native of Bryn Mawr, Pennsylvania, he studied at Villanova University.
In a three-season career, Hayden was a .251 hitter (145-for-578) with one home run and 33 RBI in 147 games, including 60 runs, 14 doubles, eight triples, and 11 stolen bases. He made 146 outfield appearances at right field (112), left (30) and center (4).
Hayden died in Havertown, Pennsylvania at age 61.
During a game against the Yankees at Hilltop Park, Americans second baseman Hobe Ferris, notorious for his hard style of play, got into a nasty fight with Hayden, who was accused by Ferris of lackadaisical play. After they were separated, Hayden returned to the bench and Ferriss ran after him and kicked him in the face. Both were ejected from the game, but Ferris refused to go. Two policemen escorted him to the clubhouse and later was arrested for assault. After that, Ferris was suspended for the remainder of the season. This was the first time in major league history that teammates had been ejected for fighting each other (September 11, 1906).
The Baseball Page
Community content is available under
CC-BY-SA
unless otherwise noted.