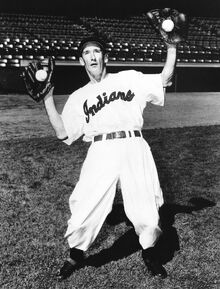 John Thomas Reid Price (November 13, 1912 – October 2, 1967) was a Major League Baseball shortstop who played in seven games for the Cleveland Indians during the 1946 Cleveland Indians season.He was known for delighting fans with his skills - such as batting whilst hanging upside-down or throwing three balls to three different men in one movement- and was dubbed "the Clown Prince of Baseball" for antics which included releasing a pair of five-foot Boa constrictors on board a train. Price briefly teamed up with Max Patkin, another baseball clown; together they were described by Boston Red Sox manager Lou Boudreau as the "funniest show I ever saw."
He  committed suicide by hanging himself in 1967.
Community content is available under
CC-BY-SA
unless otherwise noted.