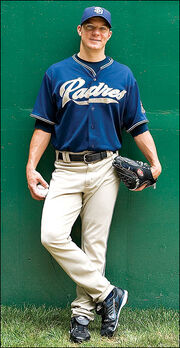 Jacob "Jake" Edward Peavy, (born 31 May, 1981, in Mobile, Alabama, USA) is a starting pitcher in Major League Baseball who plays for the Chicago White Sox. He bats and throws right handed.
Peavy stands 6'1" feet tall (1.85 m) and weighs 182 pounds (82.72 kg).
Career in baseball
Edit
He was developed by the San Diego Padres minor league system after being drafted out of high school, where he attended St. Paul's Episcopal School. Peavy declined an offer to pitch for Auburn University in order to accept the Padres' contract offer. In 2001 Jake was promoted to the Padres' Class Double-A team, which also made its home in Mobile, Alabama. He spent parts of both the 2001 and 2002 seasons playing for the Mobile BayBears.
During his third year of major league experience in 2004, Peavy emerged as the Padres' ace starting pitcher and one of the best pitchers in baseball. He compiled a 15-6 record, struck out 173 in 166 innings and led the Major Leagues with a 2.27 ERA.
On February 28, 2005 Jake signed a four-year contract extension with San Diego.
During the 2005 season, Peavy was selected for the National League All-Star team and ended the regular season leading the National League in strikeouts with 216 (in 203 innings). He was second in the Majors to Minnesota's Johan Santana who had 238 strikeouts. In addition he finished the season with a 13-7 record, 2.88 ERA, a strikeout-to-walk ratio of over 4:1 and WHIP of 1.044.
After the Padres won the National League West in 2005, Peavy was widely considered their key for upsetting the St. Louis Cardinals, who they faced in the National League Division Series. However, Peavy gave up 8 runs in the first game, and afterwards it was announced that he would miss the rest of the season with a broken rib, which he apparently suffered while celebrating the Padres clinching the NL West Championship [1].
Peavy was a member of Team USA in the 2006 World Baseball Classic. He started the opening game for the U.S., a 2-0 win over Mexico, giving up just 1 hit and no runs over three innings. He did not factor in the decision in the second round game against Japan, as he gave up 3 runs in 5 innings in a game that the U.S. won, 4-3.
In 2006, Peavy got off to a rocky start, in part due to mechanical adjustments brought on by various off-season injuries. Although Peavy would go only 11–14 with a 4.09 ERA, he still managed to finish second in the National League in strikeouts with 215, one shy of both his 2005 league-leading total and of the 2006 NL strikeout leader, Aaron Harang who logged 32 more innings than Peavy. In the playoffs, the Padres again faced the St. Louis Cardinals in the first round. As the game one starter, Peavy had a much stronger outing than his 2005 playoff game, but the Padres again lost to the Cardinals.
On July 1, 2007, for the second time in his career, Peavy was named to the 2007 NL All-Star Team (along with Trevor Hoffman and Chris Young). On July 9, he was named as the starting pitcher for the NL.
On August 2, 2007 Peavy struck out Arizona Diamondbacks outfielder Jeff DaVanon, for his 1000th career strikeout.
Peavy won the pitching Triple Crown in 2007, leading the National League with 19 wins, 240 strikeouts, and a 2.54 ERA. Since the divisional play era started in 1969, Peavy is only the eighth player to accomplish this feat [1]. On October 23, Peavy won the Players Choice Award for Outstanding NL Pitcher. [2] He added the NL Cy Young -- as a unanimous choice -- on November 15,[3] becoming just the 10th National League player in history to win the Cy Young Award in a unanimous vote (Sandy Koufax was unanimously selected three times)[4].
The completion of the 2007 campaign represented Peavy's sixth year in the league. Over that six-year period Peavy collected two strikeout champion awards, two major league ERA titles, and a unanimous, triple-crown Cy Young Award.
On December 12, 2007, he signed a 4 year extension, worth $52 million with the Padres. [5] At the time the contract was the largest in Padres history. The contract includes a $22 million option for 2013.
On April 5, 2008, Peavy pitched a two-hit complete game over the Los Angeles Dodgers. The following day, still-images from FOX sports video feed from the game showed a dirty, brown substance on the index and middle fingers, along with his thumb. Manager Bud Black defended Peavy saying that "it was a mixture of dirt and rosin". In the two games immediately following the report, Peavy posted a 1–0 record with a 1.92 ERA. In May he went on the DL with a sore throwing elbow. He returned on June 12 and pitched six shutout innings with four strikeouts. He ended 2008 with only a 10–11 record, but had one of the lowest run support per start of any pitcher in the league, and finished the season with a 2.85 ERA.
Peavy has been the subject of numerous trade rumors during the 2008 offseason, [6] amidst reports that the Padres were looking to reduce salaries and build on young players for the future. In November 2008, Peavy added the New York Yankees to the list of teams he would accept a trade to. The list includes several teams from the NL including the Atlanta Braves, St. Louis Cardinals, the Chicago Cubs, the Los Angeles Dodgers, and the Houston Astros. Peavy preferred to be in the NL, so the Yankees would not be involved. The Astros and Cardinals decided they wouldn't pursue Peavy after talking with GM Kevin Towers on what they would have to give up. However, there were in fact two teams who were in deep talks of acquiring Peavy: the Cubs and the Braves.
In November 2008, the Padres were working with the Braves on a Peavy trade, in which Peavy would be traded to Atlanta for SS Yunel Escobar, OF Gorkys Hernandez, P Blaine Boyer and one of P Charlie Morton or P Jo-Jo Reyes. [7] The Padres also wanted the two top prospects in the organization as well: P Tommy Hanson and OF Jordan Schafer, but after a few weeks, the Braves decided to move on to bring in a few free agents.
Peavy was almost perfect in spring training, pitching 14 total innings with no runs allowed, 10 strikeouts and no walks. [8] Jake Peavy rejected a trade to the Chicago White Sox, which included Aaron Poreda and Clayton Richard, saying that remaining in San Diego was best for him and his family. [9] On May 22, Peavy hurt his ankle rounding third base against the Chicago Cubs in a start where he earned the win with 6 scoreless innings and 10 strikeouts a day after rejecting a trade to Chicago's AL team (White Sox). On June 12, Peavy learned he had a strained tendon in the back of his ankle, suffered in the May 22nd start. He was placed on the DL the same day. At the time of his injury, Peavy was 6-6 with 3.96 ERA and 92 strikeouts.
On July 31, Peavy agreed to a trade to the Chicago White Sox in a last minute trade deadline day deal for Clayton Richard, Aaron Poreda, Adam Russell and Dexter Carter.[10]
Scouting Report
Edit
Peavy's repertoire includes two-seam and four-seam fastballs (90-96 mph), a changeup (80-84 mph), a hard slider (83-88 mph), and sports an occasional curveball (74-76 mph). Many players around the game point out Peavy's tremendous ability to maintain his composure in high-pressure situations and locate his pitches down as the key to his success against hitters.
Peavy is legally blind without contact lenses, according to ESPN.com
Arrested for disorderly conduct
Edit
On January 4, 2007, Peavy was arrested in Mobile County, Alabama for disorderly conduct relating to an incident at Mobile Regional Airport. Peavy was apparently headed for a goodwill tour of the Dominican Republic with other Major League Baseball players when he double parked his vehicle to drop off his bags. He was told by airport police to move his vehicle. He refused, and was subsequently arrested and released on a $350 bond.[11]
After public and private apologies to the officer and county officials involved, the charges against Peavy were dropped on January 26.[12]
References
Edit
External links
Edit
Community content is available under
CC-BY-SA
unless otherwise noted.