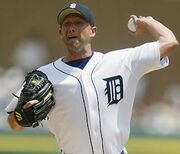 James Ross "Jamie" Walker (born July 1, 1971, in McMinnville, Tennessee) is a Major League Baseball relief pitcher who currently plays for the Baltimore Orioles. He previously pitched for the Kansas City Royals and Detroit Tigers.
Biography
Edit
Jamie Walker graduated from Warren County High School in McMinnville, Tennessee in 1989. He attended Austin Peay State University between 1990 and 1992, where he ranks fifth all-time in school history with 17 wins and first with three career shutouts.
In 2006, Walker nearly broke the major league record for most appearances in a season without a decision (no wins or losses). The record was held by Scott Aldred (a former Tiger, coincidentally), who made 48 appearances for the 1998 Tampa Bay Devil Rays while accomplishing this feat. By September 29 (with three games left in the season), he had pitched in 54 games without being credited with a win or a loss. However, he would surrender four runs on three home runs against his former team (the Kansas City Royals) in the top of the 11th inning and was charged with a loss. However, Aldred's record would only hold for one more season, as Trever Miller of the Houston Astros set the new mark with 76 decisionless appearances.
Video game alias
Edit
Jamie Walker is not a member of the MLBPA (Major League Baseball Players Association), based on his taking part in spring training during the 1994 Major League Baseball strike. For the video game MVP Baseball 2004, Jamie Walker is replaced by the fictional Makoto Miyagi. In the video game MVP Baseball 2005, Walker is replaced by the fictional Daryl Smith. In the video game MLB 07: The Show, he was replaced by the fictional Steve Cardwell. In Major League Baseball 2K7, Jamie is replaced by the more name-appropriate Jim Wilson, who retained Walker's 2006 season stats. In all four instances, the fictional characters attributes are based on the real Jamie Walker.
Honors and awards
Edit
Walker was named Ohio Valley Conference Pitcher of the Year in 1992. He was inducted into the Austin Peay State University Athletics Hall of Fame on February 8, 2003, and into the Warren County, Tennessee Sports Hall of Fame on December 19, 2006.
Personal life
Edit
Walker is married (wife Natalie) and has two sons (Ross, born 1995; James Leyland[1], born 2007) and two daughters (Harlee, born 1999; Hannah, born 2004). The family resides in Overland Park, Kansas.
Notes and references
Edit
External links
Edit
Community content is available under
CC-BY-SA
unless otherwise noted.