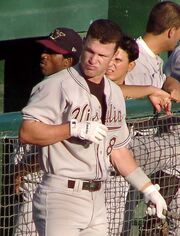 Jayson Truitt Nix (born August 26, 1982 in Dallas, Texas) is a Major League Baseball second baseman for the Cleveland Indians. The Colorado Rockies selected Nix as a sandwich pick (44th overall) between the first and second rounds of the 2001 Major League Baseball Draft as compensation for not signing their first round pick in the 2000 Major League Baseball Draft (Matt Harrington). He is the younger brother of Laynce Nix, who plays for the Cincinnati Reds.
Nix was born in Dallas, Texas, and still makes his offseason home there. He attended Midland High School in Midland, Texas, the hometown of First Lady Laura Bush, a point that President George W. Bush made to his wife while meeting with the Olympic team on August 11, 2008, in Beijing.[1]
Nix began the 2008 season as the Colorado Rockies starting second baseman but over the next month, he saw his playing time diminish. On April 26, 2008, Nix was designated for assignment. He had played in 17 games and batted .111 with no home runs. On April 30 he cleared waivers and was sent outright to Triple-A.
Nix was batting .300 with 17 home runs and 49 RBI for the Sky Sox in 2008 when his minor league season ended as a result of his being selected for the 2008 USA Olympic Baseball Team.[2]
In the team's third game at the Olympics, against Cuba, Nix hit a solo home run in the eighth inning. While leading off the eleventh inning with runners on first and second as per Olympic rules, Nix fouled a ball off his left eye. He left the game for the hospital and missed the rest of the Beijing Games. Team USA lost 5-4 to the defending champions in eleven innings.[3]
On October 28, 2008, Nix signed as a free agent with the Chicago White Sox.
On May 7, 2009 with the White Sox, Nix hit his 1st career home run off of Armando Galarraga. He followed with his second career home run just five days later.On May 30, 2010 Nix hit his first career grand slam against the Tampa Bay Rays.
On June 18, 2010, he was designated for assignment to make room for prospect infielder Dayán Viciedo.
On June 24, 2010, he was claimed off waivers by the Cleveland Indians, and the team sent down Luis Valbuena to make room for him.
References
External links
Template:Cleveland Indians roster navbox