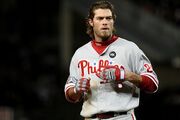 Jayson Richard Gowan Werth (born May 20, 1979) is an American former outfielder who played in Major League Baseball for the Toronto Blue Jays, Los Angeles Dodgers, Philadelphia Phillies and Washington Nationals. While primarily a right fielder throughout his career, Werth also played left fielder for the Nationals.
Background
Edit
Werth was born in Springfield, Illinois and comes from an athletic family. His sister, Hannah, is a volleyball player for the University of Nebraska. He is the son of Jeff Gowan (who led all Division I wide receivers in receptions while playing football for Illinois State University in 1976, and played in the St. Louis Cardinals minor league affiliate, the Johnson City Cardinals, in 1978)[1] and Kim Schofield Werth, who competed in the U.S. Olympic Trials in the long jump and 100 meters. He is also the grandson of Ducky Schofield and nephew of Dick Schofield, both Major League Baseball infielders, and stepson of Dennis Werth, who played in parts of four seasons with the Kansas City Royals and New York Yankees from 1979–1982. Werth is married with two children.[2]
Baseball career
Edit
Early career
Edit
Werth teamed up with three other pitchers to combine for a no-hitter in a 56–1 victory en route to a third place finish at Nationals. He first gained attention while attending Glenwood High School in Chatham, Illinois, where he compiled a .652 batting average in his senior year with 15 home runs in 31 games.
Werth initially planned on playing college ball at the University of Georgia, but changed his plans when he was drafted in the first round (22nd overall) by the Baltimore Orioles in the 1997 Major League Baseball Draft.
Prior to making his major league debut, the Orioles traded Werth to the Toronto Blue Jays for pitcher John Bale. Werth broke into the major leagues with the Toronto Blue Jays in 2002.
Los Angeles Dodgers
Edit
On March 29, 2004, Werth was traded to the Los Angeles Dodgers for Jason Frasor after compiling two seasons in Toronto.
During spring training, on March 2, 2005, Werth was hit by a pitch from A.J. Burnett that broke his left wrist. Despite the injury, Werth was able to play in 102 games during the 2005 season, hitting .234 with 7 home runs (compared to 16 the previous year, in fewer at-bats). Eight months later, Werth underwent exploratory surgery which revealed two ligament tears that were repaired; however, his discomfort never subsided. On May 21, 2006, Werth had cortisone injected into his wrist; the wrist was placed in a cast for three to four weeks. On June 28, Werth suffered another wrist injury, but returned August 2 against the Chicago Cubs and went 3-for-6, with 4 RBI and 1 stolen base. These injury problems caused him to miss the entire 2006 season.
Philadelphia Phillies
Edit
On December 19, 2006, Werth signed a one-year, $850,000 deal with the Philadelphia Phillies.
Werth had a career-high 5 hits on August 26, 2007, against the San Diego Padres, and extended his streak on August 27, 2007, against the New York Mets to nine hits in consecutive plate appearances, topping Pete Rose's mark of 8-for-8 during the 1979 season.[3]
In 2008, Werth began the season platooning with Geoff Jenkins in right field, but soon found himself playing every day in the early part of the season while regular center fielder Shane Victorino was on the disabled list. On May 16, he had a career night against the Blue Jays. He hit three home runs in one game, including a grand slam, a three-run home run, and a solo shot which put him one round-tripper short of hitting for the "homer cycle." He also tied the Phillies team record with 8 RBIs in one game.[4] For the season, he led the majors in home runs against left-handed pitchers, with 16.[5]
Despite being eligible for arbitration after the 2008 season, Werth agreed to a two-year contract with the Phillies worth $10 million on January 21, 2009.[6]
On May 12, 2009, Werth made a pure steal of home plate in a bases-loaded situation against the Los Angeles Dodgers, which came in the seventh inning after previously stealing both second and third base. Werth stole four bases in the game, leading the team to a 5–3 victory, and again tying a Phillies record.[7]
On June 27, Werth became the 14th player in Rogers Centre history to hit a home run into the stadium's 500 level. On July 10, Werth was named to the NL All-Star Team as a replacement for New York Mets' outfielder Carlos Beltran.
On July 21, in a home game against the Chicago Cubs, Werth hit his first career walk-off home run in the 13th inning against Jeff Samardzija to deliver a 4–1 victory for the Phillies. He led the majors in pitches per plate appearance during the 2009 season, with 4.50.[8] In Game 5 of the 2009 National League Championship Series, Werth hit home runs in the first and seventh innings, in a game which the Phillies won 10–4, clinching the series.
On May 9, 2010, Werth hit his 100th home run against Kenshin Kawakami in a 5–3 Phillies victory.
Washington Nationals
Edit
On December 5th, 2010, Werth signed a 7-year, $126M deal with the Washington Nationals.
In Werth's 2011 season, his first with the Nationals, he batted .232 with 20 home runs and 58 RBI.
On May 6, 2012, Werth broke his wrist while diving for a ball against his former team the Philadelphia Phillies. Werth had surgery the next day and is expected to miss about 12 weeks.
Seattle Mariners
Edit
On March 27, 2018, Werth signed a minor league contract with the Seattle Mariners. On June 27, Werth announced his retirement.
References
Edit
External links
Edit
Community content is available under
CC-BY-SA
unless otherwise noted.