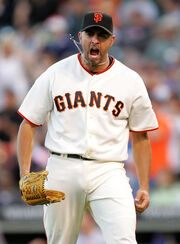 Jeremy David Affeldt (Template:PronEng) (born June 6, 1979]) is a Major League Baseball pitcher for the San Francisco Giants.
Baseball career
Edit
Kansas City Royals
Edit
A left-hander, Affeldt made his major league debut for the Kansas City Royals on April 6, 2002. He struggled for his first two seasons with finger blisters and recurring problems with the fingernail on the middle finger of his pitching hand, which often landed him on the disabled list or in the bullpen. After trying a variety of remedies that had worked for other pitchers with similar problems (such as Al Leiter), he had half of the nail surgically removed after the 2003 season. Once thought of as a potential ace of the starting rotation, Affeldt was installed as the Royals' closer in mid-2004, replacing former rookie All-Star phenom Mike MacDougal. He recorded thirteen saves in his new role.
Colorado Rockies
Edit
Affeldt was traded along with pitcher Denny Bautista to the Colorado Rockies on July 31, 2006, for first baseman Ryan Shealy and reliever Scott Dohmann.
In 2007, the Rockies used Affeldt as a left-handed specialist to get out left-handed batters late in the game. He went 4–3 in 2007, with a 3.51 ERA in 59 innings.
He was a part of the Rockies' 2007 September and postseason run. In September, he gave up five runs in fourteen outings. In the 2007 World Series against the Boston Red Sox, Affeldt pitched three innings without giving up a run.
Cincinnati Reds
Edit
On January 23, 2008, Affeldt signed a one-year deal with the Cincinnati Reds for $3 million.[1] Affeldt was used as a left-handed specialist out of the bullpen for the entire season.
San Francisco Giants
Edit
On November 17, 2008 Affeldt signed a two-year deal with the San Francisco Giants.[2] Affeldt enjoyed a strong first year with the Giants, posting a 1.73 ERA (second among players with over 60 innings pitched) with 33 holds (tied for most in the Major Leagues).[3] He was named tenth on one writer's ballot for MVP voting, placing him in a tie for twenty-eighth on the list.[4] On December 17, 2009, Affeldt was named the TYIB Setup Man of the Year.[5]
References
Edit
External links
Edit
Community content is available under
CC-BY-SA
unless otherwise noted.