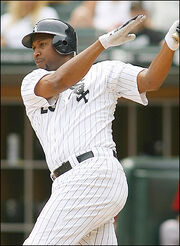 Jermaine Trevell Dye (born January 28, 1974 in Vacaville, California) is a right fielder in Major League Baseball for the Chicago White Sox. Dye has also played with the Atlanta Braves (1996), Kansas City Royals (1997-2001), and Oakland Athletics (2001-04), joining the White Sox prior to the 2005 season. He bats and throws right-handed.
Dye attended Cosumnes River College in Sacramento, California, and was selected by Atlanta in the 17th round of the 1993 amateur draft. He went to high school at Will C. Wood High School in Vacaville. Dye began his major league career with the Atlanta Braves (hitting a home run in his first game), and contributed to their 1996 National League championship and played in the 1996 World Series. He was traded to Kansas City on March 27, 1997. In 1999 Dye played in 158 games for the Royals, hitting 26 home runs. The next year he made the American League All-Star team.
Dye was traded to the Oakland Athletics on July 25, 2001. After the trade, he posted a .913 OPS for Oakland, helping them clinch the division. In game 4 of the 2001 American League Division Series, Dye fouled a ball off his leg, shattering his fibula. Dye struggled to return to from the injury, posting modest numbers and missing 123 games over the next three seasons. Prior to the 2005 season, Dye was signed by the Chicago White Sox to a two-year, $10.15 million contract with an option for 2007.[1]
In 2005, Dye played 145 games--the most he'd played since his injury. He hit 31 homers, had a .512 slugging percentage and stole 11 bases. Dye was named MVP of the 2005 World Series, having had a .438 batting average, one home run and three RBIs. His RBI single off Houston Astros closer Brad Lidge provided the deciding run in a 1-0 Game 4 victory, clinching the Series sweep. In 2006, Dye made it to his second All-Star game after a strong first half in which he hit .318 with 25 homeruns and a .646 slugging percentage. Dye's 2006 season was by far the best he has had. He finished 2nd in the league in Home Runs (44), 5th in RBI's (120), and 12th in Batting Average (.315). He was awarded a Silver Slugger award for his impressive performance in 2006.
On Mother's Day, May 14, 2006, Dye was one of more than 50 hitters who brandished a pink bat to benefit the Breast Cancer Foundation.
On October 30, 2006, the White Sox exercised their $6.75 million option for Dye's 2007 season.[1]
In 2009, Dye has made a name for himself. [2]
Cite error: <ref> tags exist, but no <references/> tag was found
Community content is available under
CC-BY-SA
unless otherwise noted.