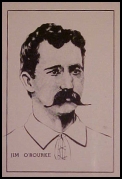 James Henry O'Rourke
(September 1, 1850 - January 8, 1919), nicknamed "Orator Jim", was an
American
professional
baseball
player in the
National Association
and
Major League Baseball
who played primarily as a
left fielder
. In the era before the establishment of the 60'6" distance between the batter and the pitcher in
1893
, he ranked behind only
Cap Anson
in career games played (1644),
hits
(2146), at-bats (6884),
doubles
(392) and
total bases
(2936), and behind only
Harry Stovey
in
runs scored
(1370).
He was born in East Bridgeport, Connecticut. On April 22, 1876, he made the first base hit in National League history. After leaving the major leagues following the 1893 season, he continued to play in the minor leagues until he was over 50 years old; in 1904 he made a final appearance with the New York Giants under manager and friend John McGraw, becoming at age 54 the oldest player ever to appear in the National League and the oldest player to ever hit safely in a major league game. He returned to the minors as president of the Connecticut League, and in 1912 returned to the field to catch a complete minor league game at the age of 60.
O'Rourke died of pneumonia at age 68 in Bridgeport, Connecticut. He was elected to the Baseball Hall of Fame in 1945 as one of the earliest inductees from the 19th century. His older brother John O'Rourke and his son James "Queenie" O'Rourke also played in the majors.
"O'Rourke has made a brilliant record for himself as an outfielder, being an excellent judge of a ball, a swift runner, and making the most difficult running catches with the utmost ease and certainty. As a thrower, too, he stands pre-eminent, being credited with a throw of 365 feet, the next to the longest yet accomplished by any player." — The Sporting Life
External links
Edit
Template:1877 Boston Red Caps Template:1878 Boston Red Caps Template:1879 Providence Grays Template:1888 New York Giants Template:1889 New York Giants Template:1945 Baseball HOF Template:Baseball Hall of Fame outfielders
Community content is available under
CC-BY-SA
unless otherwise noted.