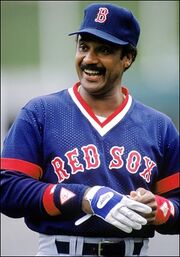 James Edward Rice (born March 8 1953) is a former left fielder in Major League Baseball who played for the American League's Boston Red Sox from 1974 to 1989. Rice continued the tradition of his predecessors Carl Yastrzemski and Ted Williams as a power-hitting left fielder who played his entire career for the Red Sox. He was elected into the Hall of Fame in 2009, his fifteenth and final year of eligibility. He was the 4th player elected in his final year, joining Red Ruffing (1967 runoff), Joe Medwick (1968), and Ralph Kiner (1975).
Notable seasons
Edit
Rice was promoted in the Red Sox organization to being a full-time player in 1975, after he was AAA's International League Rookie of the Year, Most Valuable Player, and Triple Crown winner in 1974. Previous to the 1974 season, Rice's 3-run home run is the key blow in helping Pawtucket (International League) defeat Tulsa (American Association) in a 5–2 win in the 1973 Junior World Series. Consequently, he and fellow rookie teammate Fred Lynn were brought up to the Red Sox at the same time, and were known as the "Gold Dust Twins".[1][2] Rice finished in second place for the 1975 American League's Rookie of the Year honors, and third in the Most Valuable Player voting, after he finished the season with 174 basehits, 102 runs batted in, .309 batting average, and 22 home runs. Lynn did win both of these awards for the 1975 season. The Red Sox qualified for postseason play, but Rice did not play in either the 1975 League Championship Series or World Series because of a wrist injury sustained during the last week of the regular season. A disappointed Rice appeared during the postseason player introductions, in uniform and without the cast on his wrist. He removed the cast the night before and announced that he was fit to play. The Red Sox management had persuaded him that healing would be in the best future interest of both Rice and the Red Sox. The Red Sox would go on to lose the World Series, 4 games to 3, to the Cincinnati Reds of the National League.
In 1978, Rice won the Most Valuable Player award in a campaign where he hit .315 (3rd in the league) and led the league in home runs (46), RBIs (139), hits (213), triples (15) and slugging percentage (.600). He is one of only two American League players ever to lead his league in both triples and home runs in the same season, and he remains the only player since 1900 ever to lead his league, and Major League Baseball in triples, home runs, and RBIs in the same season. His 406 total bases that year was the most in the A.L. since Joe DiMaggio had 418 in 1937, and it made Rice the first major leaguer with 400 or more total bases since Hank Aaron's 400 in 1959. This feat wasn't repeated again until 1997, when Larry Walker had 409. No American League player has done it since Rice in 1978. No other AL player even had 300 total bases in 1978, with Eddie Murray 2nd with 293 total bases.
In 1986, Rice had 200 hits, batted .324, and had 110 RBIs. The Red Sox made it to the World Series for the second time during his career. This time, Rice played in all 14 postseason games, where he collected 14 hits, including hitting two home runs. He also scored 14 runs and drove in six. The 14 runs Rice scored is the fifth most recorded by an individual during a single year's Post-season play. The Red Sox would go on to lose the World Series to the New York Mets, 4 games to 3, thus continuing their difficulties.
Since his retirement at the end of 1989, the Boston Red Sox have not reissued the number 14, except during Rice's tenure as the team's hitting coach in the mid-to-late 1990's. The team's long standing tradition is to officially retire the number of players who have been elected to the Hall of Fame as a member of the Boston Red Sox. Long-time Red Sox employee Johnny Pesky has also had his number retired by the Red Sox.
Career accomplishments
Edit
Rice led the AL in home runs three times (1977, 1978, 1983), in RBI twice (1978, 1983), in slugging percentage twice (1977, 1978), and in total bases four times (1977-1979, 1983). He also picked up Silver Slugger awards in 1983 and 1984 (the award was created in 1980). Rice hit at least 39 home runs in a season four times, had eight 100 RBI seasons, four seasons with 200+ hits and batted over .300 seven times. He finished his 16-year career with a .298 batting average, 382 home runs (52nd best of all-time), 1451 RBIs (51st), 1249 runs scored, 2452 hits (91st), and 4129 total bases (61st). He was an American League All-Star eight times (1977-1980, 1983-1986). In addition to winning the American League MVP award in 1978, he finished in the top 5 in MVP voting five other times (1975, 1977, 1979, 1983, 1986).
Rice is the only player in major league history to record over 200 hits and at the same time having 39 or more HRs for three consecutive years. He is only major league player with 35 or more home runs and 200 hits in each of 3 consecutive seasons. He is tied for the American League record of leading the league in total bases for three straight seasons, and was one of three A.L. players to have three straight seasons of hitting at least 39 home runs while batting .315 or higher. According to the web site, Rice ranked among the league leaders in various batting categories more than 100 times during his career. From 1975 to 1986, Rice led the American League in total games played, at-bats, runs scored, hits, homers, RBIs, slugging percentage, total bases, extra-base hits, go-ahead RBIs, multi-hit games, and outfield assists.[3] Among all Major League players during that time, Rice was the leader in five of these categories (Mike Schmidt is next, having led in four).
His biggest flaw as a hitter was his knack for hitting into double plays. Rice's ability to hit a baseball dangerously hard, coupled with having many slow-footed teammates on base in front of him (e.g., Wade Boggs, Dwight Evans, Bill Buckner, etc.) resulted in many double plays. In 1984 he hit into a single season record of 36 double plays. He is not in bad company when it comes to grounding into double plays, because many of the career leaders in this category are Hall of Famers (e.g. Cal Ripken, Carl Yastrzemski, Hank Aaron, etc.). Rice led the league in this category in four different seasons (1982-1985), matching Hall of Famer Ernie Lombardi. It should be noted that the on-base prowess of Rice's teammates placed him in a double play situation over 2,000 times during his career, almost once for every game he played, and that Rice posted a batting average of .310 and slugging percentage of .515 in those situations, better than his overall career marks in those categories. In addition, the Red Sox were far more successful as a team in the games in which Rice faced at least one double play situation, posting a winning percentage of .572 in those games compared to a mark of .489 in games when Rice didn't face a double play situation.
Rice could hit for both power and average, and at this time, only nine other retired ballplayers rank ahead of him in both career home runs and batting average. They are: Hank Aaron, Jimmie Foxx, Lou Gehrig, Mickey Mantle, Willie Mays, Stan Musial, Mel Ott, Babe Ruth, and Ted Williams.
In 1981, at a point in his career when it looked like he would one day rank among the game's all-time greats, Lawrence Ritter and Donald Honig included him in their book The 100 Greatest Baseball Players of All Time.
Fielding prowess
Edit
Rice was an adequate left fielder, having played there in 1543 games. He finished his career with a fielding percentage of .980 and had 137 outfield assists (comparable to Ted Williams', totals of .974 and 140 assists). As a right-handed batter, Rice was able to master the various caroms that balls took from the Green Monster (in left field) in Fenway Park. His deceptive speed also helped his fielding. His 21 assists in 1983 remains the most by a Red Sox outfielder since 1944 when Bob Johnson had 23. Rice, however, never won a Gold Glove; one arguable reason is the fact that Gold Gloves are awarded to three outfielders without distinguishing by position. One commentator has argued that if Gold Gloves had been awarded at each individual outfield position, Rice would have won three Gold Gloves as a left fielder.[4] Rice also appeared as a designated hitter in 530 games.
Community activities
Edit
Rice was associated with a variety of charitable organizations during his career, primarily on behalf of children, some of which have carried on into his retirement. He was named an honorary chairman of The Jimmy Fund, the fundraising arm of the Dana-Farber Cancer Institute in Boston, in 1979,[5] and in 1992 was awarded that organization's "Jimmy Award", which honors individuals who have demonstrated their dedication to cancer research.[6] Rice is also active in his support of the Neurofibromatosis Foundation of New England.[7] Rice's involvement with Major League Baseball's RBI program (Reviving Baseball in Inner Cities) resulted in the naming of a new youth baseball facility in Roxbury, Massachusetts in his honor in 1999.[8] A youth recreation center in Rice's hometown of Anderson, South Carolina is also named in his honor. Rice's most notable humanitarian accomplishment occurred during a nationally televised game on August 7, 1982, when he rushed into the stands to help a young boy who had been struck in the head by a line drive off the bat of Dave Stapleton. As other players and spectators watched, Rice left the dugout and entered the stands to help 4-year old Jonathan Keane, who was bleeding heavily. Rice carried the boy onto the field, through the Red Sox dugout and into the clubhouse, where the young boy could be treated by the team's medical staff. Team doctor Arthur Pappas later said that Rice's actions may have saved the boy's life.[9]
Retirement activities
Edit
Rice has served as a Roving Batting Coach (1992-1994) and Hitting Instructor (1995-2000), and remains an Instructional Batting Coach (2001-present) with the Boston Red Sox organization. While the Red Sox hitting coach, the team led the league in hitting in 1997 and players won two batting titles. Since 2003, he's also been employed as a commentator for the New England Sports Network (NESN), where he contributes to the Red Sox pre-game and post-game shows. He had a cameo appearance in the NESN movie, Wait Till This Year.,[10] and in the film Fever Pitch.[11] The former slugger has been known to pass his wisdom on to the current Sox players and stars from time to time. Rice was elected to the Boston Red Sox Hall of Fame when it first opened in 1995, and he is the 40th member of Ted Williams' Museum and Hitters Hall of Fame, having been inducted along with Paul Molitor, Dave Winfield and Robin Yount in 2001.[12]
Hall of Fame Debate
Edit
Should Rice be inducted as a member of the Baseball Hall of Fame, he would be eligible to have his number retired by the Red Sox. The Red Sox employ a rather strict policy on retiring uniform numbers; to be considered, one need first to have played a minimum of ten years with the team and one must also be elected to the Baseball Hall of Fame.[13]
While Rice is generally regarded as being one of the better hitters of his era based upon the statistics traditionally used by the BBWAA to evaluate players' Hall of Fame qualifications, he has not yet received enough votes in any single year to be elected to the Hall of Fame. However, during the course of his continuing eligibility period, he has received about 3900 total votes, which is the most ever collected by any player that was voted on for baseball's highest honor. (Jim Bunning and Gil Hodges also received over 3000 votes). In 2006[14] and 2007,[15] he received over 63% of votes cast. Rice just missed being elected on January 8, 2008 when the Ernst & Young count found him on 72.2% of the ballots, only 2.8% short of the required 75%. His last year of BBWAA voting eligibility will be in 2008, which would place him on the 2009 ballot. Results will be announced on Monday, January 12, 2009. Rice's delay in being elected to the Hall of Fame stems in part from more current statistical analysis of player performance. This analysis shows that Rice's HOF credentials may be more questionable than they were considered during his career.[16] The delay may also be related to his often difficult relationships with the media during his playing career, many of whom are still voting members of the BBWAA.[17] Some writers, such as the Providence Journal's Sean McAdam, have said that Rice's chances have been improved in recent years[18] with the exposure of the "Steroids Era" in baseball. In the same article, McAdam expanded this subject by adding "In an era when power numbers are properly viewed with a healthy dose of suspicion, Rice's production over the course of his 16 years gains additional stature. Rice's numbers are very good -- 382 homers, 1,451 RBI -- and best of all, they're not the least bit tainted." As such, Rice has received increasingly more votes each year since the 2003 ballot, improving his vote totals by almost 90 votes over the span of 4 years.[19] However, from several sabermetric standpoints it is viewed that Jim Rice falls short of his peers in the Hall of Fame.[20]
During the 2007 season, the Pawtucket Red Sox started a campaign to get Rice inducted which includes having fans sign "the World's Largest Jim Rice Jersey." When Rice was finally elected on January 12, 2009 with 76.4% of the vote, he became the 4th player elected in what would have been his final year on the BBWAA ballot. The others were Red Ruffing (1967 runoff), Joe Mediwck (1968), and Ralph Kiner (1975).
Reference(s)
Edit
External links
Edit
Persondata
NAME
Rice, Jim
ALTERNATIVE NAMES
SHORT DESCRIPTION
DATE OF BIRTH
1953
PLACE OF BIRTH
DATE OF DEATH
PLACE OF DEATH
Community content is available under
CC-BY-SA
unless otherwise noted.