James Joseph Collins (January 16, 1870 – March 6, 1943) was a Major League Baseball player at the turn of the 20th century who was widely regarded as being the best third baseman prior to Brooks Robinson. Collins joined the league in 1895 as a member of the Louisville Colonels, but would finish the season with the Boston Beaneaters.
Collins asserted himself as a skilled player in 1897 when he held a .346 batting average and knocked in 132 runs. He followed with an equally impressive 1898 season, in which he hit .328, drove in 111 runs and belted a league-high 15 home runs. However it was his defense that made him a star. He was best known for his ability to field a bunt -- prior to his debut, it was the short stop who fielded bunts down the third base line - and is regarded as a huge pioneer of the modern defensive play of a third baseman.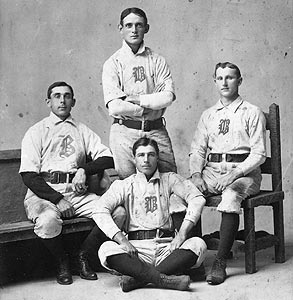 Collins joined the Boston Red Sox in 1901 as a player and a manager. He led the team to the World Series title in 1903 and the American League pennant in 1904.
Collins was traded to the Philadelphia Athletics in 1907 and retired there after the 1908 season. He finished his career with 65 home runs, 1055 runs, 983 RBI and a .294 batting average.
Collins was inducted into the Baseball Hall of Fame in 1945, and was the first player chosen primarily as a third baseman. In 1981, Lawrence Ritter and Donald Honig included him in their book The 100 Greatest Baseball Players of All Time.
In an article in 1976 in Esquire magazine, sportswriter Harry Stein published an "All Time All-Star Argument Starter," consisting of five ethnic baseball teams. Because of space limitations the Irish team, including Collins as third baseman, was omitted.
Jimmy Collins was born and died in Buffalo, New York. He is buried in Holy Cross (Roman Catholic) Cemetery, in nearby Lackawanna.
See also
Edit
External links
Edit
Template:Boston Red Sox managers Template:1903 Boston Americans Template:1945 Baseball HOF
Community content is available under
CC-BY-SA
unless otherwise noted.