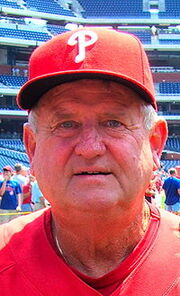 James Francis "Jimy" Williams (born October 4, 1943) is a former manager of three Major League Baseball teams.
Playing career
Edit
Williams, a former infielder who threw and batted right-handed, graduated from Arroyo Grande, California, High School and Fresno State University. He signed originally with the Boston Red Sox and was drafted by the St. Louis Cardinals in the 1965 Rule V lottery. He appeared in 14 games for the Cards over two seasons 1966-67, but had only 13 at bats, compiling a batting average of .231. Although he was traded to the Cincinnati Reds after the 1967 season, then selected in the 1969 expansion draft by the Montreal Expos, he never appeared in an MLB game for either club. The first pitcher Williams ever faced was Sandy Koufax. He got his first hit off another Hall of Famer: Juan Marichal.[1]
Coaching career
Edit
His playing days cut short by a shoulder injury, Williams began his minor league managing career with the California Angels in 1974. He soon reached the Triple-A level and was appointed the third base coach of the Toronto Blue Jays in 1980.
He had the job for six seasons, until he was promoted to manager in 1986 when Bobby Cox left to join the Atlanta Braves organization. Williams lasted until the 1989 season, when he was fired after a very poor start and replaced by Cito Gaston who went on to win two World Series championships with the team. He spent 1991–96 with the Braves as their third base coach, working again under Cox. While with the Braves, Williams developed an outstanding reputation as a teaching coach, especially adept at working with infielders.
Williams has since managed with the Red Sox, leading them to wild card playoff berths in 1998 and 1999 (the latter involved the Red Sox reaching the American League Championship Series against their arch-rivals the New York Yankees, who wound up beating them 4 games to 1). But Williams' relationship with general manager Dan Duquette soured, especially after Duquette publicly backed volatile outfielder Carl Everett after a September 2000 dispute with Williams. When the Red Sox, depleted by injuries, slumped in August 2001, Duquette fired Williams. The club then lost 27 of 43 games under Duquette's appointee, Joe Kerrigan.
Williams then took command of the Houston Astros beginning in 2002. While serving as a National League coach at the 2004 All-Star Game in Houston, at a time when the Astros were struggling at the .500 mark, the crowd at Minute Maid Park responded to the introduction of Williams with a decidedly mixed reaction, in contrast to the ovations generally given members of the home team who are introduced at an All Star game.
The Astros fired Williams and two principal coaches the following day, having likely waited until after the festivities to avoid a public embarrassment.Phil Garner, who led the Astros to within one game of going to their first ever World Series before managing Houston to the NL pennant in 2005.
Williams was replaced by
He was named the Phillies bench coach on October 16, 2006[2] and continued with that role through the Phillies 2008 World Series Championship season. Williams decided not to return to his position for the 2009 season. Phillies manager Charlie Manuel said "As far as I know, it's not like that he left on a bad note. He was pretty happy. I guess there's things he wants to think about."[3]
Jimy Williams is not to be confused with James Bernard Williams, a former minor league outfielder and manager and MLB coach with the Astros and Baltimore Orioles. The baseball careers of the two Williamses somewhat overlapped.
Managerial record
Edit
Team
Year
Regular Season
Post Season
Won
Lost
Win %
Finish
Won
Lost
Win %
Result
Toronto Blue Jays
1986
86
76
.531
4th in AL East
-
-
-
-
1987
96
66
.593
2nd in AL East
-
-
-
-
1988
87
75
.537
3rd in AL East
-
-
-
-
1989
12
24
.333
-
-
-
(fired)
Tor Total
281
241
.538
0
0
-
-
Boston Red Sox
1997
78
84
.481
4th in AL East
-
-
-
-
1998
92
70
.568
2nd in AL East
1
3
.250
Lost to Cleveland Indians in ALDS
1999
94
68
.580
2nd in AL East
4
6
.400
Lost to New York Yankees in ALCS
2000
85
77
.525
2nd in AL East
-
-
-
-
2001
65
53
.551
-
-
-
(fired)
Bos Total
414
352
.540
5
9
.357
-
Houston Astros
2002
84
78
.519
2nd in NL Central
-
-
-
-
2003
87
75
.537
2nd in NL Central
-
-
-
-
2004
44
44
.500
-
-
-
(fired)
Hou Total
215
197
.522
0
0
-
-
Total
910
790
.535
5
9
.357
-
References
Edit
↑ Jimy Williams Batting 1966 Gamelogs. Retrieved on 2008-11-10.
↑ Jimy Williams Phillies profile. Retrieved on 2008-11-10.
↑ Jimy Williams Leaves. Retrieved on 2008-11-10.
External links
Edit

[[Category
Community content is available under
CC-BY-SA
unless otherwise noted.