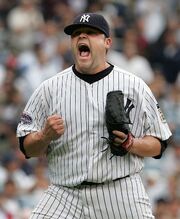 Joba Chamberlain (pronounced [ˈdʒɑːbə] "jah-buh") (born Justin Louis Chamberlain on September 06, 1985, in Lincoln, Nebraska) is a starting pitcher for the New York Yankees.
Early life
Edit
Chamberlain grew up in Lincoln, Nebraska. At age 3, his parents divorced, and his father Harlan took custody of Joba and his younger sister Kevy. Joba served as a ball boy and Kevy as bat boy for Lincoln Northeast High School's state championship basketball team, and eventually graduated from Northeast. He did not jump straight to college; to help pay the bills, Joba briefly worked for the city of Lincoln's maintenance department.
Chamberlain's father was born on a reservation for the Winnebago American Indian Tribe, but had to leave to be treated for polio.[1] Harlan spent his childhood in hospitals and foster homes and now uses a motor scooter to get around. Now retired from the state penitentiary, he works as a substitute teacher and takes tickets at Nebraska University Cornhuskers' games. Chamberlain still has family living on American Indian reservations.
Joba's niece was unable to pronounce the name Justin correctly, pronouncing it as Joba instead and he grew to prefer this name. He eventually had his name legally changed to Joba.
College baseball
Edit
Chamberlain played for the University of Nebraska-Kearney Lopers, leading the team in ERA (2.23), opponents batting average (.250), strikeouts (49), and complete games (4), before transferring to the University of Nebraska-Lincoln. He helped the Cornhuskers reach the 2005 College World Series and helped Nebraska with the team's first-ever College World Series win, going 10–2 with a 2.81 ERA for the year; his 2005 stats included 5 double-digit strikeout games. Triceps tendinitis limited his 2006 season but he still pitched in 14 games, posting a 6-5 record, a 3.93 ERA and 102 strikeouts in 89.1 innings.
| | ERA | W | L | G | IP | ER | BB | K |
| --- | --- | --- | --- | --- | --- | --- | --- | --- |
| 2005 | 2.81 | 10 | 2 | 18 | 118.2 | 37 | 33 | 130 |
| 2006 | 3.93 | 6 | 5 | 14 | 89.1 | 39 | 34 | 102 |
| Total | 3.37 | 16 | 7 | 32 | 208 | 76 | 67 | 232 |
Minor leagues
Edit
Chamberlain was drafted 41st overall by the New York Yankees in the 2006 Major League Baseball Draft; the Yankees received that draft pick as free agent compensation for Tom Gordon, who signed with the Philadelphia Phillies. Chamberlain did not pitch in the organized minors during the 2006 season, but dominated the winter league in Hawaii, posting a 2.63 ERA for the West Oahu CaneFires.
Before the 2007 season, Baseball America ranked Chamberlain as the 4th-best prospect in the pitching-rich Yankee organization, and the 75th-best prospect in Major League Baseball, and ranked his fastball as the best in the Yankee farm system.
He spent the first part of his 2007 season on the A-Advanced Tampa Yankees in the Florida State League. He went 4–0 with a 2.03 ERA in 7 games, and had 51 strikeouts and 11 walks. He was then promoted to the AA Trenton Thunder in the Eastern League, where he was 4–2 in 7 games with a 3.43 ERA and 64 strikeouts. He was named to the U.S. Team in the 2007 All-Star Futures Game July 8 at AT&T Park. Chamberlain pitched the third inning, striking out one, walking one, and allowing a hit and an earned run. On July 24, 2007, Chamberlain was promoted to AAA Scranton-Wilkes Barre, and made his first start the next day, striking out 10 in 5 innings and earning his first AAA victory. While the Yankees still see him as a starter in the future, the team announced on July 29, 2007, that Chamberlain would be moved to the Scranton-Wilkes Barre bullpen, and he made his first appearance the next day, striking out the side in 1 inning pitched and hitting 100 on the radar gun three times. On August 1st, Joba went back to Trenton to make a relief appearance, striking out 2 batters in a 1-2-3 8th inning. He then came back to Scranton, pitching 2 innings and striking out 5 batters.
Major leagues
Edit
On August 7, 2007, the Yankees purchased Chamberlain's contract, elevating him to the major leagues for the first time in his career. To make room on their roster, the Yankees designated Miguel Cairo for assignment, and sent down Brian Bruney (coinciding with the activation of Jason Giambi)[2][3] In his debut, a Yankees victory over the Toronto Blue Jays, Chamberlain struck out the first batter he faced and went on to pitch two scoreless innings, striking out two. The television and stadium radar guns clocked his fastest pitch at 100 and 99 miles per hour, respectively, with his slider consistently registering at 87.
On August 30, 2007, Chamberlain threw two pitches over the head of Boston's Kevin Youkilis. Chamberlain was subsequently ejected for the first time in his baseball career. The next day, he was suspended for two games and fined $1,000 for the incident.
When Chamberlain takes the mound, he begins with a private prayer ritual which he began doing in Little League. The Yankee Stadium scoreboard staff plays Mötley Crüe's "Shout at the Devil" whenever Chamberlain enters a game.
Chamberlain had an extraordinary experience when he was "bugged" in game 2 of the 2007 ALDS against the Cleveland Indians. The game took place at Jacobs Field (in Cleveland) on October 5. With the Yankees leading 1-0, Chamberlain was pitching in the bottom of the eighth when a host of small insects swarmed the field.[4] He was repeatedly sprayed down with insecticide, which had no apparent deterrent effect on the midges. Chamberlain then threw a wild pitch, permitting Grady Sizemore to advance from first to second base. After a sacrifice bunt, Sizemore moved up to third base and, after another wild pitch by Chamberlain, Sizemore scored the tying run. The Indians went on to win the game 2–1.
On October 14, Hank Steinbrenner announced that Chamberlain would begin 2008 Spring Training as a starting pitcher but will limit his innings.[5]
On March 20, 2008, the Yankees announced that Chamberlain would start the season in the bullpen. Manager Joe Girardi stated that Chamberlain would be used 'without restrictions' but that the team's use of Chamberlain would be guided by common sense.
Chamberlain was granted a leave of absence on April 13, 2008, when he received news that his father, Harlan, was in the hospital after collapsing at his home in Lincoln, Nebraska.[6] At the time of his leave, Joba had a record of 1–0, with a 0.00 ERA and six strikeouts, and has 3 holds in 4 games and 5 1/3 innings pitched. Chamberlain returned from bereavement in time for the 2nd game against the Baltimore Orioles on April 19, 2008. On April 20, Hank Steinbrenner announced that he wanted Chamberlain to be moved into the rotation. [7]
On May 6, Chamberlain gave up a three run home run to David Dellucci to give up the lead to the Indians in the 8th. This was the first time he had given up a run at Yankee Stadium in over 15 innings in the regular season.
On May 21, Chamberlain threw two scoreless innings and 35 pitches in an 8-0 victory against the Orioles. After the game Manager Joe Giradi announced that this was the beginning of a process to transition Chamberlain into the Yankee's starting rotation, and that he will be a member of the starting rotation at some point during the 2008 season.
On June 3, Chamberlain made his first MLB start against Roy Halladay and the Toronto Blue Jays and lasted only 2 1/3 innings while allowing 2 runs, a hit and 4 walks.
Scouting Report
Edit
When pitching out of the bullpen, his fastball is known to sit in the upper 90's while occasionally topping 101mph with tailing action. His slider rates over 70 on the 20–80 scouting scale and has caused batters to swing and miss 75% of the time.
When pitching as a starter, he makes use of an above average change-up and a mid to high 70s plus-curve, along with his fastball and slider. His fastball will sit in the 94–97 mph range when Joba pitches as a starter.[8]
There are also rumors spreading about Joba tinkering with a two-seam fastball after speaking to Yankee ace Chien-Ming Wang during 2008 spring training. This would add to his four-pitch repertoire and serve to keep his pitch count low when in need of a ground-ball out.
2005 3rd Team All-American
2005 1st Team All Big 12
2005 Big 12 Newcomer Pitcher of the Year
2005 2nd Team All Midwest Region
2005 Big 12 Pitcher of the Week (2005-03-01)
2005 National Pitcher of the Week (2005-01-03)
2005 Big 12 Pitcher of the Week (2005-04-25)
2006 1st Team Preseason All-American
2006 Hawaiian Winter Post-Season All-Star
2007 FSL Pitcher of the Week (2007-05-14)
2007 FSL Pitcher of the Week (2007-05-28)
2007 EL Pitcher of the Week (2007-06-18)
In 2007, Chamberlain was featured on the cover of an issue of ESPN the Magazine, being named as being "Next," or being the most likely young player to become a star.
During the March 3, 2008 special Spring Training edition of Baseball Tonight from Walt Disney World, Chamberlain noted that he is actually left-handed; he throws right because "for some reason my dad made me a right-handed pitcher..."
Joba has a son named Karter [1].
Joba has a tattoo on his right arm. It represents his Native American Roots, his dad, him, and his son, Karter.
The reason why Joba wears #62 is in memory of his late friend, Nate. Nate died at age eleven and always wore #8. It just so happened that from high school to the big leagues Joba's jersey number has always added up to 8, the number of his late friend (19, 44, 53, 62), except for 19 which it is subtracted instead of added.
References
Edit
External links
Edit
Community content is available under
CC-BY-SA
unless otherwise noted.