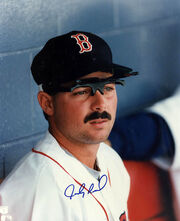 Jody Eric Reed (born July 26, 1962 in Tampa, Florida) is a former second baseman in Major League Baseball who had an 11-year career from 1987-1997. The 5'9" second baseman played with the Boston Red Sox from 1987-1992, and in 1990 he led the American League with 45 doubles and finished 10th in the AL with 173 hits. He also totalled more than 40 doubles in 1989 and 1991.
Reed was a career .270 hitter who also played with the Los Angeles Dodgers (1993), Milwaukee Brewers (1994), San Diego Padres (1995-1996) and Detroit Tigers (1997). Reed played college baseball for the Florida State University Seminoles under head coach Mike Martin.
An amusing sidelight to Reed's career was his description on the back of one of his baseball cards: "Jody is a dangerous bunter."
Unfortunate moments during Reed's pro baseball career include when he grounded into a triple play in a 1990 game between the Boston Red Sox and Minnesota Twins. This was not the first but second triple play of the game, making it noteworthy in baseball statistics. Also, Reed turned down a 3 year, $8 million contract with the Dodgers, only to sign with Milwaukee for $300,000 the following year, which led to the Dodgers trading Pedro Martinez for Delino DeShields.
External links
Edit
Community content is available under
CC-BY-SA
unless otherwise noted.