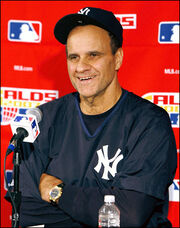 Joseph Paul Torre (Template:PronEng, born July 18, 1940 in Brooklyn, New York) is a former manager and former Major League Baseball player. He previously played for, and later managed, the Milwaukee/Atlanta Braves, St. Louis Cardinals, and New York Mets. He also, more recently, managed the New York Yankees and the Los Angeles Dodgers.
Although he had a fairly unimpressive managerial record with the Mets, Braves, and Cardinals, it was during Torre's tenure as manager of the New York Yankees that he achieved his greatest managerial success to date. In the years that he led the team, from 1996 to 2007, the Yankees went to the post-season each year and won ten American League East Division titles, six American League pennants, and four World Series titles, in addition to compiling a .605 winning percentage with them.
On November 1, 2007, Joe Torre was hired by the Los Angeles Dodgers to become their new manager.[1]
With 2,122 wins (through Aug. 6), he presently ranks 8th on Major League Baseball's all-time managerial wins list.
Playing career
Edit
Milwaukee/Atlanta Braves (1960-68)
Edit
Joe Torre followed his brother Frank's footsteps and joined the Milwaukee Braves in 1960. He quickly became a reliable player on a veteran Braves team that included Hank Aaron and Eddie Mathews. He was primarily a catcher but spent significant time at first base. In 1965, Torre won a Gold Glove as a catcher. After moving to Atlanta, he hit .315 in 1966.
St. Louis Cardinals (1969-74)
Edit
Torre was traded to St. Louis in 1969 in exchange for Orlando Cepeda. He continued as a catcher for his first two seasons with the Cardinals, but became primarily a third baseman in 1971. That was the best year of his career, in which he hit .363 and drove in 137 RBIs en route to the NL MVP award.
New York Mets (1975-77)
Edit
Torre was traded to the Mets in 1975 for Ray Sadecki with Tommy Moore. He became a player-coach, then a player-manager before retiring.
Managing career
Edit
New York Mets (1977-81)
Edit
In May 1977, Mets manager Joe Frazier, who had been the team's manager since the beginning of 1976, was fired, and Torre, who was playing third base for the Mets (he came over from the Cardinals before the 1975 season) was chosen as the replacement. Because he believed he could not do the job properly while still playing, he decided to retire at age 37, but did serve 18 days as a player-manager, becoming the second of three players in the 1970s to attempt to be a player-manager (Frank Robinson, who had done it the two previous seasons with the Cleveland Indians, and Don Kessinger, who would do it in 1979 with the Chicago White Sox, were the others). Torre closed his 18-year playing career with a .297 batting average and 252 home runs, 1185 RBIs and 2,342 hits. Torre managed the Mets through the 1981 season, but was unable to post a winning season.
Atlanta Braves (1982-84)
Edit
He then took over as manager of the Braves, leading them to the NL Western Division title in his first season (1982) (the Braves, however, wound up being swept, 3-0 in the NLCS against the Cardinals), before slipping to second place in 1983, and third place in 1984.
Torre spent the 1985-1990 seasons as a television analyst for the California Angels.[2],
St. Louis Cardinals (1990-95)
Edit
In 1990, Torre was hired to replace the popular Whitey Herzog as Cardinals manager. Despite being an MVP with the Cardinals he posted a 351-354 record as manager in St. Louis. Though the Cardinals were unable to reach the playoffs during Torre's tenure, they posted winning records in each of the three full seasons he spent with the club (excluding the strike-shortened 1994 season). Despite a last place prediction from many commentators, the Cardinals finished in second place and won 84 games in 1991, Torre's first full season at the helm. His best record was 87-75 in 1993. Torre was fired in June 1995 as part of a rebuilding project while Anheuser-Busch prepared to sell the team.
New York Yankees (1996-2007)
Edit
Torre served as the Yankees skipper under the controversial owner George Steinbrenner, who was famous for frequently firing his team's managers, often for no apparent reason. After just 1 season, following the 1996 World Series Championship, George Steinbrenner tore up Torre's contract and gave him a new, more lucrative and longer contract in reward of his performance as manager. Torre lasted twelve full seasons under Steinbrenner, managing 1,942 regular season games (with a won-loss record of 1173-767.) This was by far the longest tenure for a Yankees skipper in the Steinbrenner era. Torre's was in fact the second-longest managerial tenure in the club's history: only Joe McCarthy lasted longer than Torre. [3]
1996-2005
Edit
Torre got off to a rough start with the Yankees. The New York City press (and fans) thought his hiring was a colossal mistake and greeted him with headlines such as "Clueless Joe". However, it was with the Yankees that he enjoyed the greatest success of his managerial career, leading them to the playoffs in each of his twelve seasons (1996-2007) with the club. In 1996, he was named Manager of the Year. Torre, building on the Yankees' Wild Card berth in 1995, made his first-ever trip to the "Fall Classic", leading the Yankees to their first World Series since 1981. Once there, the Yankees defeated the Atlanta Braves. After losing to the Cleveland Indians in the AL playoffs in 1997, the team won three straight World Series titles from 1998-2000, and additional American League pennants in 2001 and 2003.
The 1998 season was Torre's most successful. Despite a slow start that included losing four of the first five games of the season, the Yankees set a then-American League record of 114 regular season wins, including David Wells's perfect game on May 17. During the playoffs, the Yankees easily bested the Texas Rangers, fought off the Cleveland Indians for the AL pennant, and swept the San Diego Padres in the World Series. Torre won Manager of the Year honors, and the 1998 team is now widely regarded as one of the greatest baseball teams, along with the Yankee teams of 1927, 1939 and 1961, the 1972-1974 Oakland Athletics, and the 1975-1976 Cincinnati Reds. When ESPN launched its Who's #1? series on June 15, 2004, the 1998 Yankees topped the network's list of Best Teams over the years 1979 to 2003.
In 2004 Torre would suffer his greatest set back that would ultimately mark the end of the Yankees dominance. After reaching a 3-0 lead in the ALCS against rivals The Boston Red Sox, his team would go on to suffer the greatest collapse in baseball history and the Red Sox would go on to win the ALCS and then the World Series ending their 86 year drought. This reversal ended the Yankee command over the Red Sox who would later add another championship in 2007 as they took the AL East Division for the first time after 8 years of finishing second to the Yankees.
2006-2007
Edit
During the 2006 season, Torre had to face numerous obstacles with the team. The largest hurdle was losing star players such as Gary Sheffield and Hideki Matsui with long term injuries, a problem that was alleviated by trading for Bobby Abreu and bringing up Melky Cabrera, who after a terrible 6 games in 2005, made an impressive mark in 2006. Pitching was once again another major issue for the team. Randy Johnson, who in his second season with the team, was still inconsistent in many of his starts. After helping the Yankees in the second half of the 2005 season Shawn Chacón and Aaron Small were both removed from the team, with Chacón being traded to the Pirates on July 31 and Small being sent back to the minors, and being designated for assignment but never going anywhere, early in the season. Despite the problems the Yankees won another AL East title.
On June 7, 2007, Torre got his 2000th win and became the first major league manager to win 2000 games and have 2000 hits.
On June 29, 2007 against the Oakland Athletics, Torre had his 2,010th managerial win, placing him past Leo Durocher for 9th on the MLB all-time Managerial Wins list.
He passed Casey Stengel on the Yankees all time managerial win list on August 22, 2007 against the Los Angeles Angels of Anaheim, by picking up his 1,150th victory with the team.
On September 26, 2007, Torre led the Yankees to their 13th consecutive postseason appearance, clinching the spot with a win at Tampa Bay.
On October 7, 2007, after the Yankees lost two games to the Indians, George Steinbrenner said in an interview that Torre's contract would not be renewed if the Yankees did not defeat the Indians in the Division Series. The Yankees saved their season, and potentially Torre's job, for one day, as they beat the Indians 8-4 in Game 3 at Yankee Stadium.[3] Following the Yankees' 6-4 loss the following night earning them another first-round exit, Torre's fate remained uncertain. On that same night, as Torre went out to make what would become his last pitching change to bring in Mariano Rivera, Yankee Stadium gave Torre a standing ovation and chanted his name as he went out and came back to the dugout.
On October 18, 2007, the New York Yankees offered Torre a one-year contract with a $5,000,000 base pay and $1,000,000 bonuses to be paid for each of three benchmarks the team reached: making it to the playoffs; making it to the American League Championship Series; and making it to (not winning) the World Series. Also, if the Yankees made it to the World Series, Joe Torre would pick up an option for a new contract for the following year. The contract, despite the pay cut would still have kept Torre as the highest paid manager in the game. Torre turned down the offer, ending his era with the Yankees.[4]
On October 19, 2007, Torre held a news conference to explain his decision. After first thanking owner George Steinbrenner, he said: "I just felt the contract offer and the terms of the contract were probably the thing I had the toughest time with."
Los Angeles Dodgers (2008–2010)
Edit
On November 1, 2007, the Los Angeles Dodgers announced that Torre would be their manager beginning with the 2008 season, filling the void left when Grady Little resigned his post two days before. This marks the return of Torre to the National League, the only league he had played or managed in prior to becoming the Yankees skipper. The official press conference was on November 5, 2007. According to ESPN, his contract is valued at $13 million over 3 years. [5]
Torre brought two members of his 2007 Yankees coaching staff with him. Former Yankee great Don Mattingly, who served as Torre's bench coach, was tabbed as the hitting coach, and third base coach Larry Bowa was brought in to fill the same position with the Dodgers. In January, 2008, Mattingly was moved to the role of Special Assignment coach for the 2008 season due to family concerns. He was replaced as hitting coach by Mike Easler.[6] In addition, Torre brought in Bob Schaefer to be bench coach, and retained first base coach Mariano Duncan and pitching coach Rick Honeycutt from Little's staff. Ken Howell was promoted from Triple-A pitching coach to bullpen coach, completing his staff.[7] On March 31, 2008, Joe Torre made his managerial debut with the Los Angeles Dodgers in a 5-0 victory.
Broadcast/entertainment career
Edit
After leaving the Braves in 1984, Torre worked in broadcasting in the late 1980s for the California Angels before being asked to manage the Cardinals in mid-1990. While working as a guest analyst for ESPN during the 1989 World Series, Torre was on hand for the Loma Prieta earthquake (October 17, 1989).
He also appeared as himself in the broadcast booth in the 1990 film Taking Care of Business, which showed a fictional World Series between the Angels and the Chicago Cubs. At the time, the Angels had never appeared in a World Series, and still would not until 2002, beating Torre's Yankees along the way; the Cubs had not, and still have not, appeared in a World Series since 1945.
Torre also was featured as the "Voice of the Yankees' Manager" in the 2006 animated feature Everyone's Hero.[8] Torre's character manages a team that includes a fictional Babe Ruth
Torre has one son, Michael, by his first wife, Jackie, whom he married in 1963. He has two daughters, Lauren and Christine, by his second wife, Dani, whom he married in 1968. Both marriages ended in divorce. On August 23, 1987, he married Alice (Ali) Wolterman. They have a daughter, Andrea, together.
Torre has an older brother, Frank, who was also a Major League Baseball player. He also had another brother, Rocco Torre, who died in 1996.
Torre was treated for prostate cancer[9] in 1999.
In one of the last daily comic strips in the Peanuts series, Charlie Brown is seen trying to perfect a "Joe Torre look," which he hopes will make his team win every game. His sister, Sally, thinks he is cracking up.
In a 1965 article for the St. Petersburg Independent, Beat Generation author Jack Kerouac called Torre, then with the Braves, "the best catcher since Roy Campanella".[10]
Torre appeared in Sesame Street when he was brought by Baby Bear to help Telly catch a ball. Then, when he was walking back to a Yankees game, he threw the ball back to Telly, who caught it.
In addition to baseball, Torre is an avid thoroughbred horse racing enthusiast. He is a part owner of "Sis City" winner of the 2005 Ashland Stakes at Keeneland Race Course. She had been the dominant 3-year-old filly that year until finishing fourth in the May 6 Kentucky Oaks. However, a few weeks later on June 26, "Wild Desert", in which Torre is also a partner, won the $1 million Queen's Plate, the first leg of the Canadian Triple Crown. Wild Desert is also partially owned by Keith Jones, an NHL player.
On December 14, 2005, Torre carried the Olympic Torch in Florence, Italy, running it 405 meters, ending at the world famous Ponte Vecchio bridge.
Joe Torre Foundation
Edit
Torre and his wife Ali created the Joe Torre Safe at Home Foundation, inspired by Torre's experiences growing up as a witness to domestic violence in his household in Brooklyn. The Foundation operates domestic violence resource centers called Margaret House, which was named after Torre's mother. The Foundation operates approximately a dozen Margaret House locations across New York City and Westchester County, New York. In October 2007, the Joe Torre Foundation partnered with Union City, New Jersey's Board of Education and the North Hudson Community Action Corporation (NHCAC) to create New Jersey's first Margaret House, at Union City's Jose Marti Middle School. Aspects of Union City's Margaret House will include a peer counseling program and an antiviolence campaign within the school, in order to encourage children to discuss family problems more freely, and training for teachers and counselors.[11] The haven, which is housed in its own secure room at the school, was funded by a $325,000 grant from Verizon, and is administered by health care professionals from North Hudson Community Action Corp.[12]
"I'd like to thank Félix Millán for making all of this possible." (Regarding setting the NL record for most double plays grounded into in a single game, 4, July 21, 1975. Millan batted ahead of Torre in the lineup, singling in all four of his at bats.[13])
(On his thinning hairstyle) "I call it the Watergate. I try to cover up as much as I can."
Managerial record
Edit
(updated thru August 6, 2008)
Team
Year
Regular Season
Postseason
Won
Lost
Win %
Finish
Won
Lost
Win %
Result
New York Mets
1977
49
68
.419
6th in NL East
-
-
-
1978
66
96
.407
6th in NL East
-
-
-
1979
63
99
.389
6th in NL East
-
-
-
1980
67
95
.414
5th in NL East
-
-
-
19811
17
34
.333
5th in NL East
-
-
-
24
28
.462
4th in NL East
-
-
-
NYM Total
286
420
.405
-
-
-
Atlanta Braves
1982
89
73
.549
1st in NL West
0
3
.000
Lost in NLCS
1983
88
74
.543
2nd in NL West
-
-
-
1984
80
82
.494
3rd in NL West
-
-
-
ATL Total
257
229
.529
0
3
.000
1 Post Season Appearance
St. Louis Cardinals
1990
24
34
.414
6th in NL East
-
-
-
1991
84
78
.519
2nd in NL East
-
-
-
1992
83
79
.512
3rd in NL East
-
-
-
1993
87
75
.537
3rd in NL East
-
-
-
1994
53
61
.465
3rd in NL East
-
-
-
1995
20
27
.426
4th in NL East
-
-
-
STL Total
351
354
.498
-
-
-
New York Yankees
1996
92
70
.568
1st in AL East
11
4
.733
Won World Series
1997
96
66
.593
2nd in AL East - Wildcard Team
2
3
.400
Lost in ALDS
1998
114
48
.704
1st in AL East
11
2
.846
Won World Series
1999
98
64
.605
1st in AL East
11
1
.917
Won World Series
2000
87
74
.540
1st in AL East
11
5
.688
Won World Series
2001
95
65
.594
1st in AL East
10
7
.588
Lost in World Series
2002
103
58
.640
1st in AL East
1
3
.250
Lost in ALDS
2003
101
61
.623
1st in AL East
9
8
.529
Lost in World Series
2004
101
61
.623
1st in AL East
6
5
.545
Lost in ALCS
2005
95
67
.586
1st in AL East
2
3
.400
Lost in ALDS
2006
97
65
.599
1st in AL East
1
3
.250
Lost in ALDS
2007
94
68
.580
2nd in AL East - Wildcard Team
1
3
.250
Lost in ALDS
NYY Total
1,173
767
.605
76
47
.618
Los Angeles Dodgers
2008
59
59
.500
-
-
-
LAD Total
59
59
.500
-
-
-
AL Total
1,173
  767
.605
76
47
.618
Won 4 World Series
NL Total
  950
1,060
.473
56-57 LA, 286-420 NYM, 257-229 Atl, 351-354 StL
0
3
.000
Totals
2,123
1,827
.537
(2,126-1,829 incl. 59-59 as of Aug. 12, 2008)
76
50
.603
Won 4 World Series
References
Edit
External links
Edit
Template:1996 New York Yankees Template:1998 New York Yankees Template:1999 New York Yankees Template:2000 New York Yankees Template:Los Angeles Dodgers roster navbox Template:NL MVPs Template:AL Managers of the Year Template:Hutch Award Template:NL C Gold Glove Award
Template:Atlanta Braves managers
St. Louis Cardinals Managers
Community content is available under
CC-BY-SA
unless otherwise noted.