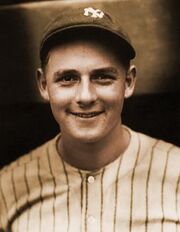 John Patrick Grabowski (January 7, 1900 - May 23, 1946), nicknamed "Nig," was a Major League Baseball catcher who played 7 seasons for the Chicago White Sox (1924-26), New York Yankees (1927-29) and Detroit Tigers (1931). Born in Ware, Massachusetts, Grabowski played 296 major league games -- 282 of them as a catcher. He broke into organized baseball in 1920 with the Minneapolis Millers of the American Association and joined the Chicago White Sox in 1923. He had his best season for the 1927 "Murderer's Row" New York Yankees, considered by many to be the best baseball team in history. Grabowski shared the catching duty with Pat Collins and Benny Bengough in 1927. Grabowski played in 70 games for the 1927 Yankees, scoring 28 runs and 25 RBIs. Grabowski had a .350 on base percentage for the 1927 Yankees. Grabowski won two World Series rings with the Yankees in 1927 and 1928. In 1930, Grabowski was released by the Yankees and played briefly for the Detroit Tigers in 1931. He also played with the Montreal Royals of the International League from 1932-1934 and later became an umpire in the Canadian-American League (1937), Eastern League (1938-39), and International League (1940-41). Grabowski died in Albany, New York at age 46 from burns suffered when fire destroyed his home in the nearby town of Guilderland, New York.
In the first half of the 20th Century, before the game was integrated, ball players with a dark complexion were sometimes nicknamed "Nig." [1] [2] [3] In addition to Johnny Grabowski, the following other major league players bore the nickname: Johnny Beazley (1941-49), Howard Berry (1921-22), Bobby Bragan (1940-48), Nig Clarke (1905-20), Nig Cuppy (1892-1901), Nig Fuller (1902), Nig Lipscomb (1937), Charlie Niebergall (1921-24), Nig Perrine (1907), and Frank Smith (1904-15).
External links
Edit
Template:1927 New York Yankees Template:1928 New York Yankees
Community content is available under
CC-BY-SA
unless otherwise noted.