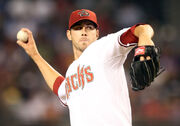 Jon Steven Garland (born September 27, 1979 in Valencia, California) is a right-handed starting pitcher in Major League Baseball for the Chicago White Sox.
Garland was selected by the Chicago Cubs with the 10th pick of the 1997 amateur draft. He was traded to the White Sox in 1998 for Matt Karchner. During his first five seasons with the White Sox, Garland had a 46-51 win-loss record. Garland's 2005 season was very strong; he went 18-10 with a 3.50 ERA and 115 strikeouts, made the All-Star Team and helped the White Sox win the American League Central Division and the World Series. In Garland's first career post-season start he threw a complete game, 4 hitter, with 7 strikeouts against the Los Angeles Angels, in the ALCS.
Following the 2005 season, Garland signed a 3 year $29 million contract, avoiding salary arbitration. He hit his first major league home run on Sunday June 18 2006 off Cincinnati Reds pitcher Esteban Yan.
During the 2006 offseason, Garland was nearly traded to the Houston Astros for Taylor Buchholz, Willy Taveras and Jason Hirsh. The trade fell apart after White Sox general manager Ken Williams became concerned with the health of Buchholz. [1]
Garland had 18 wins in '05, 6 more than his previous best. Garland also won 18 games in 2006, and was the only major league pitcher to win 18 or more games in both 2005 and 2006. His 2-year total of 36 wins tied Chris Carpenter of the St. Louis Cardinals for the most wins (36) in 2005-2006 (Roy Oswalt and Johan Santana each had 35). Jon Garland also led the American League with 3 complete-game shutouts in 2005.
High school career
Edit
At John F. Kennedy High School in Granada Hills, California, Jon Garland won All-State Player of the Year twice, and won high school All-American honors once.
Jon Garland's agent is Craig Landis, who is the son of former White Sox outfielder Jim Landis. [2]
Jon Garland has appeared in an episode of The Bernie Mac Show.
External link
Edit
Community content is available under
CC-BY-SA
unless otherwise noted.