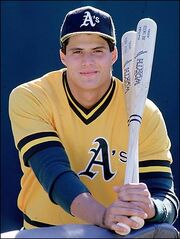 José Canseco y Capas, Jr. (born July 2, 1964 in Havana, Cuba) is a former outfielder and designated hitter in Major League Baseball, and is the twin brother of former major league player Ozzie Canseco.
Biography
Edit
Canseco and his family left Cuba with his cousins when he and his brother were infants. They relocated to the United States, with José and Ozzie growing up in the Miami area, and attending Coral Park High School. Canseco did not attend college, having been drafted in the 15th round by the Oakland Athletics in 1982.[1] He first received high regard for his remarkable power at one of his early minor league stops, with the Modesto A's in Modesto, California. Home run blasts of over 500 feet were common, and the fans would chant "Loot, loot!" to cheer him on. [2] Canseco started the 1985 season with the AA Huntsville Stars in Huntsville, Alabama and became known as "Parkway Jose", for his long home runs (25 in half a season), that went close to the Memorial Parkway behind Joe Davis Stadium.
Oakland A's
Edit
In 1985, Canseco won the Baseball America Minor League Player of the Year Award, and was a late season call-up for the Oakland A's, playing in 29 games in the major leagues in 1985. He made an immediate splash in 1986, his first full season, being named the American League's Rookie of the Year after connecting on 33 home runs and 117 runs batted in. In 1987, Mark McGwire joined Canseco on the Athletics; McGwire hit 49 home runs that year and was also named the American League Rookie of the Year. Together, he and Canseco formed a fearsome offensive tandem, known as the "Bash Brothers."
In 1988, Canseco became the first player in major league history to hit at least 40 homers and steal at least 40 bases in the same year by hitting 42 home runs and stealing 40 bases. After that, the street in front of his former high school was named after him.That same year, he helped the Athletics to the World Series but they lost to the Los Angeles Dodgers in five games. Canseco was unanimously named the American League's Most Valuable Player in 1988, with a .307 batting average, 120 runs scored, 134 runs batted in, 42 home runs, and 40 stolen bases.
In 1989, Canseco missed roughly half the regular season with a broken wrist, but he still managed to hit 17 homers as the Athletics won their first World Series since 1974, beating the San Francisco Giants in four games. The 1989 Series was interrupted before Game 3 by a major earthquake in the San Francisco Bay Area.
Canseco came back to form in 1990, hitting 37 homers despite being hampered in the latter part of the season by what would become a recurring back problem. The A's returned to the World Series once again, but this time they got swept, losing to the Cincinnati Reds in four games. Canseco continued to be productive, hitting 44 home runs in 1991, but his career hit a plateau, and in the face of frequent injuries and controversy he never accomplished what many felt he was capable of.
Texas Rangers
Edit
In 1992, he was traded to the Texas Rangers late in the season (during the middle of a game and while Canseco was in the on-deck circle) for Rubén Sierra, Jeff Russell, and Bobby Witt. The trade to the Rangers would be the first of many junkets around the league.
During the 1993 campaign, Canseco received unwanted attention for two on-field debacles that occurred within days of each other. On May 26, during a game against the Cleveland Indians, Carlos Martínez hit a fly ball that Canseco lost in the lights as he was crossing the warning track. The ball hit him in the head and bounced over the wall for a home run. The cap[3] Canseco was wearing on that play, which This Week in Baseball rated in 1998 as the greatest blooper of the show's first 21 years, is in the Seth Swirsky collection. After the incident, the Harrisburg Heat offered him a soccer contract.[4] Three days later, Canseco asked his manager, Kevin Kennedy, to let him pitch the eighth inning of a runaway loss to the Boston Red Sox; he injured his arm, underwent Tommy John surgery, and was lost for the remainder of the season, leading him to suffer further indignity and ridicule.
Final seasons
Edit
Canseco did have a productive season again in 1998, when he hit 46 home runs and stole 29 bases, the most he had stolen since the 40 he stole in 1988. He was a Blue Jay that year, but his comeback was missed by most fans because of the home run race in the National League between Mark McGwire and Sammy Sosa.
Canseco then went to Tampa Bay, where he was having a tremendous season (34 homers in 114 games; and was voted an All-Star) when he injured his back and was lost for the season. He was claimed off waivers by the New York Yankees down the stretch in 2000, but was not a factor at all in the postseason, making only a token appearance in one game of the World Series against the New York Mets.
Jose played sparingly with the Chicago White Sox in 2001, after being cut by the Anaheim Angels in spring training and spending half of the season with the Newark Bears of the independent Atlantic League. In 2002, Canseco was signed by the Montreal Expos but was released prior to the regular season. Canseco retired in May 2002. He made a brief comeback attempt in 2004, but was not offered a spot with the Los Angeles Dodgers after a spring tryout. His 462 career home runs rank him 26th on the all-time list. Canseco was at one time the all-time leader in home runs among Latino players; he was later surpassed by Manny Ramirez, Rafael Palmeiro and Sammy Sosa. Canseco has been distinguished four times with the Silver Slugger award: three times as an AL outfielder in 1988, 1990, and 1991, and once as a Designated Hitter in 1998.
Independent League Career
Edit
On June 29, 2006, the independent Golden Baseball League announced Canseco had agreed to a one-year contract to play with the San Diego Surf Dawgs. The six-time All-Star will has said he plans to be the team's designated hitter and pitcher. The GBL said Canseco has agreed to be subjected to its drug-testing policy "that immediately expels any players found using steroids or illegal drugs."
On July 5, 2006, Canseco was traded from the Surf Dawgs to the Long Beach Armada after only one game. [5] Canseco requested the trade due to "family obligations".
On July 31, 2006, Canseco won the Golden Baseball League's Home-Run Derby.
Other teams that Canseco played for in the minor leagues include the Huntsville Stars, Medford A's, Pawtucket Red Sox, Newark Bears, and Charlotte Knights.
In 2005, Canseco admitted to using anabolic steroids in a tell-all book, Juiced: Wild Times, Rampant 'Roids, Smash Hits & How Baseball Got Big. Canseco also claimed that up to 85% of major league players took steroids, a figure disputed by many in the game. In the book, Canseco specifically identified former teammates Mark McGwire, Jason Giambi, Rafael Palmeiro, Iván Rodríguez, and Juan González as fellow steroid users, and claimed that he injected them. Most of the players named in the book have denied steroid use. Giambi has admitted to steroid use in testimony before a grand jury investigating the BALCO case.
At a Congressional hearing on the subject of steroids in sports, Palmeiro categorically denied using performance-enhancing drugs, while McGwire repeatedly and somewhat conspicuously refused to answer questions on his own suspected use. Canseco's book became a New York Times bestseller. On August 1, 2005, Palmeiro was suspended for 10 days by Major League Baseball after testing positive for steroids.
On December 13, 2007, José Canseco was cited in the Mitchell Report to the Commissioner of Baseball of an Independent Investigation Into the Illegal Use of Steroids and Other Performance Enhancing Substances by Players in Major League Baseball[6].
On December 20, 2007, Canseco was also named in Jason Grimsley's unsealed affidavit as a user of steroids. Canseco and Grimsley were teammates on the 2000 New York Yankees.[7]
On December 30, 2007, it was announced that Canseco has reached a deal for his sequel to Juiced. The new book is Vindicated, which Canseco's lawyer, Robert Saunooke, says will hit bookstores by Opening Day 2008. This book is said to have "stuff" on Alex Rodriguez, and Albert Belle as suggested by Canseco. The book will be a "clarification" of names that should've been mentioned in the Mitchell Report. On January 5, 2008, a potential editor for his upcoming book, Don Yaeger, a former Sports Illustrated associate editor, said he would not edit the book. He told the New York Daily News that he thought Canseco didn't have a book in the material he gave him.[8]
Post baseball
Edit
In 2007, he received 6 Hall of Fame votes. This accounted for 1.1% of the ballots, failing to reach the 5% threshold necessary to stay on the ballot for another year. He is, however, permanently eligible for induction on the Committee of Baseball Veterans ballot.
In May of 2008, former NFL player Vai Sikahema accepted an open challenge from Jose Canseco to fight him in a celebrity boxing match for $30,000. Canseco claims to have earned black belts in Kung Fu, Taekwondo, and Muay Thai, while Sikahema, who grew up wanting to be a professional boxer, had once fought in a National Golden Gloves Championship that was eventually won by Sugar Ray Leonard. The fight took place on July 12th, 2008, in Atlantic City at the Bernie Robbins stadium. [2] Canseco was suffering from food poisoning in his controversial loss was advised not to go into the ring, but he did not want the event to go that way he did fight, but did not train for the bout.
Personal life
Edit
Canseco's personal life has also had its troubles. In 1989, his first wife, Esther Haddad, whom he married in November 1988, accused him of domestic violence after he allegedly ran his car into hers. That was the beginning of a series of accusations and run-ins with the law while Canseco was in the public spotlight. He divorced in 1991.
He remarried in August 1996, to Jessica Sekely; he was arrested in November 1997 for allegedly hitting her. In January 1998, he was sentenced to probation and required to have counseling. The couple divorced in 1999. In October 2001, he and his brother got into a fight with two California tourists at a Miami Beach nightclub that left one man with a broken nose and another needing 20 stitches in his lip; Canseco was charged with two counts of aggravated battery.
In 2005, his ex-wife, using the last name Canseco, was featured in the September issue of Playboy magazine. Canseco and his ex-wife Jessica have one child, Josiphene "Josie".
In May 2008, Canseco revealed that he had lost his house in Encino, California to foreclosure[9], saying his two divorces had cost him $7 to $8 million each.
In his book he admits that he met Madonna and that she asked him to marry her, but he claims that he was never interested in her, and was just fascinated with her as a person.
In a 1991 game against the Texas Rangers, Canseco managed to rescue a lost owl that had somehow flown onto the playing field.
He was a cast member on the 5th season of the VH1 series The Surreal Life.
In the film Teenage Mutant Ninja Turtles, Canseco was mentioned by Raphael in a fight with Casey Jones. As Casey attacks Raphael in Central Park with a baseball bat and other various sport equipment, Raphael says "A José Canseco bat? Tell me you didn't pay money for this."
First player to hit 30 home runs for four different franchises. Fred McGriff duplicated the feat later the same season and then passed Canseco two years later by hitting 30 for his fifth franchise.
In his book, he says that he met his second wife at a Hooters restaurant in Cleveland.
His current projects include a movie deal, and story based on his life and guest appearances in television shows as well as a stint on VH1's Surreal Life.
In the film Liar Liar, Jim Carrey refers to himself as José Canseco while he is being taken away by a bailiff, a reference to an earlier part of the movie where he and his son plan on pretending to be Canseco and Hideo Nomo during a game of catch.
In the My Way Entertainment Power Rangers parodies, the Red Ranger frequently calls himself "José Canseco" while shouting many references to steroids.
Spike TV's reality show "Pros vs. Joes" Season 2 featured Canseco on the premiere episode on January 25, 2007.
He is mentioned in the last line of Los Abandoned's Panic-Oh!
In early 2007, Canseco participated in a Full Tilt Poker tournament with Erick Lindgren, Daniel Negreanu, John Juanda, Phil Ivey and Cheryl Hines.
In December 2007, Canseco revealed that he, together with Herschel Walker, have begun training for an upcoming mixed martial arts reality television series featuring former celebrity athletes.[11][12]
References
Edit
External links
Edit
Community content is available under
CC-BY-SA
unless otherwise noted.