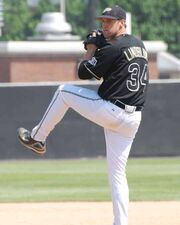 Joshua William Lindblom (born June 15 1987 in Lafayette, Indiana) is an American Minor League Baseball player. He is currently a pitcher in the Philadelphia Phillies organization.
Collegiate Career
Lindblom attended high school at Harrison High School. He was drafted in the third round of the 2005 MLB Draft by the Houston Astros after being listed by Baseball America as the top prospect in the state of Indiana. He was 8-2 as a High School senior with a 2.30 ERA and 117 strikeouts in 76 innings. Rather than sign with the Astros, Lindblom chose to attend the University of Tennessee. [1]
After one season with the Volunteers, Lindblom transferred to Purdue University for the 2007 season. [2] He was a starter with Tennessee, but became the closer for Purdue in 2007-2008. Lindblom was listed as being among the top college baseball players [3][4]
Professional Career
He was drafted by the Los Angeles Dodgers in the 2nd round of the 2008 MLB Draft and made his professional baseball debut that same year with the Single-A Great Lakes Loons in the Midwest League. [5] He started eight games for the Loons, finishing 0-0 with a 1.86 ERA in 29 innings worked. He struck out 33 batters, while walking only 4. He got a late season call-up to the AA Jacksonville Suns, where he made one start.
In 2009, he pitched in several spring training games for the Major League Dodgers and there was some speculation that he could even make the big league club to start the season. [6]However, he was instead assigned to start the year with the Dodgers new AA affiliate, the Chattanooga Lookouts. He made 14 appearances for the Lookouts, including 11 starts and had a record of 3-5 and an ERA of 4.71 when he was promoted to the AAA Albuquerque Isotopes.
On July 31, 2012, Lindblom was traded to the Philadelphia Phillies with pitcher Ethan Martin for outfielder Shane Victorino.[7]
External links
References