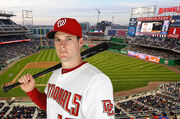 Joshua David Willingham (born February 17, 1979 in Florence, Alabama) is an American Major League Baseball player for the Washington Nationals. He is nicknamed "The Hammer." A power-hitting prospect for six minor league seasons, Willingham has been held back by his injuries. Drafted as a shortstop, and coming up as a third baseman, he moved behind home plate to become a catcher. He is now the primary a left fielder.
Career
Willingham is somewhat talented, possessing considerable power and discipline at the plate. He was one of several hopeful 2006 National League Rookie of the Year Candidates with the Florida Marlins, along with shortstop Hanley Ramirez and first baseman Mike Jacobs, as well as many other of the Marlins' prospects such as Dan Uggla, Eric Reed, and Reggie Abercrombie. On April 4, Willingham recorded his first career multi-homer game, launching two against the Houston Astros.
On November 11, 2008, Willingham was traded to the Washington Nationals along with pitcher Scott Olsen for Emilio Bonifacio, Jake Smolinski, and P.J. Dean. .[1]
Personal
He was born in Florence, Alabama where he played high school baseball at Mars Hill Bible School and collegiate baseball at the University of North Alabama. He is a member of Sigma Chi fraternity, Eta Rho Chapter.
References
External links