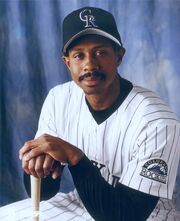 Juan D'Vaughn Pierre (born August 14, 1977 in Mobile, Alabama) is an outfielder in Major League Baseball who plays for the Los Angeles Dodgers. He bats and throws left-handed.
Pierre, who was named for Hall of Fame pitcher Juan Marichal, went to high school at Alexandria Senior High School in Alexandria, Louisiana.
Prior to his professional career, he played at Galveston College and the University of South Alabama, where he was 1998 Sun Belt Conference Player of the Year.
Minor leagues
Edit
Pierre began his professional career with the Portland Rockies of the Northwest League, after being selected by Colorado in the 13th round of the 1998 MLB Draft. He won the league batting and stolen base titles in his first professional season, and was a fan favorite even at that level. Pierre began 2000 with the Carolina Mudcats before finishing the year in Colorado.
Major leagues
Edit
Colorado Rockies
Edit
Pierre made his major league debut on August 7, 2000, as a pinch runner for the Rockies against the Pittsburgh Pirates. He made his first start in center field the following day and got his first hit in the first inning off José Silva.
Florida Marlins
Edit
On November 16, 2002, Pierre was traded along with Mike Hampton and cash to the Florida Marlins for Charles Johnson, Preston Wilson, Vic Darensbourg, and Pablo Ozuna.
In the 2003 regular season, Pierre posted a .305 batting average, led the NL in games played (162), at-bats (668), stolen bases (65), and sacrifice hits (15), and led the majors with the lowest strikeout percentage (5.2%),[1] During the post-season, he was a major contributor to the Marlins' 2003 World Series championship. He batted .333 in the World Series and .301 overall in his first playoff experience.
In 2004, he led the National League in at bats (for the second year in a row) with 678; hits (221); triples (12); games played (162); bunt hits (24);[2] infield hits (38);[2](5.2%).[1] In addition, he was the only major league player to play every inning of each of his team's games.
In 2005, Pierre led the National League in games played (162), and had the third-lowest strikeout percentage in baseball (6.9%).[3]
Chicago Cubs
Edit
On December 7, 2005, the Marlins traded Pierre to the Chicago Cubs, receiving pitchers Sergio Mitre, Ricky Nolasco, and Renyel Pinto in exchange. The deal was motivated by the Marlins' need to cut payroll after finding itself unable to secure a new stadium deal in South Florida.
In 2006, despite batting only .292, Pierre led the NL with 204 hits, winning his second hit title, and in at-bats (699), games played (162), bunt hits (21), infield hits (30),[4] and in lowest strikeout percentage (5.4%).[5] He also played perfect defensive baseball, earning a fielding percentage of 1.000. However, he also led the major leagues in outs made (532), the second-highest out total for a player since 1982.
Los Angeles Dodgers
Edit
On November 22, 2006, Pierre signed a $44 million contract with the Los Angeles Dodgers.[6]
In 2007, Pierre led the majors in bunt hits (19). He also led the NL in games played (162) for the 5th straight year, and singles (164) for the second straight year, led the league in sacrifice hits (20), and had the lowest strikeout percentage in the NL (5.5%),.[7] He was 2nd in the NL in stolen bases (64), 3rd in at bats (668) and plate appearances (729), 4th in hits (196), and 9th in triples (8).
Going into 2008, the Dodgers signed Andruw Jones to a two-year contract to play center field. Because of this, Pierre shifted to left field. After a trip to the DL in July, Pierre was moved into a platoon in center field with the struggling Jones. When the Dodgers traded for Manny Ramirez, Pierre moved to the bench and saw limited action, primarily as a pinch runner the rest of the season.
Manager Joe Torre said of Pierre on MLB.com. "I've delivered bad news to him two years in a row -- first with Andruw Jones, then when Manny came on board. He's more understanding about being a backup. He's been a pro through this whole thing."
After nearly 2 years without hitting a home run, Pierre hit a ball into the right field seats at PNC Park in Pittsburgh on September 15, 2008. It was Pierre's first traditional fly ball home run since August 28, 2006, also in Pittsburgh.
Prior to the 2009 season started, the Dodgers gave Pierre and his agent permission to talk to other teams in hopes of working out a trade, since Ramirez's re-signing with the Dodgers pushed Pierre to the backup role in left field.
When Manny Ramirez received a 50 game suspension, Pierre once more became the Dodgers regular left field. During Manny's suspension, Pierre delivered a stellar performance that drew praise from fans and critics alike. However, once Manny returned, he resumed his previous role of a backup player. In recognition of his hard work, Dodger fans gave him a standing ovation on July 16, the same game where Manny Ramirez had his first home game since returning from suspension, while Ramirez didn't.
Accomplishments
Edit
Member of 2003 World Series champion Florida Marlins, and was named the Marlins' most valuable player by the South Chapter of the Baseball Writers Association of America
Received the Cool Papa Bell Award from the Negro Leagues Baseball Museum in 2003
Led the National League in stolen bases in 2001 (46) and 2003 (65)
Pierre was the only player in baseball to play every inning of all his team's games in 2004, and was only the third player to do it since 1971.
On May 9, 2006, Pierre robbed the San Francisco Giants' Barry Bonds of a career 714th home run, which would have tied Bonds with Babe Ruth for second on the all-time list, by catching the ball as it topped the fence.
Was the first Marlin to record 200 hits in a season
Set the record for the lowest batting average (.292) in a season (2006) while collecting at least 200 hits (204).
Has the 2nd most stolen bases out of any active player
On July 29, 2008, Pierre stole his hundredth base with the Dodgers, becoming only one of four players in MLB history to steal at least a hundred bases with three different teams. He previously stole 100 with the Colorado Rockies and 167 with the Florida Marlins. Tommy Harper, Brett Butler, and Otis Nixon are the only others to have accomplished this feat.[8]
Pierre tied former Dodger Steve Sax on the top fifty career MLB stolen base leaders list with 444 on June 12, 2009, against the Texas Rangers in Arlington.[9] The next day, June 13, he pushed Sax out of the top 50 with his 445th steal, again versus the Rangers in Arlington (Next on the list at #49 is Curt Welch with 453).[10][11]
References
Edit
External links
Edit
Persondata
NAME
Pierre, Juan
ALTERNATIVE NAMES
SHORT DESCRIPTION
DATE OF BIRTH
August 14, 1977
PLACE OF BIRTH
DATE OF DEATH
PLACE OF DEATH
Community content is available under
CC-BY-SA
unless otherwise noted.