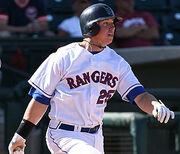 Justin Kyle Smoak (born December 5, 1986 in Goose Creek, South Carolina) is an American professional baseball player for the Texas Rangers. Smoak graduated from Stratford High School in 2005 and went on to play college baseball for the South Carolina Gamecocks. After his junior year, he was drafted by the Texas Rangers in the 2008 MLB Draft on June 5, 2008 as the eleventh overall selection.[1]
High School Career
Edit
Smoak played four years of varsity high school baseball under coach John Chalus.[2] It wasn't until his junior year in high school that scouts began to notice his talent because they were originally scouting his teammate and friend, Matt Wieters.[3] However, Smoak soon made his presence known among scouts. He was named by ABCA, Baseball America, and Collegiate Baseball as a 2005 high school All-American.[2] He was also one of 36 high school players in the nation to play in the 2005 high school All-American baseball game, named South Carolina AAAA Player of the Year in 2004 and 2005, named co-Mr. Baseball for 2005 in South Carolina (alongside Gamecock teammate Reese Havens), made the 2004 and 2005 South Carolina AAAA All-State team, and a member of the 2005 South Carolina AAAA state championship team while with the Stratford Knights.[2] He was initially drafted by the Oakland Athletics as a sixteenth-round pick in 2005 upon graduation[4], but deferred and went to the University of South Carolina.[2]
College career
Edit
In his three years playing for South Carolina, Smoak consistently put up big numbers. After batting .303 with 17 home runs and 63 RBI, Smoak earned Freshman All-American honors.[5] He followed up with a .315 batting average, 22 home runs, and 72 RBI in his sophomore year, good enough to be tabbed as a third-team All-American.[5] For his junior year, Smoak batted .383, with 23 home runs and 72 RBI.[4]. Smoak is South Carolina's all-time home run king with 62, breaking Hank Small's record of 48, which stood for over 30 years. Smoak is also South Carolina's career leader in RBIs and walks.
Smoak had also been named a semi-finalist for the Golden Spikes Award in 2007 and 2008.[6]
Professional career
Edit
MLB Draft
Edit
Smoak was generally considered one of the top five players in the 2008 MLB draft, but his demands for a high-dollar contract caused several teams to pass on him. The Texas Rangers selected Smoak with the eleventh overall pick, leading USA Today to comment that "getting Smoak at No. 11 may be the best value pick of the first round."[7] Smoak did not sign a professional contract until fifteen minutes before MLB's deadline for teams to sign draft picks. The Rangers gave Smoak a $3.5 million signing bonus and assigned him to one of their Class-A affiliates, the Clinton Lumberkings.
Scouting Report
Edit
Smoak was touted, early and often, by scouts as one of the best defensive first basemen in the 2008 draft.[8][9] Some scouts compared Smoak to fellow switch hitters Mark Teixeira and Chipper Jones.[10] Baseball America wrote that, as a first baseman, Smoak had "Gold Glove-caliber actions and soft hands", as well as "advanced footwork and instincts at first base", though they wrote that he had merely adequate arm strength.[5] Nonetheless, several scouting reports wrote that Smoak's biggest strength was his ability to hit for both power and average on both sides of the plate.[5][8]
Double & Triple A
Edit
Smoak began play in the 2009 season for the class AA Frisco RoughRiders. He was promoted on July 8, 2009 to class AAA Oklahoma City [11]. Smoak enters 2010 ranked among the best prospects in baseball.[12][13]
Major leagues
Edit
Justin Smoak was called up by the Rangers on April 22 and made his Major League debut the following evening in a game against the Detroit Tigers. [14]
Cape Cod League and Team USA stints
Edit
In the summer of 2006, Smoak played for the Cotuit Kettleers in the Cape Cod Baseball League. He led all hitters with 11 home runs, a .565 slugging percentage, and 21 extra-base hits,[15] en route to the MVP award.
In the summer of 2007, Smoak was a representative for Team USA. During the 2007 Pan American Games, Smoak struggled, hitting .190 for the tournament. He won a silver medal there, when his team lost to Cuba in the finals. Later, he competed with Team USA again in the 2007 World Port Tournament. However, he didn't fare much better, as he finished with a .208 average, although he did lead the tournament with three doubles. In all, Smoak hit .223 and had a .380 slugging percentage for Team USA over the summer.[16]
In 2009, Smoak again represented his country in the IBAF Baseball World Cup. Smoak hit nine home runs and drove in 22 runs, and was named to the 2009 IBAF World Cup All-Tournament Team along with fellow Team U.S.A. players Terry Tiffee and Jon Weber. He was also named the 2009 Baseball World Cup's Most Valuable Player.
References
Edit
External links
Edit
Community content is available under
CC-BY-SA
unless otherwise noted.