Kerry Lee Wood (born June 16, 1977 in Irving, Texas) is an American baseball player. A right-handed pitcher, he plays professional baseball for the Chicago Cubs. Wood has recorded over two hundred strikeouts in four different seasons between 1998-2003, with a high-water mark of 266 K's in 2003. In recent years, he has had three serious arm injuries, and has only started a total of 14 major league games from Opening Day 2005 through the middle of 2006. Wood returned to the Cubs during the 2007 season as a relief pitcher and is currently serving as the team's closer.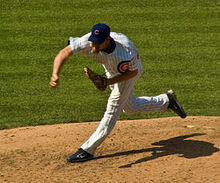 Early life
Wood became a high school phenom while attending Mac Arthur High School in Irving, Texas, for his first three seasons of high school baseball. He continued his domination of batters at Grand Prairie High School in his final season as a high school player.[1]
Professional career
1995-1998
The Chicago Cubs drafted Wood as the fourth overall selection in the 1995 Amateur Draft. He spent three years playing in the Minor Leagues. His best season in the Minors came in 1996, when he posted a 10-2 record for the Daytona Cubs.[2] He spent his final two years in the minors playing for the Iowa Cubs.[2]
1998
A much-hyped prospect in the minor leagues, Wood made his MLB debut on April 12, 1998. He wasted no time showing the world his talent when - in only his fifth career start on May 6, 1998 - he threw a one-hit, no walk, 20-strikeout shutout against the Houston Astros, tying Roger Clemens' record for strikeouts in a 9-inning game and breaking Bill Gullickson's single-game rookie record of 18 strikeouts in 1980. The game is considered by many to be among the most dominant pitching performances in the history of baseball.[3] According to statistician Bill James's Game Score system, which attempts to assign a numerical value to a start, Wood's performance scored 105, the highest in the history of baseball. Moises Alou, then of the Astros, called Wood's pitching performance "the best" he had ever seen.[4] Soon after the game, t-shirts started circulating around wrigley with the phrase "We got Wood!" The t-shirts remain popular today.
Wood finished the 1998 season with a 13-6 record, and despite missing the last month of the season with elbow soreness easily won the National League Rookie of the Year award. By season's end, Wood, who had come to be known by the nickname "Kid K," established himself as the Cubs' ace. He pitched one game in the playoffs against the Atlanta Braves, but suffered the loss. That would be his last appearance in a Cubs uniform for more than a year.
1999-2003
During Spring Training of 1999, Wood underwent Tommy John surgery to repair damage to the ulnar collateral ligament in his right elbow. He missed the entire season to rehab from the surgery.
Wood returned in 2000 and struggled to an 8-7 record, but the following season, he returned to form. In 2001, Wood began a string of three straight seasons in which he began to once again show the promise he displayed as the young phenom just a few years earlier. He went 12-6 with a 3.36 ERA. The following season (2002), Wood finished 12-11 with a 3.67 ERA, but perhaps more important was the fact he didn't miss a start all year long, setting career highs with 213.6 innings pitched and 33 starts. In both seasons, he struck out 217.
In 2003, Wood continued to improve, setting career highs with 266 strikeouts, 14 wins (as part of a 14-11 record), a 3.20 ERA, and 2 shutouts. He also walked 100 batters and surrendered 24 home runs, also career highs, but was selected as a National League All-Star and helped lead the Cubs to the playoffs.
Wood teamed with fellow right-hander Mark Prior to form a dominating 1-2 punch dubbed "Chicago Heat" by the media, that led the Cubs to a NL Central title. Wood earned two wins in the Divisional Series against the Atlanta Braves and was the starter in Game 3 of the 2003 National League Championship Series, which the Cubs won in extra innings. However, the Cubs lost in seven games to the eventual World Series champion Florida Marlins. In the decisive Game 7, one day after the infamous Steve Bartman incident, Wood hit the first home run by a pitcher in a NLCS game since another Cub, Rick Sutcliffe, did so in Game 1 in 1984. However, the Marlins won the game 9-6. Wood was charged with the loss and the Cubs were eliminated.
2004-2006
Based on their promising 2003 performance and off-season moves, Kerry Wood and the Cubs were featured on the cover of Sports Illustrated for the 2004 Season baseball preview issue and were predicted to win the World Series. Perhaps another example of the so-called "SI Jinx," Wood went just 8-9 during the season and was sidelined for nearly two months with a strained triceps. Meanwhile, the Cubs led the Wild Card race by two games with a week to go in the season. However, they lost seven of their last nine games - including two losses by Wood - to finish 89-73, two games behind Houston, and out of the playoffs.
In 2005, the Cubs—and Wood—continued to struggle. On August 31, 2005, Wood underwent season-ending arthroscopic surgery. During Spring Training the following year, Wood suffered several setbacks which required an additional surgery on his knee and time off shortly after that for falling out of a hot tub. Finally, on May 18, 2006, Wood returned to the Cubs' rotation when he pitched in a game at home against the Washington Nationals. He took the loss, giving up four runs and three home runs while striking out six in five innings. In June, Wood returned to the DL with a sore shoulder. The following month, the Cubs announced that Wood had sustained a partially torn rotator cuff which was likely to keep him from pitching again for the rest of the year. At the end of the 2006 season, the Cubs exercised their option on Wood's contract and bought out the remaining $13M.
2007-Present
With his long history of injuries and inability to stay in the starting rotation, Wood accepted the Cubs offer to join their bullpen in 2007, signing an incentive laden one-year contract for $1.75 million. Wood explained at the time he felt he owed both the Cubs' Organization and their devoted fans for all the time missed due to his injury plagued past. Wood attempted to sustain a regular throwing schedule and appearances during Spring Training games. However, Wood was placed on the 15 day DL with soreness in his elbow and was then moved to the 60 day DL. He began playing catch on May 21. In his first rehab stint against in Cubs Rookie Ball, he struck out all three batters he faced. On July 24, he pitched 1 inning with the Peoria Chiefs, throwing 9 pitches. He made back-to-back appearances on July 26 and July 27, throwing his fastball between 92-94 mph with no discomfort.
The Cubs activated Wood from the 60-Day Disabled List on August 3, causing many to believe that he would make his actual return on that day.[5] In the seventh inning, however, Lou Piniella opted to send Bob Howry to the mound, and most fans, eager to see Kerry back on the hill, mistakenly gave Howry a standing ovation, only to realize moments later it was actually not Wood.[6] Piniella later stated he wanted Wood to receive a "softer landing", or in other words, make his return in a game where the Cubs have a comfortable lead over their opponents.[7] Wood made his return on August 5, with the Cubs trailing the New York Mets by four runs.[8] He pitched a single inning, during which he allowed one hit, and struck out another batter.[8] Piniella praised Wood's performance, stating "He threw the ball real good", and "His breaking ball had some bite to it, and he threw it up there about 93-94, about what we expected".[9] Since then, he has remained healthy appearing in 22 games and posting a 1-1 record with a solid 3.33 ERA.
He was generally limited to one inning per outing and has not appeared in games on back to back days, though he did pitch in both halves of a double header on September 15. Wood was a major contributor to the Cub's NL Central Division Championship down the stretch in late September, earning a win and 8 holds. Wood filed for free-agency on November 11, 2007, though he suggested that he wanted to remain in pinstripes for the 2008 season. Despite multi-year offers from other teams, Wood agreed to a one year, $4.2 million deal with the Cubs.[10]
Wood, along with Bob Howry and Carlos Marmol, competed for the role as the Cubs' closing pitcher after Ryan Dempster was moved to the starting rotation.[10] After posting a 2.84 ERA in the spring, Wood won the job. He recorded his first career save April 3, 2008 with a win over the Brewers.[1][2] Wood has since recorded 22 saves in 27 opportunities, 54 strike-outs and a .97 WHIP. He was selected to the 2008 MLB All-Star Game as a relief pitcher on July 6, 2008 along with six other teammates.[11]
Wood was placed on the 15-day DL on July 24, 2008 with a blister on his right index finger.[12]
MLB records
Fastest to reach 1000 strikeouts in MLB history (in appearances): 134 games
Fastest to reach 1000 strikeouts in MLB history (in innings pitched): 853 IP
Strikeouts in a 9-inning game: 20 on May 6, 1998 (tied record then held by Roger Clemens)
Personal life
Wood is married to the former Sarah Pates of Waukegan, Illinois. The couple has a son, Justin Dean (born 2006). After FOX repeatedly kept showing her reactions in the crowd during playoff games Kerry was starting, he asked that the shots of her in live telecasts be reduced.
See also
List of pitchers who have struck out 18 or more batters in a nine-inning MLB game
References
External links
Persondata
NAME
Wood, Kerry
ALTERNATIVE NAMES
SHORT DESCRIPTION
DATE OF BIRTH
1977
PLACE OF BIRTH
DATE OF DEATH
PLACE OF DEATH