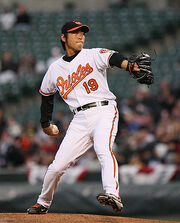 Koji Uehara (上原 浩治 born April 3, 1975 in Neyagawa, Osaka) is a right handed starting pitcher for the Yomiuri Giants in Japan's Central League. He is 186 cm (6 ft 1 in) tall and weighs 86 kg (190 lb).
Japanese baseball
Edit
He graduated from Osaka University of Health and Sport Sciences, and was drafted with the first pick by Giants in 1998. He had a successful rookie year in 1999, with 15 consecutive wins which broke the all-time rookie record, claimed the Rookie of the Year, Sawamura Award, and lead in wins, ERA, strikeouts and winning percentage.
In 2001, he finished with a 4.02 ERA, his highest yet. However, in 2002, he rebounded, leading the Central League in wins and collecting his second Sawamura Award.
He was injured before the 2007 season which made him a late appearance, and in that season, he became a closer instead, recorded an 1.74 ERA with 4 wins, 3 losses and 32 saves. Though showing a good ability both starting and closing, he returned as a starting pitcher in the 2008 season. He is likely to leave Giants after the 2008 season after he had obtained the Free Agency Right, allowing him to play in Major League Baseball.
International competition
Edit
Uehara is reknowed of his performance in international competition. He participated in international events since he was in the University, he also participated Olympic Games twice, as well as the first World Baseball Classic, and participated in Asian Baseball Championships. He have 12 wins and 2 saves, without a loss in his 25 appearances from the above events.
He was a member of the Japanese National Baseball team which competed in the 2004 Olympic games in Athens. The team eventually won the bronze medal.
In 2006, he joined Team Japan for the World Baseball Classic and earned 2 wins, improving his unbeaten record in international competition (including amateur appearances) to 12 wins in 21 total appearances. In the World Baseball Classic, team Japan beat team Cuba to win the championship; Uehara led the tournament with 16 strikeouts. He was a closer in 2007 Asian Baseball Championships, played in two games and earned his first international save against Korea.
Through his performance in 2008 was extremely unstable, and even being demoted to farm team in late April. He remains in the 39-out-of-77 men candidate list towards the Beijing Olympics in late June. And was selected as the final 24-men list in mid-July. He was expected to be a set-up pitcher but not a starting pitcher or closer before the Olympic Games, due to his instability in that season, but he remains as an closer in his first appearance against Chinese Taipei, shuts out the game without yielding a hit, winning 6-1. And earns his first Olympic save against Canada, helding a 1-0 victory two days later. However, after the Japan finished fourth in the games, he shows no interest on participating the World Baseball Classic in 2009 in an interview, which meaning that the record was no likely to be extended, or stopped.
Inclination for MLB
Edit
Uehara has been asserting his preference in public to be transferred to a Major League Baseball team through the infamous posting system. His efforts have (so far) been rebuffed by the Yomiuri Giants front office. He was expected to be eligible for free agency in 2007 (but now postponed to 2008 due to his injury in last season. And he was finally eligible for FA in 4th, April, 2008. Somewhat ironically, back in 1998 Uehara rejected a contract worth $3 million from the then-Anaheim Angels and signed with Yomiuri instead of following the advice of family and acquaintances. The Angels have expressed their continued interest in Uehara, as Scouting Director Eddie Bane had stated that acquiring either Uehara or Daisuke Matsuzaka is a top priority for the team. However, many other teams, including the Yankees, Dodgers, Red Sox, Mets, and Orioles have shown interest in bidding for Uehara if and when he becomes available. He also is a friend of Roger Clemens after Clemens visited Japan in 2004 as a member of MLB all star team. MLB.com showed a video in which Clemens gave Uehara his game-used black glove with autograph [1].
Personality
Edit
Uehara collects other famous players' items as his memories. For example, gloves, bats, caps, shoes, wears and so on.
Career in Japan
Edit
 Statistics

---

Year
Team
G
W
L
SV
CG
SHO
IP
SO
R
ERA
1999
Yomiuri Giants
25
20
4
0
12
1
197⅔
179
49
2.09
2000
Yomiuri Giants
20
9
7
0
6
1
131  
126
53
3.57
2001
Yomiuri Giants
24
10
7
0
4
1
138⅔
108
66
4.02
2002
Yomiuri Giants
26
17
5
0
8
3
204  
182
65
2.60
2003
Yomiuri Giants
27
16
5
0
11
1
207⅓
194
76
3.17
2004
Yomiuri Giants
22
13
5
0
2
0
163  
153
54
2.60
2005
Yomiuri Giants
27
9
12
0
6
2
187⅓
145
73
3.31
2006
Yomiuri Giants
24
8
9
0
5
0
168⅓
151
67
3.21
2007
Yomiuri Giants
55
4
3
32
0
0
62
66
12
1.74

Career Total

245
104
57
32
54
9
1459⅓
1304
515
2.96
*Bold = led league
Awards in Japan
Edit
| | |
| --- | --- |
| 1999 | Central League Rookie of the Year, Best Nine, Sawamura Award, Gold Glove, ERA, Strikeouts and Wins champion of the Central League |
| 2002 | Sawamura Award, Best Nine, Wins champion of the Central League and Japan Series |
| 2003 | Gold Glove, Strikeouts champion of the Central League |
| 2004 | ERA champion of the year |
References
Edit
External links
Edit
Template:Sawamura Award Template:Japan Roster 2006 World Baseball Classic
Persondata
NAME
Uehara, Koji
ALTERNATIVE NAMES
SHORT DESCRIPTION
DATE OF BIRTH
1975
PLACE OF BIRTH
DATE OF DEATH
PLACE OF DEATH
Community content is available under
CC-BY-SA
unless otherwise noted.