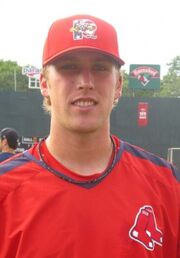 Lars Anderson (born September 25, 1987 in Oakland, California) is an American pro First baseman and Outfielder who is currently a Free agent. He was drafted in the 18th round of the 2006 draft out of Jesuit (CA) High School. At the end of the 2008 season, Soxprospects.com had Anderson listed as the #1 prospect in the Red Sox farm system. Baseball America later confirmed this by also rating him as the #1 prospect in their farm system.
High School
Edit
Lars attended Jesuit High School in Sacramento, California. In his senior year of high school, Lars hit over .400 with 14 home runs in 29 games. He committed to attend to University of California, Berkeley with a scholarship that would allow him to play baseball for the Golden Bears.
Coming into the 2006 MLB Draft, Lars was considered an early round talent, but slipped to the 18th round due to high bonus demands. He agreed to an $825,000 signing bonus with the Red Sox, equivalent to the suggested bonus for a first round supplemental pick.
2007 Greenville Drive (Low-A)/Lancaster JetHawks (High-A)
Edit
Anderson made his pro debut in April 2007. Lars lived up to the hype surrounding him and more in his debut season at Greenville. He hit .288/.385/.443 in 124 games and earned a late-season promotion to the high-A affiliate of the Sox, the Lancaster JetHawks. Though he only got a brief taste of "The Hanger" (Clear Channel Stadium at Lancaster), Anderson's line of .343/.489/.486 showed promise for his time there in 2008.
2008 Lancaster JetHawks (High-A)/Portland Sea Dogs (AA)
Edit
There were great expectations for Lars coming into 2008. Baseball America ranked him as the 40th best prospect in baseball.[1] He hit .317/.408/.513, good enough for a promotion to Portland and leading Jim Callis of Baseball America to name him as the best prospect in the Sox system.[2]
Lars made his MLB debut on September 6, 2010. He replaced Mike Lowell at first base in the 5th inning of Mike's last major league game on October 2, 2010, designated "Mike Lowell Day" by the Red Sox. In 18 appearances Anderson had 7 hits in 35 at-bats, with 4 RBIs.
On July 31, 2012, Boston traded Lars to the Cleveland Indians for Steven Wright. On December 11, Cleveland traded Anderson to Arizona in a three-team trade. Arizona designated Lars for assignment on January 24, 2013
Chicago White Sox
Edit
After Anderson was designated, he was claimed off waivers by the White Sox, and placed on their 40 man roster on February 1.
Community content is available under
CC-BY-SA
unless otherwise noted.