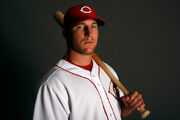 Laynce Michael Nix (born October 30, 1980 in Houston, Texas) is a Major League Baseball outfielder for the Cincinnati Reds. Nix plays all three outfield positions, but plays most of his games at left field. His younger brother is Jayson Nix, second baseman for the Cleveland Indians.
Career
Nix attended Midland High School in Midland, Texas, where he played both football and baseball. In addition to starting at quarterback for the football team, Nix was named to the All-Permian Basin Baseball Team before graduating in 2000.
Nix was selected in the fourth round of the 2000 Major League Baseball Draft by the Texas Rangers. He made his debut on July 10, 2003, in a game against the Minnesota Twins. In that game, he recorded his first major league hit, and also scored a run.
Through 2005, Nix hit 28 home runs with 108 RBI. His 2005 season was cut short when he elected to have surgery to repair a torn labrum in his left shoulder.
After a slow start in 2006 and the return of Gary Matthews, Jr. from injury, Nix was optioned to the Rangers' Triple-A affiliate, the Oklahoma RedHawks.
On July 28, 2006, Nix was traded to the Milwaukee Brewers along with Francisco Cordero, Kevin Mench, and Julian Cordero for Carlos Lee and Nelson Cruz.
Hampered by an injury, Nix spent most of 2007 with Milwaukee's Triple-A Nashville Sounds. He was a September call-up, but went hitless in ten games with the Brewers. In December, Nix cleared waivers and was reassigned to Nashville, where he spent the entire 2008 season.
In December 2008, Nix signed a minor league contract with the Cincinnati Reds.[1]
He was re-signed to a minor league contract by the Reds on December 19, 2009.
References
External links
Template:Commons category