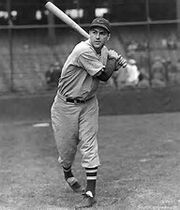 Louis "Lou" Boudreau
(July 17, 1917, in
Harvey, Illinois
– August 10, 2001) was an
American
Major League Baseball
player and
manager
. He was elected to the
Baseball Hall of Fame
in 1970. He was also a radio announcer for the
Chicago Cubs
of the
National League
.
In 1948, he won the American League Most Valuable Player Award and managed the Cleveland Indians to the World Series title.
Boudreau was an eight-time All Star Game selection, starting three times. He won the 1944 AL batting title (.327), and led the league in doubles in 1941, 1944, and 1947. He led AL shortstops in fielding 8 times. Boudreau still holds shares records for hitting the most consecutive doubles in a game (four) and most total doubles in a game, both done on July 14, 1946. He also shares the major league record with a few other players for 5 long hits (extra base hits) in one game) - 4 doubles and a home run on July 14, 1946. His 8 fielding titles (based on 100-game seasons) also gives him a share of the major league record.
Early life
Edit
Boudreau, who was of French ancestry,[1][2] graduated from Thornton Township High School in Harvey, Illinois, and the University of Illinois at Urbana-Champaign, where he was a member of Phi Sigma Kappa fraternity, excelling in sports at both schools. He was captain of the basketball and baseball teams at the University of Illinois when Cleveland Indians general manager Cy Slapnicka paid him an undisclosed sum in return for agreeing to play baseball for the Indians following graduation. Boudreau's father complained to the Big Ten Conference, and league officials ruled him ineligible for collegiate sports. During his junior and senior years at Illinois, he played pro basketball with the Hammond All-Americans of the National Basketball League. After Lou Boudreau was elected to the Hall of Fame (only BBWAA candidate chosen in 1970), he publicly revealed that he had a Jewish mother, although he was raised as a Christian.
Boudreau made his Major League debut on September 9, 1938 for the Cleveland Indians, at the age of 21, playing first base in a single game. In 1939, manager Ossie Vitt informed Boudreau, who normally played third base, that he would have to move to shortstop as Ken Keltner already had the regular third base job.[3]
In 1940, his first full year as a starter, he batted .295 with 46 doubles and 101 RBI. He was also selected to play in his first All Star Game.
Boudreau helped make history in 1941 as a key figure in stopping the 56-game hitting streak by Joe DiMaggio. After Ken Keltner made two fine stops at third base earlier in the game, Boudreau snagged a bad hop grounder at short barehanded and started a double play to retire Dimaggio.[4] He finished the season with a .257 batting average and a league leading 45 doubles.
After the season, owner Alva Bradley promoted manager Roger Peckinpaugh to general manager and appointed Boudreau as the player manager. Boudreau was 25 years old.
Boudreau managed the Indians throughout World War II. Playing basketball had put a strain on Boudreau's ankles which later developed arthritis and he was classified 4-F and thus, ineligible for military service.[3] Boudreau's first four years as manager were not an overwhelming success. His star pitcher Bob Feller enlisted in the United States. Boudreau was released by the Indians as player-manager, and signed by the Red Sox as an active player in 1951. He managed he team (and played a couple of games) in 1952 for the Red Sox. He later managed the Athletics and Cubs. He and Marty Marion were generally rated the top defensive shortstops of their time, with Pee Wee Reese and Eddie Miller a few notches behind. At their peak, he and Marion were compared by some old-timers to Honus Wagner. As a manager, his signature achievements (besides starting so young) were the 1948 World Championship (last by Cleveland Indians, who lost World Series in 1954, 1995, and 1997) and a defensivwe shift devised against Ted Williams in 1946 - which cost Ted Williams base hits, and created psychologifal problems for him.
Hall of Fame and retirement of number
Edit
He was elected to the Baseball Hall of Fame in 1970 by the BBWAA with 77.33% of the vote (only player elected that year by Writers), The same year Boudreau had his # 5 retired by the Cleveland Indians.
Broadcasting
Edit
Boudreau served as an announcer for the Cubs in 1958 and 1959 before switching roles with manager Charlie Grimm in 1960. After one season as Cubs manager, Boudreau returned to the radio booth and remained there until 1987. Boudreau served as the Chicago Bulls radio play by play announcer from 1966-1968.
Boudreau married Della DeRuiter in 1938 and they had four children. His daughter Sharyn married Denny McLain, a former star pitcher with the Detroit Tigers.
Boudreau died in 2001, shortly before "9/11" in Frankfort, Illinois and is interred in Pleasant Hill Cemetery.
References
Edit
External links
Edit
Community content is available under
CC-BY-SA
unless otherwise noted.