This page has been copied from Wikipedia under the provisions of the GNU Free Documentation License.
Please help Baseball Wiki by revising it.
Maicer E. Izturis (born September 12, 1980 in Barquisimeto, Lara State, Venezuela) is a Major League Baseball infielder who plays for the Los Angeles Angels of Anaheim. He is a switch-hitter and throws right-handed. Izturis is the half brother of Baltimore Orioles shortstop César Izturis.[1]
He was signed by the Cleveland Indians as a non-drafted free agent on April 1, 1998, and was traded to the Montreal Expos at the end of the 2003 season.
In 2004, Izturis hit .338 with three home runs and 36 RBI for the Triple-A Edmonton Trappers before being promoted to the Major League level with the Montreal Expos. He registered a hit in his August 27, 2004 debut, singling off San Diego Padres right-hander Dennis Tankersley in the second inning. In 32 games with the Expos, Izturis hit .206 (22-for-107) with one home run and 14 RBI.
On November 19, 2004, Izturis was traded to the Angels along with outfielder Juan Rivera for outfielder José Guillén.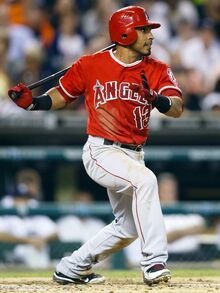 Though a shortstop by trade, Gold Glover Orlando Cabrera occupied that position on the Angels roster, relegating Izturis to the role of a utility infielder. After the placement of veteran Darin Erstad on the disabled list, the Angels moved star utilityman Chone Figgins to center field during the 2006 campaign, and Izturis emerged as the club's starting third baseman, until the Angels signed Gary Matthews, Jr. to start in center field for the 2007 season, forcing Figgins back to third base.
In a game against the Cleveland Indians on July 17, 2006, he had a career high four hits in one game, going 4-5 with 1 RBI and 3 runs.
Izturis speaks to the press through an interpreter.[2]
On January 25, 2010, the Angels signed Izturis to a three year contract worth $10 million, avoiding arbitration.[3] FanGraphs' Matthew Carruth called it a "fantastic deal" at "an insanely discounted rate" estimating his market value at about $20 million over three years.[4] Baseball Prospectus called the deal a good 'insurance policy', adding, "he's a good enough offensive contributor to add value whatever the position among second, short, and third, and a good enough defender at any of them to be playable".[5]
References
External links
Persondata
NAME
Izturis, Maicer
ALTERNATIVE NAMES
SHORT DESCRIPTION
DATE OF BIRTH
September 12, 1980
PLACE OF BIRTH
DATE OF DEATH
PLACE OF DEATH