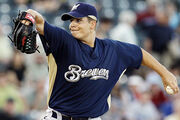 Manuel Alex "Manny" Parra (born October 30, 1982, in Carmichael, California) is a Major League Baseball pitcher for the Milwaukee Brewers.
Early life
Edit
Parra graduated from Casa Roble High School in 2000, and American River College in 2002. While playing in high school, he also played first base. He was named the National Junior College Player of the year in 2002 by Baseball America.
Baseball career
Edit
On June 25, 2007, Parra pitched a perfect game against the Round Rock Express while playing for the Triple-A Nashville Sounds. This was only the third nine-inning perfect game in Pacific Coast League history; one of the other two was thrown by John Wasdin, also of the Sounds.
Parra made his major league debut on July 20 2007 against the San Francisco Giants. He was a closing pitcher for the Milwaukee Brewers. Parra became an starting pitcher for the Brewers, and earned his first major league win on April 5 2008 against the San Francisco Giants.
2008 season
Edit
In April, he posted a 1–1 record. However, through May and June, Parra posted a 7–1 record including a 6-game win streak. As the season wore on, Parra was capable of pitching deeper into games because of an increased pitch count and wasting fewer pitches on balls.
On August 4, 2008, Parra got into an altercation with teammate Prince Fielder in the dugout during a game against the Cincinnati Reds. Parra and Fielder were having a discussion when suddenly Parra threw down his jacket and Fielder shoved him. Fielder shoved him again before being restrained. It took teammates Ray Durham, Dave Bush, J. J. Hardy, Ryan Braun, and pitching coach Mike Maddux to subdue Fielder. ESPN Television reported that night that the dispute was over Parra heading back to the clubhouse after being pulled from the game instead of staying in the dugout to watch the Brewers bat in the next inning. However, Manager Ned Yost said reporters asking questions about the incident was as rude as going over to the neighbors' house after they've been fighting and asking about it.
At the conclusion of the season, Parra had a 10-8 record.
References
Edit
External links
Edit
Persondata
NAME
Parra, Manny
ALTERNATIVE NAMES
SHORT DESCRIPTION
DATE OF BIRTH
October 30, 1982
PLACE OF BIRTH
DATE OF DEATH
PLACE OF DEATH
Community content is available under
CC-BY-SA
unless otherwise noted.