Manuel Arístides (Manny) Ramírez Onelcida [/ɹɑˈmiɹɛz/] (born May 30, 1972) is a retired Dominican/American professional baseball Left fielder. Ramírez played with the Cleveland Indians (1993-2000) and the Boston Red Sox (2001-2008). He bats and throws right-handed. Though originally from Santo Domingo, Dominican Republic, he grew up in the Washington Heights section of New York City. In 2004, Ramírez became an American citizen.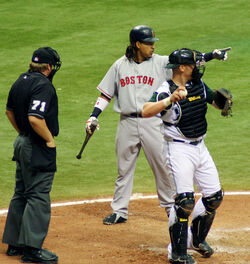 Through the 2005 season, Ramírez is a career .314 hitter, with a .410 on base percentage and a .600 slugging percentage. He has totaled 466 home runs and 1503 RBI in 1793 games. Even though the 2005 season started off slowly for his standards, he had a strong second half of the year and ended with a .292 avg., 45 home runs, 144 RBIs and 112 runs.
Ramírez is generally considered one of the best all-around righthanded hitters in the American League, hitting right-handed and left-handed pitching equally well. As a fielder he is considered average, with limited range but a good throwing arm. During the 2004 season, he was nominated for play of the year because of a spectacular catch he made in left field at Yankee Stadium to rob Miguel Cairo of a home run. However, in Game One of that year's World Series, Ramírez made two errors in the same inning. In 2005, Ramírez improved his defense dramatically and made several spectacular plays (despite having his share of misadventures), ending the year with a Major League leading 17 outfield assists.
Cleveland years
Edit
From 1993 to 2000 Ramírez collected 236 home runs and 804 RBI in 967 games for the Cleveland Indians, including a career-high 45 home runs in 1998, and a team-record career-high 165 RBI in 1999, when he hit .333 with 44 homers and scored 131 runs (also a career-high). He made the American League All-Star team four times, and hit 127 homers and 432 RBI in 415 games over last three seasons. His 165 RBI total in 1999 was the highest by any player since Jimmie Foxx in 1938; and made him the first player to have more RBI's than games played in a non-shortened season since Ted Williams in 1949. His stellar season (which including leading his team to a Division title) would normally have resulted in an MVP. Instead, he was tied for 3rd with Roberto Alomar, and he received only 4 of the 28 1st place votes (Ivan Rodriguez was 1st and Pedro Martinez was 2nd in a controversial MVP race. In addition, The Sporting News American League player of The Year Award went to Rafael Palmeiro of the Texas Rangers (Palmeiro was 5th in MVP voting), whiose numbers were (.324-47-148). Palmeiro scored only 96 runs (Ramirez had 131) and had 197 runs produced (Manny far ahead with 252). Besides this, Palmeiro was basically a DH, having played only 28 games in the field as compared to 145 by Ramirez.
Boston Red Sox
Edit
2003 season
Edit
In the summer of 2003, after missing several games with pharyngitis, Ramírez was criticized by the Boston sports media and many fans who said he should have played despite the ailment. When it was learned that he had been seen in a hotel bar (Ramírez lived in the hotel in question) with a close friend, Yankees infielder Enrique Wilson, the controversy grew, causing Boston manager Grady Little to bench Ramírez for one game. Despite his strong play in the 2003 post-season, Ramírez's Red Sox lost in heartbreaking fashion to the Yankees in a 7 game showdown in the ALCS. The new Red Sox ownership and management, having to deal with the $20 million a year contract, put Ramirez on irrevocable waivers the following offseason, allowing any team to claim him and thus add him to its roster. However, all 29 other teams passed because of the length and cost of his contract, proving to be a blessing in disguise.
2004 season
Edit
In 2004, nevertheless, Ramírez silenced his critics. He displayed a good attitude and an enthusiasm for playing, two qualities his critics had charged that he lacked. Coupled with impressive play on the field, this absolved Ramírez in the eyes of many Boston fans and sportswriters. He led the American League in home runs (43), slugging average (.613) and OPS (1.009); he also finished 3rd in RBI (130), 6th in on base percentage (.397), 8th in base on balls (82), 10th in runs (108), and posted a .308 batting average.
In addition, Ramírez and David Ortiz became the first pair of American League teammates to hit 40 home runs, have 100 RBI, and bat .300 since the Yankees' Babe Ruth and Lou Gehrig in 1931, and the first Red Sox duo with 40 homers since Tony Armas and Jim Rice (1984). Also along with Ortiz, Ramírez hit back-to-back home runs six times, tying the major league single-season mark set by Hank Greenberg and Rudy York (Detroit Tigers) and Frank Thomas and Magglio Ordóñez (Chicago White Sox).
In the All-Star Game, facing Roger Clemens in the top of the first inning, Ramírez hit a two-run home run, giving his teammates an immediate 3-0 lead. Along with Derek Jeter (a single), Ichiro Suzuki (a double) and Iván Rodríguez (a triple), Ramírez made history as the American League team became the first All-Star team to hit for the cycle during the same inning. His season was capped off by being named the MVP of the World Series as he led the Red Sox to their first title since 1918.
2005 season
Edit
May 15: Reached a major career milestone by hitting his 400th home run off Gil Meche of the Seattle Mariners. Ramírez is one of only 45 major-league baseball players to ever hit this many home runs.
July 31: Although he is one of the most productive batters in major-league history, Ramírez has been on the trading block every year as the Red Sox have tried to unload the remainder of his $160 million, eight-year contract, often at Ramírez's behest. As the trade deadline approached, the Red Sox discussed a three-team trade with the Tampa Bay Devil Rays and New York Mets, but a deal was not reached before the trading deadline. Ramírez even sat on the bench for several games because of the supposed mental toll the situation was putting on him. Some fans dismissed his actions as just "Manny being Manny," while others were genuinely annoyed and even proceeded to boo him after his trade request was announced by the media. The trade deadline behind him, Ramírez began his new life with the Red Sox with a go-ahead, pinch-hit single in the eighth inning, thrilling the Fenway Park crowd that thought he might be traded and giving Boston a 4-3 victory over the Minnesota Twins.
2005 Offseason
Edit
The 2005 Major League Baseball offseason was one of much conflict for Ramírez. After the Red Sox lost in disappointing fashion to the eventual World Series Champion Chicago White Sox, Ramírez expressed once again his desire to be traded and threatened to hold out of Spring Training if he was not. Close friend and teammate David Ortiz warned of the consequences if Ramírez was kept unhappy by the team. In December 2005, Ramírez put up his Ritz-Carlton condominium up for sale. In addition, Johnny Damon cited Ramírez's unhappiness as a factor in Damon signing with the archrival New York Yankees.
Trade rumors circulated with Ramírez possibly going to the Baltimore Orioles or New York Mets, but no deal was reached. As of January 5th, Ramírez stated to ESPN Deportes that he was dropping his trade demands and remain in Boston for the rest of his contract. His agents have since then reported this as false, with Ramirez still being open to a trade.[1]
2006 season
Edit
On June 10, Ramirez became the 31st player in history to hit 450 home runs, with a solo shot off Francisco Cordero of the Texas Rangers. Three weeks later, on July 1, he collected his 2000th hit. The remainder of the season was feast or famine for Ramirez: beginning in mid-July, he had a 28-game hitting streak, including 12 multi-hit games, 8 HR, and 28 RBI, but then missed 28 games from mid-August on with soreness in his right knee.
2007 season
Edit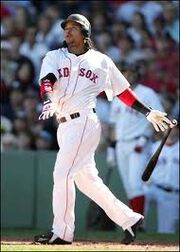 On April 22, Ramirez was the first of four Red Sox batters to homer in consecutive at bats in a game against the Yankees, tying a league record. All of the home runs were against Chase Wright.[2] On April 29, Ramirez became the fifth player to hit at least 50 career home runs against the New York Yankees.
Ramirez had a well below average year, finishing with a .296 batting average, 20 home runs, and 88 runs batted in. His season was cut short when he strained his left oblique in late August during a New York Yankees series, but he did return to the lineup for the final home stand of the season. In 2007, he had the lowest range factor of all AL left fielders, 1.72, and the lowest zone rating of all major league left fielders, .713.
In the postseason, Ramirez hit a walk-off 3-run home run in Game 2 of the American League Division Series against the Los Angeles Angels of Anaheim. In the fourth inning of the series's final game, Ramirez combined with teammate David Ortiz to hit back-to-back home runs off pitcher Jered Weaver. This home run tied him with Bernie Williams for first place all-time in postseason home runs.[3] On October 13, Ramirez hit his 23rd postseason home run, passing Bernie Williams for the most all-time.
He also helped the Red Sox make it to and win the 2007 World Series, where they swept the Colorado Rockies. In the 2007 postseason, Ramirez batted .348 with 4 home runs and 16 RBI.
2008 season
Edit
On May 31st, Ramirez hit his 500th home run, against Baltimore Orioles pitcher Chad Bradford at Camden Yards in the 7th inning on the first pitch, becoming the 24th player in MLB history to do so. He joined two other Red Sox players, Jimmie Foxx and Ted Williams in this exclusive home run club.
On June 5th, during a game at Fenway against the Tampa Bay Rays, an altercation between Manny Ramirez and Kevin Youkilis resulted from Ramirez objecting to what he believed was excessive - and chronic - complaining about the strike zone by Youkilis in the dugout, as well as the first baseman's penchant for throwing equipment after at-bats. Before the fifth inning - and after the Red Sox-Rays punching session - Ramirez was caught on NESN cameras slapping Youkilis. The pair also exchanged words, and had to be separated by teammates, coaches, and training staff. Youkilis headed out to the field still barking at Ramirez, while Ramirez was escorted into the tunnel leading to the clubhouse by bench coach Brad Mills and trainer Paul Lessard. According to three sources, Ramirez had told Youkilis to "cut that [expletive] out." That was what provoked Youkilis and started the problem.[4] Later in the season during the series with the Houston Astros, Ramirez had a physical altercation with Red Sox traveling secretary Jack McCormick. The two were arguing over Ramirez's unusually large game-day request for 16 tickets to the game in Houston, when Ramirez reportedly threw McCormick to the ground after saying "Just do your [expletive] job." The two were quickly separated and Ramirez later apologized for his behavior.[5][6]
On July 25th, after sitting out one game against the Seattle Mariners with a sore knee, Ramirez was originally slated to start against the Yankees. Several minutes prior to gametime, however, he informed manager Terry Francona, through a bench coach, that he would not be playing. This act led many Red Sox fans and reporters, including Dan Shaughnessy of the Boston Globe, to call for Ramirez to be traded.
Los Angeles Dodgers
Edit
On July 31, 2008, Manny was traded to the Los Angeles Dodgers in a three-way deal involving the Dodgers, Boston Red Sox, and Pittsburgh Pirates. The Red Sox acquired outfielder Jason Bay, and the Pirates got infielder Andy LaRoche, and pitcher Bryan Morris from the Dodgers, and outfielder Brandon Moss and pitcher Craig Hansen from the Red Sox.[7]
"Manny Being Manny"
Edit
Though his talent is undeniable, Ramírez has developed a reputation for mental lapses while playing in the field or running the bases. Viewed by some as innocent and harmless, some Boston fans view Ramirez with an increasing lack of confidence in his sometimes apparent disinterest in playing up to his full capability. Boston Globe columnist Dan Shaughnessy has dubbed this "Manny Being Manny," a term that has entered everyday usage among baseball fans in Boston and across the country, to refer to any baseball mistakes or odd behavior by Ramírez both on and off the field. This phrase was coined when on July 18th, 2005, Manny went into the "Green Monster" in between innings to use the bathroom, and when pitcher Wade Miller[8] was ready to begin the next inning, Ramirez was nowhere to be found.
Other Incidents of "Manny Being Manny":
The Original Incident April 4, 1994 - In the first game of his rookie season, Manny hit a two-run ground-rule double in the 8th inning to tie the game. At first he thought he hit a home run, and continued to round the bases, until the third base umpire stopped him. The announcers commented on how he was a tremendous young hitter, but seemed to have a short attention span: Manny was then almost immediately picked off at second base by the catcher. Later, after drawing a walk in the 10th inning, he was replaced with a pinch runner.[9]
December 10, 2001 - Ramirez, in his first season with Boston, claimed he was uncomfortable, prompting the new ownership group to create a separate interview room, to ease Manny's transition with the Red Sox.[10]
May 18, 2002 - Ramirez lost his diamond earring sliding into third base during a rehab start with the Pawtucket Red Sox. After the game, 13 PawSox players and the Syracuse grounds crew combed the third base area and found the stud, but not the diamond that was worth a reported $15,000.[11]
August 30, 2003 - Manny missed several games with pharyngitis amid media speculation that he was well enough to play. When the New York Yankees came to town to play, Manny was still too sick to play, but was seen at the downstairs bar of his hotel with former Yankees player and close friend Enrique Wilson.[15]
July 31, 2005 - After heavy speculation that he would force a trade, Manny entered the game versus the Minnesota Twins as a pinch hitter in the bottom of the 8th inning, to a standing ovation 54 minutes after the 4:00 trading deadline had passed (he had been booed his two previous games). Ramirez proceeded to chop an RBI single up the middle off Juan Rincón that would prove to be the game-winning hit. After the game, Ramirez was quoted as saying, "Forget about the trade, man. This is the place I want to be, man. It's great, man. They love me here, man. This is the place to be. 'Manny being Manny,' he's great, man... we've been through a lot, this is the place for me, I'm just happy to be here... I'm back!"[18][19]
August 24, 2005 - Ramirez, up with one out and the bases loaded, hit a ground ball, but doesn't run down the first base line, resulting in an inning-ending double play. The Kansas City Royals rally to tie the game, and eventually win in extra innings.[20]
October 17, 2007 - With the Red Sox trailing Cleveland 3-1 in the ALCS, Ramirez told reporters that if the Red Sox were eliminated, it wouldn't be "the end of the world." Though Ramirez faced criticism in the media for his statement, his team would go on to win their next 7 games to win the ALCS and World Series.[24]
October 18, 2007 - In game five of the ALCS at Jacobs Field, Ramirez hit a fly ball to deep center field that bounced off the top of the outfield wall and back into play. Ramirez, assuming he had hit a home run, casually strolled to first base and was forced to settle for a single instead of an easy double after it was ruled that the ball had never left the field.[25]
October 27, 2007 - In game three of the World Series, Ramirez was thrown out during a controversial play at home plate. Manny often flips his helmet off while he is running the bases, to help pick up speed. In this instance, replays show that Manny's helmet bounced off of his heel, causing him to stutter-step as he rounded third base.[26]
May 14, 2008 - At Baltimore, Manny caught a Kevin Millar fly ball to deep-left, ran up the wall, and high-fived a Red Sox fan in the stands. Manny then turned around, fired the ball back to the infield, and doubled-up Aubrey Huff off of 1st base.[27]
July 15, 2008 - Manny drew the wrath of Red Sox owner John Henry for comments made to the Boston Herald, where he hinted that team management had not been up front with him in regards to upcoming contract negotiations. Henry responded angrily the following day, saying Manny was a critical part of the Sox's 2004 and 2007 world championships and that the team always kept Manny in the loop. [29]
July 18, 2008 - In the bottom of the 6th inning, in a game against the LA Angels, Manny tried to chase down a fly ball in front of him in left field hit by Maicer Izturis. He went into a slide to catch the ball, but missed it so it dropped and rolled behind him. He scampered on all fours to get the ball, and ended up rolling on top of the ball when he reached it making centerfielder Jacoby Ellsbury unable to pick up the ball. Manny had to lift up his rear to get the ball off the ground. When he finally picked up the ball and threw it into the infield with a big smile on his face Izturis was on third base instead of the likely single had Manny just fielded the ball instead of trying to catch it on the fly. Theo Epstein and Terry Francona were both visibly unhappy with the whimsical fielding. [30]
July 30, 2008 - Before the third game of a series against the Los Angeles Angels, Manny galavanted with a handwritten sign stating "I'm going to Green Bay for Brett Favre straight up." The Green Bay Packers quarterback was in the throngs of a similarly untenable dispute with management. Ramirez reiterated this proposal in an interview with ESPNDeportes that aired the same day.[32]
Off the field
Edit
In 2007, Manny released a charity wine called Manny Being Merlot with 100% of the proceeds supporting The CHARLEE Program, providing therapeutic, residential, and supportive services to abused, abandoned, and neglected children. This effort raised more than $100,000.
In 2007, Ramirez requested and received permission from the Red Sox to arrive late to spring training for family reasons. It was later revealed that during his absence Ramirez was scheduled to appear at the Atlantic City Classic car Auction.[33] It is unclear whether the appearance was scheduled before or after the family situation. Ramirez chose not to attend the auction.[34] A remodeled car that Ramirez had put up for bidding at the auction did not generate a high enough bid to be sold.[35]
Ramirez missed the White House reception for the Red Sox 2007 World Series championship. Bush quipped: "I'm sorry Ortiz' running mate, Manny Ramirez, isn't here. I guess his grandmother died again. Just kidding. Tell Manny I didn't mean it."[36]
10-time All-Star (1995, 1998-2006)
World Series MVP Award (2004)
2-time Hank Aaron Award (1999, 2004)
8-time Silver Slugger Award (1995, 1999-2005)
Won American League batting crown (2002, .349)
Led AL in home runs (43) (2004)
Led AL in RBI (165) (1999)
3-time led AL in slugging percentage (1999-2000, 2004)
3-time led AL in OPS (1999-2000, 2004)
Twice led AL in on base percentage (2002-03)
Twice led AL in intentional walks (2001, 2003)
8-time Top 10 AL in total bases (1996-99, 2001,2003-05)
7-time Top 10 AL MVP (1998-2004)
8-time Top 10 AL in home runs (1998-2005)
7-time Top 10 AL in RBI (1995, 1998, 1999-2001, 2004, 2005)
4-time Top 10 AL hitters (1997, 1999-2000, 2003)
5-time Top 10 AL in times on base (1997, 1999, 2003-05)
Member of Major League Baseball's Latino Legends Team
27-game hitting streak in 2006
Miscellaneous statistics and facts
Edit
Career rankings among active players and on the All-Time lists

.315 batting average - 7th and 53rd
469 home runs - 4th and 26th
1514 RBI - 5th and 44th
.411 on base percentage - 8th and 16th
.601 slugging average - 3rd and 7th
922 extra base hits - 7th and 44th
1.012 OPS - 4th and 10th
151 intentional walks - 7th and 33rd
20 grand slams - 1st and 2nd (Lou Gehrig is leader with 23). Murray had 19 and McCovey had 18.
Ramírez appealed to fans by joining the 2004 Red Sox tradition of growing a unique hairstyle, maintaining a solid set of dreadlocks throughout the season.
He was featured on the cover of the Electronic Arts Sports electronic game MVP Baseball 2005 [2].
In 2004, a television advertisement for Boston's Olympia Sports chain of sporting goods stores correctly predicted Ramírez' World Series MVP award. During the 2005 season, the ad aired with a "Last Season" title card and "It Couldn't Happen Again... Or Could It?" at the end.
Has been given the nickname "Man Ram" by sports media personalities. Some attribute the nickname's creation to Jim Rome.
Manny drew a 50-game suspension in 2009 for use of a banned substance, which ended on July 3rd. On July 22, 2009, Manny hit a pinch-grand slam off Cincinnati relief pitcher Nick Masset, giving him 21 career grand slams, 2nd on the all-time list and only 2 behind Lou Gehrig's record of 23 slams.
Personality
Edit
Many stories portray Ramírez as a carefree, sometimes childlike, and often naive individual whose concentration is directed solely on playing baseball. For example, one story took place in his early years with the Cleveland Indians in June 1994. As teammates were gathered in the Indians clubhouse watching news of the O.J. Simpson Bronco chase, Ramirez asked what was going on. A player responded that "they are chasing O.J.," to which Ramirez responded in disbelief, "What did Chad do?" (in reference to their current teammate Chad Ogea, who was likely in the same clubhouse just several feet away).[37]
During the 2004 World Series parade, Manny was on a duck boat with a sign saying "Jeter is playing golf today, this is better!" [3] This sign had been handed to him by a fan on the parade route.
After the 2005 season Manny put his Boston condominium up for sale, for $6,900,000 because as many claim he never wanted to come back to Boston. Later, Manny revealed that his wife pressured him to a new home away from the spotlight of Boston.[38]
Though Ramirez is generally media-averse (he has not talked to the media once in the 2006 season), he is not seen as actively hostile (a la Albert Belle or Barry Bonds), merely disinterested.
When asked about a slump, "It hurts, it really hurts. I mean, I feel like I am hurting the team myself. When I don't do good, the team doesn't do good. As one of the best players on the team, I feel that I should be doing better."
On winning the World Series, thus breaking the Curse of the Bambino, "I don't believe in no curses. You make your own destination (sic)."
When asked about what he does outside of baseball, "I know this might sound funny, but I play baseball. Me and [Jason] Varitek play a bit in the training field. Can't get our minds off it."
When asked about trade rumors, "It's just Manny bein' Manny man."
References
Edit
External links
Edit
Community content is available under
CC-BY-SA
unless otherwise noted.