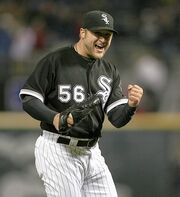 Mark Alan Buehrle (Template:Pron-en) (born March 23, 1979, in St. Charles, Missouri) is an American former left-handed starting pitcher in Major League Baseball who has played for the Chicago White Sox, Miami Marlins and Toronto Blue Jays.
Buehrle is a command pitcher, relying on finesse and accuracy. He is considered an efficient pitcher, pitching quickly and keeping his pitch count low. Buehrle throws a fastball, curveball, changeup, slider, and cut fastball. He has pitched over 200 innings for the eight seasons since becoming a starter in 2001. He started the opening game for the White Sox every season from 2002 to 2006 and again in 2008 and 2009. Buehrle threw a no-hitter against the Texas Rangers on April 18, 2007 and a perfect game against the Tampa Bay Rays on July 23, 2009.
College and minor league
Edit
Buehrle attended Francis Howell North High School in St. Charles, Missouri, and in his sophomore year he was cut from the school baseball team the Knights. Buehrle later attended Jefferson College in Hillsboro, Missouri. Selected in the 38th round of the 1998 draft by the White Sox organization, he made only 36 appearances in the minor leagues, only 16 of which were above Class A. He made his debut with the White Sox on July 16, 2000. Buehrle was named Southern League Pitcher of the Year for 2000, despite the fact he'd made his big league debut. He was named a Second-Team Minor League All-Star and rated the No. 9 prospect in the White Sox organization. He was the winning pitcher in the Futures Game during All-Star Weekend.
Major league career
Edit
Early career: 2000-04
Edit
Buehrle made his major league debut on July 16, 2000, pitching one inning of relief against the Milwaukee Brewers and allowing a run. Three days later he started against Minnesota, allowing six hits and two runs in seven innings while earning a win.
In 2001, Buehrle's first year as a major league starter, he went 16-8 with a 3.29 ERA. He threw 24⅔ consecutive scoreless innings from May 26 to June 7, the most by a White Sox pitcher since Tommy John threw 25 scoreless innings in 1967. Buehrle recorded his first complete game on May 26 against the Detroit Tigers and later pitched two consecutive complete games on August 3 against the Tampa Bay Devil Rays (a one-hitter) and on August 8 against the Anaheim Angels.
In 2002, Buehrle posted a 19-12 record and ranked among the American League leaders in innings pitched (2nd, 239.0), games started (tied 2nd, 34), complete games (tied 2nd, 5), shutouts (tied 2nd, 2), wins (tied 4th, 19) and quality starts (tied 5th, 23). Buehrle pitched at least 6.0 innings 30 times and at least 8.0 innings nine times. FSN (FOX Sports Net) Chicago honored him as the White Sox Player of the Year. He was selected as a member of the Major League All-Star Team that played in Japan in November. In his one start, he allowed four runs on five hits over 3.0 IP, before leaving with a bruised left shoulder sustained when he was hit by a line drive batted by Hideki Matsui.
Buehrle set a career high with 35 starts in 2003. He ranked among the American League leaders in starts (tied 2nd), quality starts (3rd, 24) and innings pitched (5th).
In 2004, Buehrle led the American League in innings pitched with 245⅓, in games started with 35, and in complete games with 5. He ranked among the AL leaders in quality starts (3rd, 23), walks per 9.0 innings (5th, 1.87), wins (tied 6th, 16), strikeout to-walk ratio (7th, 3.24), ERA (8th, 3.89) and strikeouts (9th). Buehrle lasted at least 6.0 innings in each of his last 28 starts. On July 21 in Cleveland, he faced the minimum 27 batters in a two-hit shutout of the Indians.
World championship season: 2005
Edit
In 2005, Buehrle began the season with a 10-3 record, a 2.58 ERA and a 1.11 WHIP and was selected to the American League All-Star Team. He was named the starter after Roy Halladay could not to play due to a broken leg and pitched two innings, allowing no runs and striking out 3 batters while earning a win. Buehrle's streak of 49 consecutive starts of 6 or more innings ended on August 1, 2005 after he was ejected for hitting Baltimore Orioles outfielder BJ Surhoff. During the White Sox playoff run, Buehrle pitched a complete game against the Los Angeles Angels of Anaheim in Game 2 of the ALCS, the first of four consecutive complete games for White Sox starters. He earned a no-decision in Game 2 and his first career save in Game 3 of the 2005 World Series, which the Sox swept from the Houston Astros, winning their first world championship since 1917.
Later career, no-hitter, and perfect game: 2006 and beyond
Edit
Early in 2006 Buehrle was ordered by General Manager Kenny Williams to stop sliding around on the tarp during rain delays. Buehrle previously had entertained fans by running around and sliding into large puddles of water.
On October 30, 2006, the White Sox exercised their $9.5 million option for Buehrle's 2007 season [1]. Buehrle finished the 2006 season 12-13 with a 4.99 ERA, his first losing season in seven major league seasons.
On April 18, 2007, Buehrle threw a no-hitter versus the Texas Rangers at U.S. Cellular Field. It was the first no-hitter in the stadium's history. It was the sixteenth such game in team history and the first since Wilson Alvarez no-hit the Baltimore Orioles on August 11, 1991. He actually faced the minimum number of batters, walking Sammy Sosa but picking him off at first base for an out. Buehrle struck out eight Rangers during the game, throwing an efficient 106 pitches. Thanks to Buehrle's gem, the American League narrowly avoided, by mere days, a five year mark without a no-hitter.
On July 8, 2007, Buehrle signed a four-year contract extension worth a reported $56 million with a player option worth $19 million if he gets traded.
Buehrle finished the 2008 season with a 15-12 record and 3.79 ERA, pitching at least 200 innings for the eighth straight season. He induced more double plays (34) than any other pitcher in the majors.
Buehrle got off to a hot start in 2009, going 5-0 in his first 6 starts. On July 23, he struck out six batters en route to a perfect game against the Tampa Bay Rays.
Records and statistics
Edit
On April 16 2005, he finished a game against the Seattle Mariners in only 1 hour and 39 minutes, giving up only 1 run and 3 hits (all to Ichiro Suzuki), and backed by only two White Sox runs, both homers by Paul Konerko. In the game, he threw just 106 pitches. Subtracting the time spent between innings, the game took only 63½ minutes to play.
On October 25, 2005, Buehrle became the first pitcher in World Series history to start and save consecutive games.[2]
On May 14, 2006, in a game against the Minnesota Twins, Buehrle became the first major league starting pitcher in over a century to allow seven runs in the first inning but then win the game. The previous time had been on September 29, 1900, when Jack Powell of the St. Louis Cardinals pitched such a game against the Chicago Orphans. [3]
Personal Life
Edit
He and his wife Jamie have two children: a son named Braden (born July 2007) and a daughter named Brooklyn (born March 3, 2009).[4]
See also
Edit
Notes and references
Edit
External links
Edit
Community content is available under
CC-BY-SA
unless otherwise noted.