This page has been copied from Wikipedia under the provisions of the GNU Free Documentation License.
Please help Baseball Wiki by revising it.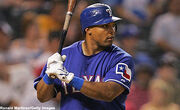 Marlon Jerrard Byrd (born August 30, 1977, in Boynton Beach, Florida) is a Major League Baseball outfielder for the Chicago Cubs. He has also played on the Philadelphia Phillies, Washington Nationals and Texas Rangers.
Biography
Edit
High school career
Edit
Byrd is a 1995 graduate of Sprayberry High School (Marietta, Georgia), and won All-State honors in baseball and football.
He played on the 1993 State Runner up team as a sophomore, and was part of the 1995 State Championship team.
College career
Edit
Byrd played baseball at Georgia Tech. After a major injury, he transferred to Georgia Perimeter Junior College where he earned an AS Degree in Business in May 1999, while rededicating himself to baseball. The injury was to his right leg in which he sustained muscular damage and an infection which cut off the circulation to his nerves. He had to undergo three operations to correct the problem. [1]
Major league career
Edit
Philadelphia Phillies
Edit
Once he reached the big leagues in 2003, Byrd had an outstanding season. He came in fourth in the Rookie of the Year voting, batting .303 with 86 runs scored, 28 doubles, four triples, seven home runs and 11 stolen bases in 135 games and 495 at-bats. In 2004, he did not keep his high level performance and was eventually traded to the Washington Nationals.
Washington Nationals
Edit
Byrd was traded to the Washington Nationals in 2005 for Endy Chavez. On July 15, 2006, Byrd was designated for assignment and assigned to Washington's Triple-A affiliate, the New Orleans Zephyrs.
Texas Rangers
Edit
Byrd was signed as a free agent by the Rangers on December 8, 2006, to compete for the starting position in center field. [2] After failing to make the Rangers' major league roster out of spring training, Byrd was assigned to the Triple-A Oklahoma RedHawks. Byrd's contract was purchased on May 26, 2007, following injuries to outfielders Brad Wilkerson and Jerry Hairston, Jr. [1] Making the most of his call-up by hitting over .400 for the month of June,[2] Byrd played his way into the line-up, allowing the Rangers to trade center fielder Kenny Lofton prior to the trading deadline. On August 4, 2008, he hit a walk-off grand slam to help the Rangers beat the Yankees 9–5.
Byrd had a career season in 2009, hitting 20 home runs and collecting 89 RBIs.
Following the 2009 season, Byrd filed for free agency, declining the Rangers' offer of salary arbitration.[3]
Chicago Cubs
Edit
On December 31, 2009, Byrd signed a three year, $15 million contract with the Chicago Cubs.[4] Byrd is having his best season so far for the Cubs, being selected for his first All-Star game. Byrd entered the game as a substitute and drew a walk off of Matt Thornton. He scored from first base on a double by the Braves' Brian McCann. In the ninth inning, while playing right field, Byrd made an outstanding play, forcing David Ortiz at second after fielding what normally would have been a base hit.
References
Edit
External links
Edit
Community content is available under
CC-BY-SA
unless otherwise noted.