Matthew Antonio Antonelli (born April 8, 1985 in Peabody, Massachusetts) is a second baseman for the San Diego Padres. He bats and throws right-handed. Matt was called up from the Triple-A Portland Beavers on September 1, 2008 during MLB September call-ups. Antonelli singled in his first MLB at bat against 350-game winner Greg Maddux of the Los Angeles Dodgers.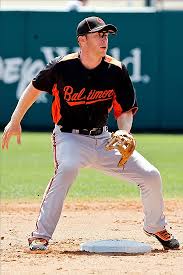 Early life
Edit
Antonelli was the Massachusetts Player of the Year in both football and hockey,[1] and was a runner-up for baseball in his senior year at St. John's Prep.[2] He owes his great baseball skilles to the New England Lightning, a well organized AAU Baseball club in New England.
College career
Edit
In college, Antonelli displayed good plate discipline, walking 57 times as a sophomore, ranking seventh among collegiate hitters. He only struck out 38 times in 232 at bats, giving him one of the best strikeout-to-walk ratios in the nation.
MLB Draft
Edit
Antonelli was originally drafted as a third baseman out of Wake Forest University by San Diego with the 17th pick of the 2006 Major League Baseball Draft.[3] He has since moved to second base.
Minor league career
Edit
In July 2007, Antonelli was named the best second base prospect in the minors by Kevin Goldstein of Baseball Prospectus.[4] In November 2007, Antonelli was ranked as the #1 second base prospect and #27 overall in baseball, on a list polling 20 members of the scouting community and compiled by Jonathan Mayo of minorleaguebaseball.com [5]
Before the 2007 season, Antonelli was not considered to have much power potential after having zero home runs in over 200 professional at bats in 2006. However, he hit 14 home runs in 82 games for High A Lake Elsinore, before moving up to Double A San Antonio Missions to finish the 2007 season. In 534 at bats between the two levels, Antonelli finished 2007 with a BA/OBP/SLG line of .304/.404/.491 with 21 homers and 25 stolen bases along with a 94/83 K/BB ratio. He won the Texas League Championship with the Missions in 2007.
In 2008, Antonelli played for the Padres' AAA farm club, the Portland Beavers. He struggled at the plate most of the year, hitting just .215, but kept his good eye and ended up with 76 walks. In August he found some success, hitting .290 for the month, with 4 home runs and a .393 OBP.
Major league career
Edit
Matt was called up to the Padres on September 1, 2008, where he promptly laced a single off Greg Maddux of the Los Angeles Dodgers for his first hit in the major leagues. He then went hitless in his next 20 at bats, but then got 7 hits in his next 13 at bats with 3 walks, including his first home run, on September 15, off of Colorado Rockies pitcher, Jason Hirsh.
References
Edit
External links
Edit
Community content is available under
CC-BY-SA
unless otherwise noted.