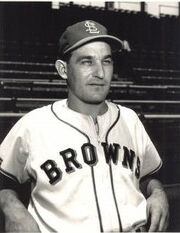 Mathew Daniel Batts (October 16, 1921 - July 14, 2013) is a former catcher in Major League Baseball who played from 1947 through 1956 for the Boston Red Sox (1947-1951), St. Louis Browns (1951), Detroit Tigers (1952-1954), Chicago White Sox (1954) and Cincinnati Redlegs (1955-1956). Batts batted and threw right handed. He is the uncle of former major leaguer Danny Heep.
A slap hitter and competent defensive catcher, Batts played a backup role over the course of his career. He was the starting catcher for the Detroit Tigers in 1953, appearing in 116 games while hitting .278 with a .985 fielding percentage in 514 chances.
In a ten-season career, Batts was a .269 hitter with 26 home runs and 220 RBI in 546 games.
See also
External links

Template:Baseball-bio-stub