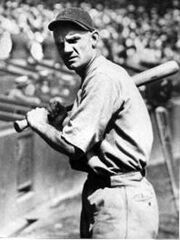 Max George Carey (January 11, 1890 – May 30, 1976) was an American center fielder in Major League Baseball who starred for the Pittsburgh Pirates. He was born in Terre Haute, Indiana. During his 20-year career, he led the league in stolen bases ten times and finished with 738 swipes, a National League record until 1974 and the 9th-highest total in major league history through 2008.
He was born Maximillian George Carnarius in Terre Haute, Indiana.[1] He first adopted the name Max Carey when he played his first professional baseball game in order to retain his amateur status at Concordia College; the name would stick with him for his entire career.
Carey played for the Pirates from his arrival in the league in 1910 until 1926, winning a World Series championship in 1925. He was known as a skilled fielder and excellent base stealer. He regularly stole 40 or more bases and maintained a favorable steal percentage; in 1922 he stole 51 bases and was caught only twice. He also stole home 33 times in his career, second best to Ty Cobb's 50 on the all-time list.
Carey played his final three and a half years with the Brooklyn Robins, but was aging and no longer the same player. He retired in 1929, but went on to manage the Dodgers from 1932 to 1933, as well as the Milwaukee Chicks and the Fort Wayne Daisies of the All-American Girls Professional Baseball League.
Carey was elected to the Baseball Hall of Fame in 1961. He died at age 86 in Miami, Florida and is buried in Woodlawn Park Cemetery and Mausoleum (now Caballero Rivero Woodlawn North Park Cemetery and Mausoleum).
References
Edit
External links
Edit
Community content is available under
CC-BY-SA
unless otherwise noted.