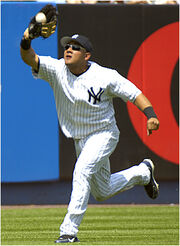 Melky Cabrera (born August 11, 1984 in Santo Domingo Oeste, Dominican Republic) is a Major League Baseball outfielder for the Pittsburgh Pirates. He has previously played for the New York Yankees, Chicago White Sox, Kansas City Royals, Toronto Blue Jays, Atlanta Braves, San Francisco Giants, and Cleveland Indians. He is a switch hitter and throws with his left hand. He is a 1 time World Series winner and All-Star, and even won the All Star Game MVP Award.
The Beginning and the Minors
Edit
On November 13, 2001, at age 17, Melky was signed by the New York Yankees. In 2002, at age 18, he made his pro debut with the Yankees Rookie League affiliate in the Dominican Summer League. In 2003, he made his first minor league appearance with the high Rookie team in the NY-Penn League with the Staten Island Yankees, batting .283 with 31 RBI in 67 games. In 2004, he moved up to A ball with the Battle Creek Yankees, hitting .333 with 16 RBI in 42 games before being promoted to the high class A Tampa Yankees, where he hit .288 with 51 RBI in 85 games to finish the season. In 2005, Cabrera started off with the Class AA Trenton Thunder, hitting .275 with 60 RBI in 106 games. At the end of June, he was called up to the AAA Columbus Clippers. On July 7, 2005, he made his major league debut. However, he only played six games before he was moved back down to Columbus. In 2006, he started the season in Columbus, but due to injuries to Hideki Matsui and Gary Sheffield, he became the everyday left fielder for the Yankees.
2005, First stint as a Yankee
Edit
On July 7, Melky made his major league debut in center field at Yankee Stadium against the Cleveland Indians.[1] His first at bat against Kevin Millwood resulted in a strike-out; however, he was not discouraged after having an emotional pre-game conversation with his Dominican high school coach, Marshall Lindner. However, he collected his first major league hit, a single to left field, in his third at bat to a standing ovation.[2] The next day, he went 2 for 3 against Cleveland Indians pitcher Cliff Lee, scoring his first major league run. Melky would go 0 for his next 13 and make a costly miscue in center on July 15 against the Boston Red Sox at Fenway Park, misplaying a Trot Nixon fly ball that resulted in an inside-the-park homer during a 17-1 defeat. Melky was sent down to AAA Columbus the next day for 17 games, and then demoted back to AA Trenton Thunder to finish out the season.
Melky saw a lot of time in spring training of 2006, with outfield starters Johnny Damon and Bernie Williams playing in the World Baseball Classic. He impressed the Yankees by hitting .349 in 16 games, however, he was ultimately sent to AAA Columbus at the start of the season.
Melky had a strong start, hitting .385 with 4 HR and 24 RBI in just 31 games before being called up on May 9 after left fielder Hideki Matsui's broken wrist landed him on the disabled list until September 12. Melky stepped in at left field and had a strong start, hitting .318 in May with his first 10 career RBIs and first 2 stolen bases. On May 30, batting leadoff for just the second time, Melky recorded his first career 4-hit game, going 4 for 6, missing the cycle by a homer.[3] In June, he fell into a slump, although he hit his first major league HR on June 15.[4] On June 6, in the 8th inning of a 2-1 game against the Red Sox, Melky made an outstanding catch in left-center, (which became known as "The Melky Catch") leaping over the wall to steal a home run from Boston's Manny Ramírez. After the catch, Johnny Damon cheered and danced in the outfield.[5] This play earned Melky a "This Year In Baseball" Award (voted on by the fans) for the most outstanding play of the 2006 season. In July, Melky heated up again, hitting .313 with 14 RBI. Highlights of the month included his first career 5-RBI game on July 5, with his first career grand slam against Paul Byrd to break a tie score.[6] On July 18, Melky hit his first career walk-off home run, a line shot in the bottom of the 11th against the Seattle Mariners to give the Yankees a 5-4 win.[7] Melky finished the 2006 season tied for second in the league with 12 outfield assists.
Cabrera struggled starting off the season. He was the fourth outfielder and did not get regular at-bats. When he did play, he could not be counted on to relive his magic from 2006. He batted .200 in April and .254 in May, getting limited playing time. He was batting .223 when Jason Giambi went on the disabled list on June 1. Giambi's placement on the DL, however, gave Cabrera a playing opportunity. Johnny Damon was moved to Giambi's role of designated hitter and Cabrera took Damon's spot in center field. Since then, Cabrera hit .320 with 3 of his 5 home runs and 21 of his 36 RBIs. He also had a then career high 13-game hitting streak going from July 1–17. While Bobby Abreu was struggling in July, Cabrera batted second so Derek Jeter could move to third in the lineup. He has cemented himself as the Yankees starting center fielder and Giambi has been fighting with Damon for DH at-bats since he returned from the DL. His career high hitting streak of 19 games ended in a 2 hit whipping by the Baltimore Orioles where the Orioles outscored the Yankees 12-0. However, he continued to get on base with a walk. Prior to the July 31 trade deadline, Yankees' GM Brian Cashman had a deal on the table to trade Cabrera in order acquire the Texas Rangers' closer Eric Gagné. Cashman refused this proposal, showing how much value Cabrera has to the Yankees, not only this year, but in the years to come.[3]
In 2007 Cabrera was 4th in the American League in sacrifice flies (9), 5th in sacrifice hits (10), and 6th in triples (8).
Before the 2008 season began, Cabrera was involved in trade talks along with young pitching prospects Ian Kennedy and Phil Hughes in exchange for Pitching great Johan Santana of the Minnesota Twins, Santana did end up coming to New York but across town to the Mets. Cabrera was involved in a bench clearing brawl against the Tampa Bay Rays in a 2008 spring training preseason game. MLB claimed to have seen video that showed Cabrera punching Rays third baseman Evan Longoria during the brawl. Cabrera was suspended 2 games along with teammate Shelley Duncan, and also fined third base coach Bobby Meacham, and hitting coach Kevin Long for his actions in the brawl.
Chris Berman, known for giving nicknames to players, has given Cabrera the nickname "Melky Way" Cabrera. Yankees broadcaster John Sterling also uses this nickname. Sterling also uses the phrase, "the Melk Man always knocks twice" when referring to Cabrera, usually after Cabrera hits a home run. Sterling also came up with the phrase "The Melk Man delivers." This was after Melky's walk-off home run against the Seattle Mariners at Yankee Stadium in the bottom of the 11th inning.
Melky's nickname around the Yankee clubhouse is "Leche", which is Spanish for "milk." [8]
Melky is the second youngest Yankee to hit a walk-off home run. He did so on June 15, 2007. The youngest Yankee to do so was Mickey Mantle.
When Melky records an RBI or makes a flashy defensive play the Yankee Stadium baseline scoreboards will flash "Tiene Leche?" ("Got Milk?")
Melky's best friend on the team is second baseman Robinson Cano (#24). The two live in the same apartment complex in New Jersey and Cano drives Cabrera to the Yankees home games. Cano is credited with being a big part of Melky's acclimation to the team and the States. He also serves as Melky's unofficial translator.[9]
It has been mentioned that Melky's father has a total of twelve toes, six on each foot.
On July 7, 2007, Cabrera tied a Yankees record by striking out 5 times in a single 13-inning game, a feat known as the platinum sombrero.
On August 3, 2007 - Cabrera hit a bizarre ground rule double that didn't get past first base. On the play Cabrera hit a line drive up the middle that struck the leg of Royals pitcher Ryan Braun and went into the stands. Cabrera was awarded a ground rule double.
Melky Cabrera made a cameo appearance in Hector El Father's music video, Pa' La Tumba, with fellow Yankee Robinson Cano.
In an April 2007 interview with the NEW YORK POST, Melky was asked if he had any kids and answered yes, having a 3 year old son Melky Jr.[10]
Melky Cabrera's favorite movie is Scarface.[11]
Melky's full name is Melky Astacio Cabrera.[12]
References
Edit
External links
Edit
Baseball America 2006 Prospect Handbook : The Comprehensive Guide to Rising Stars from the Definitive Source on Prospects. Baseball America. 193239110X.
Persondata
NAME
Cabrera, Melky
ALTERNATIVE NAMES
SHORT DESCRIPTION
DATE OF BIRTH
1984
PLACE OF BIRTH
DATE OF DEATH
PLACE OF DEATH
Community content is available under
CC-BY-SA
unless otherwise noted.