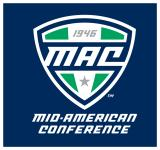 The Mid-American Conference (MAC) is a National Collegiate Athletic Association (NCAA) Division I baseball conference with a membership base in the Great Lakes region that stretches from New York to Illinois. Nine of the twelve full member schools are in Ohio and Michigan, with single members located in Illinois, Indiana and New York. The MAC is headquartered in the Public Square district in downtown Cleveland, Ohio.
Member schools
Edit
There are twelve schools with full membership:
Institution
Nickname
Location
Founded
Affiliation
Enrollment
Endowment
East Division
University of Akron
Zips
Akron, Ohio
(217,074)
1870
Public
25,942[1]
$212 million
Bowling Green State University
Falcons
Bowling Green, Ohio
(29,636)
1910
Public
22,882
$70 million
Kent State University
Golden Flashes
Kent, Ohio
(27,946)
1910
Public
34,411[1]
$158 million
Miami University
RedHawks
Oxford, Ohio
(21,943)
1809
Public
20,126
$320 million
Ohio University
Bobcats
Athens, Ohio
(21,342)
1804
Public
20,437
$240 million
West Division
Ball State University
Cardinals
Muncie, Indiana
(65,287)
1918
Public
20,113
$117 million
Central Michigan University
Chippewas
Mount Pleasant, Michigan
(25,946)
1892
Public
26,788
$41 million
Eastern Michigan University
Eagles
Ypsilanti, Michigan
(22,362)
1849
Public
22,974
$50 million
Northern Illinois University
Huskies
DeKalb, Illinois
(39,018)
1895
Public
25,313
$63 million
University of Toledo
Rockets
Toledo, Ohio
(295,029)
1872
Public
19,706
$173 million
Western Michigan University
Broncos
Kalamazoo, Michigan
(77,145)
1903
Public
24,818
$197 million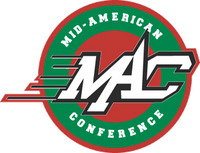 The Mid-American Conference charter members were Ohio University, Butler University, the University of Cincinnati, Wayne State University and Western Reserve University, one of the predecessors to today's Case Western Reserve University. Wayne State never participated and quickly bowed out. Butler left after the first year. Miami University and Western Michigan University took the place of those charter members for the 1948 season. By the time the University of Cincinnati left after the 1952–1953 season, the MAC had already added University of Toledo (1950), Kent State University (1951) and Bowling Green State University (1952).
The membership stayed steady for the next two decades except for the addition of Marshall University in 1954 and the departure of Western Reserve, which chose to de-emphasize intercollegiate athletics. Marshall was kicked out of the conference in 1969. The first major expansion since the 1950s took place in the mid-1970s with the addition of Central Michigan University and Eastern Michigan University in 1972 and Ball State University and Northern Illinois University in 1973. Northern Illinois left after the 1986 season. The University of Akron joined the conference in 1992. The conference became the largest in Division I with the re-admittance of Marshall and Northern Illinois and addition of the University at Buffalo in 1997 and 1998, respectively. The University of Central Florida joined for football only in 2001, becoming the first football-only member in conference history. Marshall (a second time) and Central Florida would leave after the 2004–2005 academic year, both joining Conference USA in all sports.
Former members
Edit
Commissioners
Edit
Dave Reese, 1946–1964
Bob James, 1964–1971
Fred Jacoby, 1971–1982
Jim Lessig, 1982–1990
Karl Benson, 1990–1994
Jerry Ippoliti, 1994–1999
Rick Chryst, 1999–present
External links
Edit
Cite error: <ref> tags exist, but no <references/> tag was found
Community content is available under
CC-BY-SA
unless otherwise noted.