This page has been copied from Wikipedia under the provisions of the GNU Free Documentation License.
Please help Baseball Wiki by revising it.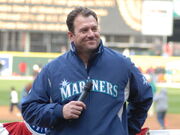 Michael Roy Blowers (Template:Pron-en) (born April 24, 1965 in Würzburg, West Germany) is a former Major League Baseball third baseman and first baseman. He is an alumnus of Bethel High School in Spanaway, Washington, Tacoma Community College and the University of Washington.[1] He was inducted into the Tacoma Community College Athletics Hall of Fame in 2007.
Mike Blowers also owns and manages Beach Wood Homes LLC of Fife, Washington, Keymark Real Estate of Puyallup, WA, and an assortment of other companies registered in Washington State.
Professional career
Edit
Drafted by the Montreal Expos in the 10th round of the 1986 Major League Baseball Draft, Blowers made his Major League Baseball debut with the New York Yankees on September 1, 1989, and his last game was on October 3, 1999. His career batting average is .257 with a .955 fielding percentage. Blowers shares two major league records. He was the 13th player to hit grand slams in consecutive games which he did on May 16 and 17, 1993 as a Mariner, and he equaled an American League record by committing four errors in one game at third base as a Yankee in 1990. Blowers also hit for the cycle on May 18, 1998 as a member of the Oakland Athletics.
He is tied with Edgar Martínez for the most RBI (runs batted in) in one month by a Mariner, with 33 in August 1995.
Broadcasting career
Edit
He is now a Seattle Mariners TV and radio commentator. He works alongside Dave Niehaus and Dave Sims as the color commentator on FSN Northwest.
Prediction of Tuiasosopo's first career home run
Edit
Main article: Matt Tuiasosopo
During the pre-game broadcast of a September 27, 2009 game between the Mariners and the Toronto Blue Jays, Blowers predicted Matt Tuiasosopo's first career home run. What started as simply selecting a possible notable player for the day's game became an extended humorous rant by Blowers. In the course of pre-game banter, he stated that the home run would come in Tuiasosopo's second at bat, on a 3-1 count fastball, and that the ball would land in the second deck in left center field. This then happened - with correct prediction of player, at-bat, count, pitch and general landing area - in the top of the 5th inning.
Blowers was on the television side of the broadcast when the prediction came true, and was simply laughing, with no explanation to the TV audience. Radio announcers Rick Rizzs and Dave Niehaus, however, recalled the prediction, restated it for the audience, and were beside themselves in laughter and disbelief as the prediction came true. Said Niehaus on-air, seconds before the event, "I've never been so excited on a 3-1 count in my life!".
Rally fries
Edit
Main article: Rally fries
Rally fries are a tradition at Seattle Mariners games, home and away, wherein television commentators Dave Sims & Mike Blowers select one fan or group of fans per game to receive free Ivar's fries.
The tradition started on June 23, 2007 when a fan (John Sarkie) sitting on the first base line spilled his garlic fries on the warning track while trying to pick up a foul ball. Sims and Blowers considered sending him some new fries if he picked up his tartar sauce from the track, which he did. During the next commercial break, producer Curtis Wilson talked with Blowers, then had FSN Northwest intern Kira Elste deliver the fan some new fries. The very next night, a different fan brought a sign to the game asking Blowers for fries, and he obliged. The Mariners went on to win the rest of the games on that home stand. Since then, rally fries quickly caught on with fans.
References
Edit
External links
Edit
Persondata
NAME
Blowers, Mike
ALTERNATIVE NAMES
SHORT DESCRIPTION
DATE OF BIRTH
April 24, 1965
PLACE OF BIRTH
DATE OF DEATH
PLACE OF DEATH
Community content is available under
CC-BY-SA
unless otherwise noted.