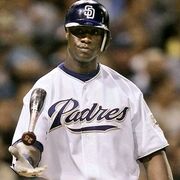 Michael Terrance Cameron (born January 8 1973 in LaGrange, Georgia) is an outfielder in Major League Baseball with the Boston Red Sox.
Mike Cameron was a standout player at LaGrange High School. Cameron was drafted out of high school by the Chicago White Sox in 1991. In the minor leagues, he was in danger of losing his sight when his eye socket was almost fractured by a flying ball.
His major league debut took place in August 27, 1995 with the White Sox. In 1997 he won a starting job as the team's regular center fielder. He was traded to the Cincinnati Reds for Paul Konerko in 1998. Along with 3 other players he was traded to the Seattle Mariners for Ken Griffey Jr. before the 2000 season. He played in the All-Star Game in 2001 and has reached the postseason twice and won the Gold Glove Award in 2001 and 2003 for his defensive play in the outfield. In 2004 he signed a three year, $19.5 million dollar contract to play center field for the New York Mets.
With the acquisition by the Mets of Carlos Beltran before the 2005 season, Cameron surrendered his position to the star center fielder and played most of his games in right field during the 2005 season. On August 11, 2005, in San Diego, Cameron collided with Beltran in the outfield as both made diving attempts to catch a fly ball. Cameron suffered multiple fractures of his nose and cheekbones and was removed from the field on a stretcher.[1]
On November 15, 2005 Cameron was traded to the San Diego Padres for Xavier Nady. He won his first National League Gold Glove award during the 2006 season with San Diego.
His former manager Jack McKeon has described him as "simply a delightful young man".
Cincinnati Reds announcer Marty Brennaman once said Cameron is one of his top 10 favorite players he has ever been around.
He is one of a small group of major leaguers who have hit 4 home runs in a single game.
After being selected to the American League All-Star Team in 2001, Cameron used his salary bonus to purchase All-Star Game warm-up jackets for all of his Seattle Mariner teammates. He is known for routinely sitting on top of the dugout to sign autographs and talk with fans before games. He is also founder of the Cam4Kids Foundation and host of the First State Goft Tournament in Seattle in efforts to raise money to provide scholarships to inner-city kids. He is actively involved with the Make-A-Wish Foundation as well as the Starlight Foundation.
After leaving the Seattle Mariners in 2004 via free agency, Cameron played his first game back in Seattle during interleague play in June of 2006. Mariners fans greeted his return with a standing ovation.
Together with Greg Brown and Robin Roberts he has written a book (aimed primarily at children) titled "It Takes a Team: Mike Cameron", ISBN 1-57243-502-X, where he presents his views on the importance of teamwork and describes his life. Published in 2002 by Triumph Books.
According to the book, the keys to his success are "self-confidence, open-mindedness, and teamwork".
External links
Edit
Community content is available under
CC-BY-SA
unless otherwise noted.