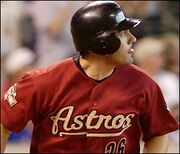 Michael Robert Lamb (born August 9, 1975 in West Covina, California) is a Major League Baseball infielder who is currently a free agent.
Lamb made his Major League Baseball debut on April 23, 2000, for the Texas Rangers. He played for the Rangers until February 5, 2004, when he was traded to the New York Yankees for minor leaguer Jose Garcia. Before playing a game for the Yankees, the Houston Astros acquired Lamb from the Yankees for minor leaguer Juan DeLeon on March 25, 2004. In 2005, he saw more playing time due to regular first baseman Jeff Bagwell's injury. In 2005, he batted .233 with 10 home runs and 50 RBI, with 1 stolen base. He participated in the 2005 World Series where he hit the first World Series home run in Astros history, becoming only the second player whose last name is a type of animal to homer in the World Series (the first was Tim Salmon in 2002).
On December 14, 2007, Lamb signed a two-year deal with the Minnesota Twins. On August 25, 2008, he was designated for assignment to make room on the roster for Eddie Guardado.[1] He was released on September 4, and then signed with the Milwaukee Brewers the following day.[2]
Lamb became a free agent at the end of the 2008 season.[3] On December 9, however, he re-signed a new contract with the Brewers.[4]
On April 1, 2009, after turning down a Triple-A assignment, Lamb was released by the Brewers.
When playing for the Astros, during his at-bats at Minute Maid Park, the scoreboard would frequently post a doctored photograph of Lamb's face on Sylvester Stallone's body as he appeared in Rambo with a caption featuring Lamb's nickname, Lambo.
Lamb was born on the same day as Los Angeles Angels of Anaheim relief pitcher Brian Fuentes. Lamb named his unorthodox swing The Thing. Like his former Ranger teammate Michael Young, Lamb is also a graduate of Bishop Amat High School in La Puente, California.
References
Edit
External links
Edit
Community content is available under
CC-BY-SA
unless otherwise noted.