Miller James Huggins (March 27, 1878 – September 25, 1929), nicknamed "Mighty Mite", was a baseball player and manager. He managed the powerhouse New York Yankee teams of the 1920s and won six American League pennants and three World Series championships.
As a player, Huggins joined the Cincinnati Reds in 1904 as a second baseman. Despite his short stature (5-foot-6-inches)—or perhaps because of it—Huggins proved very adept at getting on base. Over a 13-year career (Cincinnati 1904–09, St. Louis Cardinals, 1910–16) he led the league in walks four times and regularly posted an on base percentage near .400. He scored 100 or more runs three times and regularly stole 30 or more bases. He finished his career with 324 swipes.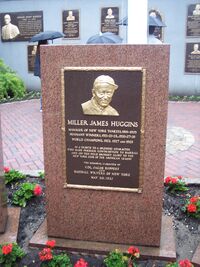 Huggins became player-manager for St. Louis in 1913. Although as Cardinals' manager until 1917 he didn't find any substantial success (they never finished higher than third place), he was able to build on his experience as the manager of a budding New York Yankee team beginning in 1918. As the Yankees skipper until his death in 1929, and with one of the finest offenses ever assembled (including
Babe Ruth
,
Lou Gehrig
and
Bob Meusel
), Huggins presided over six
American League
championships (1921–1923, 1926–1928) and three
World Series
championships (1923, 1927 and 1928). He finished his managerial career with a 1413–1134 record. His 1413 wins as a manager ranks 20th all-time.
Huggins died at the age of 50 on September 25, 1929, of erysipelas, visible under his right eye. The league canceled its games for the following day out of respect; the viewing of his casket at Yankee Stadium drew thousands of tearful fans. He was inducted into the Baseball Hall of Fame in 1964.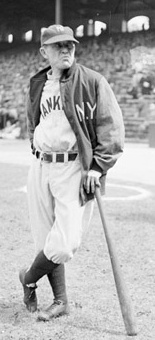 On May 30, 1932, the Yankees dedicated a monument to Huggins, and placed it in front of the flagpole in center field at Yankee Stadium. Huggins was the first of many Yankees legends granted this honor, which eventually became "Monument Park," dedicated in 1976. The monument calls Huggins "A splendid character who made priceless contributions to baseball."
External links
Edit
Community content is available under
CC-BY-SA
unless otherwise noted.