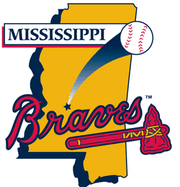 This page has been copied from Wikipedia under the provisions of the GNU Free Documentation License.
Please help Baseball Wiki by revising it.
The Mississippi Braves, or M-Braves as they are referred to locally, are a minor league baseball team based in Pearl, Mississippi, a suburb of Jackson. The team is the Class AA affiliate of the Atlanta Braves, and plays in the Southern League. The team is owned and operated by Liberty Media, which also owns the Atlanta Braves. Liberty purchased the Braves from Time Warner's Turner Broadcasting unit in 2007.[1]
Team history
Edit
For 21 years, from 1984 to 2004, the Mississippi Braves were based in Greenville, South Carolina, and known as the Greenville Braves. Due to the condition of Greenville Municipal Stadium, and the failure to reach an agreement with the Greenville County council for a new ballpark, the team pursued relocation. Before the 2004 season, the Braves announced their intentions to relocate to Pearl, Mississippi, after the season's conclusion.
The Mississippi Braves first season began on April 18, 2005. The Braves opened their inaugural season in Trustmark Park with a loss against the Montgomery Biscuits.
Phillip Wellman
Edit
The Mississippi Braves received some notoriety on June 1, 2007, when the team manager, Phillip Wellman, went on a tirade against the umpires during that night's game against the Chattanooga Lookouts at AT&T Field. He protested a series of unpopular calls by covering home plate with dirt. Wellman then traced a significantly larger home plate around the actual home plate. He continued his tantrum by uprooting bases and throwing them, low-crawling across the infield like a soldier and hurling the rosin bag at an umpire as if it were a grenade. Wellman concluded his tirade by making a hand gesture that hinted at throwing the third-base umpire out of the game, then blowing a farewell kiss to the crowd while taking a bow. Wellman received a three-game suspension as a result. The episode was broadcast on many sports syndications across the United States and Canada.[2]
Championships
Edit
On September 13, 2008, the Mississippi Braves beat the Carolina Mudcats 3-2 in the 10th inning of the decisive Game 5 of the Southern League Championship Series. This was the Braves first championship since relocating to Mississippi and was the first Southern League title for Atlanta's Double-A franchise since 1997.[3]
Template:Mississippi Braves roster
Players promoted directly to Atlanta Braves
Edit
References
Edit
External links
Edit
Community content is available under
CC-BY-SA
unless otherwise noted.