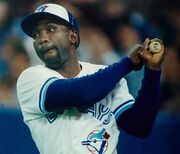 William Hayward "Mookie" Wilson (born February 9 1956) is a former Major League Baseball center fielder who played with the New York Mets (1980–89) and Toronto Blue Jays (1989–91). He was a switch hitter, known for his impressive speed and positive attitude. Fans would frequently chant "Mooooo-kie" in appreciation of him.
Born in Bamberg, South Carolina, Wilson played college baseball at Spartanburg Methodist College and then the University of South Carolina. Later, in 1996, he earned a bachelor's degree from Mercy College in New York.[1]
In twelve seasons, Wilson was a .274 hitter with 67 home runs, 438 RBI, and 327 stolen bases in 1403 games. Wilson held the Mets record for career stolen bases (281) and career triples (62) until Jose Reyes broke both marks during the 2008 season.
Wilson is the batter who, in Game 6 of the 1986 World Series, avoided being hit by a wild pitch, allowing the tying run to score in the bottom of the 10th. His ground ball later in the same at bat went through the legs of Red Sox first baseman Bill Buckner, allowing the winning run to score. The ball that rolled through Buckner's legs is now housed in the Seth Swirsky baseball collection.
When the Mets decided to rebuild, Wilson requested a trade. The Mets accommodated him by trading him to the Blue Jays in exchange for Jeff Musselman and Mike Brady on August 1, 1989.
Wilson was inducted into the New York Mets Hall of Fame in 1996. In 2005, Wilson managed the single A team Brooklyn Cyclones. Previously, he managed the Rookie League Kingsport Mets team and was a coach for the New York Mets from 1997 to 2002.
In 1999, Wilson obtained a license to drive tractor-trailer trucks and began hauling freight in the offseason, a job he stated his intention to keep if and when he left professional baseball.[1]
Mookie is both the stepfather and uncle of major league outfielder Preston Wilson.[2] Mookie introduced Preston to baseball.
Wilson has been a resident of Lakewood Township, New Jersey.[3]
References
Edit
↑ Quinn, T.J. (March 21, 2002), Template:Citation/make link, New York Daily News

 

↑ Vecsey, George. "SPORT OF THE TIMES; Building Toward the Days of October", The New York Times, May 29, 1988. Accessed March 22, 2008. "Shortly after his classic time at bat in the sixth game of the 1986 World Series, Wilson and his wife, Rosa, started an educational center for girls, Mookie's Roses, near their home in Lakewood, N.J."
External links
Edit
Community content is available under
CC-BY-SA
unless otherwise noted.