The National Baseball Hall of Fame and Museum, located at 25 Main Street in Cooperstown, New York, United States, is a semi-official museum operated by private interests that serves as the central point for the study of the history of baseball in the United States and beyond, the display of baseball-related artifacts and exhibits, and the honoring of persons who have excelled in playing, managing, and serving the sport.
The Hall of Fame is often thought of primarily in terms of the latter. In articles and discussions on baseball, the adjective Hall-of-Fame or the noun Hall-of-Famer refers most often to the list of these honorees, rather than the physical museum.
The Hall's motto is "Preserving History, Honoring Excellence, Connecting Generations".
History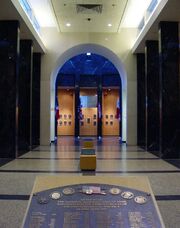 The Hall of Fame was dedicated on June 12, 1939 by the Clark Foundation, a private organization based in Cooperstown that traces its money to the original Singer Sewing Machine Company. The Foundation sought to bring tourists to Cooperstown, which had been doubly damaged by the Great Depression, which decimated the local tourist trade, and Prohibition, which was devastating to the local hops industry. A legend that U.S. Civil War hero Abner Doubleday invented baseball in Cooperstown was instrumental in the early marketing of the Hall, though in fact the truth of the story is doubted by some.
The major leagues, seeing the marketing opportunity, soon began cooperating with the Hall of Fame in marketing it and acquiring artifacts for display there.
Recent developments in the museum include an $8 million library and research facility that opened in 1994. More renovations were done in 2003 through spring 2005.
In 2002, Baseball As America was launched, a traveling exhibit that toured ten American museums over six years. The Hall of Fame has also sponsored educational programming on the Internet to bring the Hall of Fame to schoolchildren who might not see it. In January 2006, the Hall of Fame also announced a partnership with Citgo to launch a traveling exhibit about Latin America's contributions to baseball. It is also an annual presence at the Major League Baseball All-Star Game, as it receives space at the FanFest.
The town of Cooperstown also includes Doubleday Field, where the "Hall of Fame Game" featuring two major league teams is held every year. In the past, the game was held during induction weekend, but in recent years it has been scheduled in May or June, when it is easier on a team's travel schedule. The Pittsburgh Pirates and Cincinnati Reds played May 16th, 2006, when the game was rained out after the Reds took a 3-0 lead. The Hall of Fame Game weekend usually includes a home run derby (Jose Hernandez of Pittsburgh won in 2006), relevant museum programming (often with Hall of Fame inductees from the two teams), a parade down Cooperstown's Main Street and, finally, the game itself. The game is an exhibition: statistics are not recorded and teams are not bound to roster restrictions. Therefore, the regulars are usually replaced by minor league players after one time through the batting order. In the 2005 game, Dale Sveum, a coach for the Red Sox, played.
Inductees
Among baseball fans, "Hall of Fame" means not only the museum and facility in Cooperstown, but more likely the pantheon of players, managers, umpires and builders who have been named to enshrinement there. The first five men elected were superstars Ty Cobb, Babe Ruth, Honus Wagner, Christy Mathewson and Walter Johnson, named in 1936. As of February 2006, 278 individuals had been elected or appointed to the Hall of Fame, including 225 players, 17 managers (many of whom also played), 8 umpires, and 28 builders, executives, and organizers. Thirty men have also been awarded the Ford C. Frick Award for excellence in broadcasting, while 57 have received the J.G. Taylor Spink Award for excellence in baseball writing.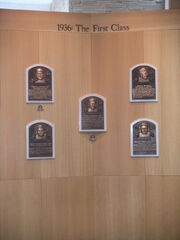 Players are currently inducted into the Hall of Fame through election by either the Baseball Writers Association of America (or BBWAA), or the Veterans Committee, which is now composed of living Hall of Famers and recipients of the two major awards. Five years after retirement, any player with 10 years of major league experience, who passes a screening committee (which removes from consideration players of clearly lesser qualification) is eligible to be elected by BBWAA members with 10 years' membership or more. From a final ballot typically including 25-40 candidates, each writer may vote for up to 10 players; until the late 1950s, voters were advised to cast votes for the maximum 10 candidates. Any player named on 75% or more of all ballots cast is elected. A player who is named on fewer than 5% of ballots is dropped from future elections. In some instances, the screening committee had restored their names to later ballots, but in the mid-1990s, dropped players were made permanently ineligible for Hall of Fame consideration, even by the Veterans Committee. A 2001 change in the election procedures restored the eligibility of these dropped players; while their names will not appear on future BBWAA ballots, they may be considered by the Veterans Committee.
Under special circumstances, certain players may be deemed eligible for induction even though they have not met all requirements. This has resulted in only three selections, when Lou Gehrig was specially selected shortly after his retirement in 1939, when Judge Landis was selected in 1944 a few weeks after his death when there was a groundswell of support (despite his stance against allowing Negroes in the majors), and when Addie Joss was selected in 1978 despite only playing in nine seasons. Additionally, if an otherwise eligible player dies before their fifth year of retirement, then that player may be placed on the ballot at the first election at least six months after their death. Roberto Clemente, who died in a plane crash in 1972, is the most recent Hall of Fame member for whom the 5-year minimum was waived.
If a player fails to be elected by the BBWAA within 20 years of their retirement from active play, he may be selected by the Veterans Committee, which now votes every two years. The Veterans Committee also votes every fourth year on candidates from among managers, umpires, executives or builders. Negro Leagues players have also been considered at various times, beginning in 1971. In 2005 the Hall completed a study on African American players between the late 19th century and the integration of the major leagues in 1947, and conducted a special election for such players in February 2006; seventeen figures from the Negro Leagues were chosen in that election, in addition to the eighteen previously selected. The Committee was widely criticized for failing to elect Buck O'Neil, living at the time of the election, (he died later in the year) by one vote. An award was later named for O'Neil and he has the status of "honorary Hall of Famer.
Predictably, the selection process catalyzes endless debate among baseball fans over the merits of various candidates. Even players already elected remain for years the subjects of discussions as to whether their elections were deserved or in error.
The Museum
According to the Hall of Fame, approximately 350,000 visitors enter the museum each year, and the running total has surpassed 13 million. These visitors see only a fraction of its 35,000 artifacts, 2.6 million library items (such as newspaper clippings and photos) and 130,000 baseball cards. A quick rundown of what there is to see at the museum follows.
First Floor
Baseball at the Movies houses

baseball movie

memorabilia while a screen shows footage from those movies.
The Bullpen Theater is the site of daily programming at the museum (trivia games, book discussions, etc.) and is decorated with pictures of famous

relief pitchers

.
The Halper Gallery contains rotating exhibits. Currently there is a Negro Leagues art show.
Induction Row contains artifacts pertinent to the most recent inductees and photos of past Hall of Fame Weekends.
The Perez-Steele Art Gallery features art of all media related to baseball.
The Plaque Gallery, the most recognizable site at the museum, contains induction plaques of all members.
The Sandlot Kids Clubhouse has various interactive displays for young children.
Scribes and Mikemen honors Spink and Frick winners with a headshot display and has artifacts related to baseball writing and broadcasting.
Second Floor
The Grandstand Theater features a 13 minute multimedia film capturing the beauty, majesty and myth of baseball. Theatrical lighting, seamlessly blended DLP projection, 8 channel surround sound and automated staging all combine to create a unique and powerful experience. The 200 seat theater, complete with replica stadium seats, is decorated to resemble Comiskey Park.
The Game is the major feature of the second floor. It is where the most artifacts are displayed. The Game is set up in a timeline format, starting with baseball's beginnings and culminating with the game we know today. There are several offshoots of this meandering timeline:
The Today's Game exhibit is built like a baseball clubhouse, with 30 glass-enclosed locker stalls, one for each Major League franchise. In each stall there is a jersey and other items from the designated big league team, along with a brief team history. A center display case holds objects donated to the Hall of Fame from the past year or two. Fans can also look into a room designed to look like a manager's office. Outside is a display case with rotating artifacts. Currently the space is devoted to the World Baseball Classic.
Third Floor
Autumn Glory is devoted to post-season baseball and has, among other artifacts, replicas of World Series rings.
An Education Gallery hosts school groups and, in the summer, presentations about artifacts from the museum's collection. In the gallery foyer is a TV that continually plays baseball bloopers and the popular

Abbott and Costello

routine "

Who's on First?

" and a display case with rotating exhibits.
The Records Room has charts showing active and all-time leaders in various baseball statistical categories. The statistics charts are posted on the walls, leaving the center space for other purposes:

BBWAA

awards: Replicas of various awards distributed by the BBWAA at the end of each season, along with a list of past winners.
A case dedicated to Ichiro Suzuki setting the major league record for base hits, with 262 in 2004.
An inductee database touch-screen computer with statistics for every inductee.
Programs from every World Series.

Sacred Ground is the newest museum section, opened after the 2003-05 renovation. It is devoted entirely to ballparks and everything about them, especially the fan experience and the business of a ballpark. The centerpiece is a computer tour of Boston's old

South End Grounds

. Currently the Hall is working on adding Comiskey Park and Ebbets Field to the computer tour.
Controversies.
Veterans Committee
The most lasting controversy in Hall of Fame elections has been the role and composition of the Veterans Committee. While few of the BBWAA selections have been particularly controversial, prior to its recent restructuring the Veterans Committee had, at times, seemed to pass over the most worthy candidates in order to enshrine contemporaries and teammates of the committee members. This tendency was most pronounced during the tenure of Frankie Frisch and Bill Terry, from 1967 to 1976. During this time, 8 players were elected whose Hall of Fame credentials were (at best) tenuous, but who had played with Frisch or Terry with the New York Giants or St Louis Cardinals.
In 2001, the Veterans Committee was reformed, and is now primarily composed of all living Hall of Fame members.[1] The revamped Veterans Committee has held two elections to date—in 2003 for both players and non-players, and 2005 for players only. No individual was elected either time; some observers are already starting to doubt whether the new Veterans Committee will ever elect a player, or whether the Committee members – most of whom are Hall members – are reluctant to elect new candidates, in the hope of heightening the value of their own selection [2].
Sale of historic items
A further controversy erupted in 1982, when it emerged that some historic items bequeathed to the Hall had been sold on the collectibles market. It subsequently transpired that these had been lent to the Baseball Commissioner's Office, from where they had been taken and sold to offset personal financial problems by Joe Reichler, an assistant to Commissioner Bowie Kuhn, possibly without verifying their ownership. Under pressure from the New York Attorney General, the Commissioner's Office made reparations, but damage had been done to the Hall of Fame's reputation.
Non-induction of banned players
An ongoing controversy facing the Hall of Fame is that of the status of Joe Jackson and Pete Rose. Jackson and Rose were both banned from baseball for life for actions related to gambling on their own teams - Jackson was determined to have cooperated with those who conspired to lose the 1919 World Series on purpose, and Rose voluntarily accepted a permanent spot on the ineligible list in return for MLB's promise to make no official finding in relation to alleged betting on the Cincinnati Reds when he was their manager in the 1980s. (Baseball's Rule 21, prominently posted in every clubhouse locker room, mandates permanent banishment from the sport for having a gambling interest of any sort on a game in which a player or manager is directly involved.) While Jackson and Rose had outstanding playing careers that would usually merit Hall of Fame induction, the Hall of Fame disallows election of anyone on the permanent suspension list. (Many others have been permanently suspended, but none have Hall of Fame qualifications on the level of Jackson or Rose. A select few, such as Hal Chase and Eddie Cicotte, would be reasonable candidates had they not been barred.) Baseball fans are deeply split on the issue of whether these two should be exonerated, remain banned, or (in the case of Rose, who is still living) be inducted with the caveat that he cannot reenter the game in any other way.
Players with multiple teams
The Hall has also recently changed its stance regarding team membership. Although all the teams for which a player played are usually listed in the text of the plaque, most are depicted wearing the cap of one specific team. Before the current trend of frequent free agency, this was not controversial, since players of Hall of Fame quality often played most of their career with one team. As free agents began to be inducted, it was the player's choice which cap they would wear, and the players did not always make the most popular choice. For instance, Nolan Ryan entered the Hall wearing a Texas Rangers cap on his plaque, even though he only spent five seasons with the Rangers, and had longer and more successful tenures with the Astros and Angels.
However, in light of rumors that teams were offering number retirement, money or organizational jobs in exchange for the cap designation (Dave Winfield was widely rumored to have made such a deal in 2001 with the San Diego Padres), the Hall decided to change the policy. Although the decision-making process would be a mutual responsibility, the Hall - not the players - would have the final say in such matters. Gary Carter was the first to test this policy; he won his only championship with the New York Mets, and wanted his induction plaque to depict him wearing a Met cap. The Hall of Fame decided that his plaque would instead show Carter with a Montreal Expos cap. Wade Boggs was in a similar situation; he won his only championship as a member of the 1996 New York Yankees, but posted his best career numbers in twice as much time while wearing the Boston Red Sox uniform. He went in wearing the "B" on his cap despite his acrimonious relationship with Red Sox management. Originally, Boggs wanted to go in as a Tampa Bay Devil Ray - for whom he played only his final 2 seasons and secured his 3000th hit. Catfish Hunter, though harboring no ill will towards either of his employers (the Oakland Athletics and New York Yankees) could not decide which cap he preferred; he had nearly identical statistics and postseason success on both teams. He instead went in wearing a cap without a logo.
Bull Durham flap
In April 2003, one month after the start of the Iraq War, Hall of Fame President Dale Petroskey caused a furor when he canceled an event meant to commemorate the 15th anniversary of the well-known 1988 baseball movie Bull Durham because of the anti-war stance of two of its stars, Tim Robbins and Susan Sarandon, fearing that they would use the event as a platform for their political views. Petroskey, a former assistant press secretary in the Reagan administration, sent Robbins and Sarandon a letter that said: "We believe your very public criticism of President Bush at this important - and sensitive - time in our nation's history helps undermine the U.S. position, which ultimately could put our troops in even more danger." Robbins responded: "Long live democracy, free speech and the '69 Mets - all improbable, glorious miracles that I have always believed in."
Many people, including well-known baseball figures like authors Roger Kahn and Jules Tygiel, were upset by what they saw as an attempt to punish political speech. Kahn canceled an appearance at the Hall and Tygiel called for Petroskey's resignation. Former Hall employee Eric Enders wrote a scathing article for a baseball research publication in which he wrote, "Petroskey has worked diligently—and, until now, quietly—to align the Hall politically with the Republican party."
Bull Durham co-star Kevin Costner defended Robbins and Sarandon, saying, "I think Tim and Susan's courage is the type of courage that makes our democracy work... Pulling back this invite is against the whole principle about what we fight for and profess to be about."
External links