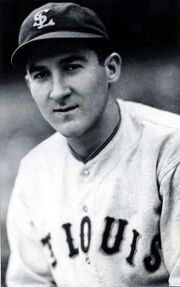 Ollie Bejma (born Alojzy Frank Bejma on September 12, 1907 in South Bend, Indiana) was a Major League Baseball infielder for the St. Louis Browns and Chicago White Sox in the 1930s. He made his major league debut on April 24, 1934 for the Browns in a 15-2 loss to the Cleveland Indians. Used as a utility infielder for the remainder of the season, Bejma hit .271 in 95 games (both career highs) and played four positions (shortstop, second base, third base, and outfield). He also achieved career highs in doubles (16), triples (3), stolen bases (3), walks (40), strikeouts (36), slugging percentage (.378), and hit by pitch (4, which was tied for third in the American League that year).
He spent the next two seasons with the Browns in a somewhat less frequent reserve role, filling in at every infield position but first base. Bejma made no major league appearances in the 1937 or 1938 seasons, spending the latter in the minor league system of the Chicago White Sox, who had purchased him from the Browns in March 1938. He made his debut with the White Sox in 1939 and went on to log more at-bats (307) that year than any previous season of his career. He also surprisingly tallied 8 home runs, despite having hit only 6 in 599 major league at-bats coming into 1939. This contributed to his career best of 44 runs batted in.
Bejma's last game was on October 1, 1939, a 4-3 loss to Bejma's original team, the St. Louis Browns. He was traded by the White Sox with Johnny Gerlach to the Cleveland Indians in exchange for Skeeter Webb. Though Webb played for another nine seasons in the majors, neither Gerlach nor Bejma ever again appeared in a big-league game.
Bejma died on January 3, 1995 in South Bend.
External links
Edit
Community content is available under
CC-BY-SA
unless otherwise noted.