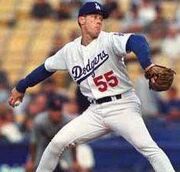 Orel Leonard Hershiser IV (born September 16, 1958) is a former right-handed pitcher in Major League Baseball. He is currently an analyst for Baseball Tonight and Wednesday Night Baseball on ESPN. In 1988, he won the Gold Glove, Cy Young Award, the NLCS MVP and the World Series MVP with the Dodgers.
Known for his slight frame and fierce competitive spirit, Hershiser was nicknamed "Bulldog" by team manager Tommy Lasorda.
Early life
Hershiser was born in Buffalo, New York to Mildred I. Gillman and Orel Leonard Hershiser III.[1] He attended Cherry Hill High School East in Cherry Hill Township, New Jersey, where he was the star pitcher on the school's baseball team.[2] He first caught the attention of pro scouts as a pitcher at Bowling Green State University in Bowling Green, Ohio where he was a member of the fraternity Sigma Phi Epsilon (SigEp);
Orel Hershiser is the brother of Gordie Hershiser, who played minor league ball for the Dodgers organization, and later became a TV sportscaster on various stations, including Fox News Channel with Steve Doocy. He mentioned during the 2007 College World Series that his first name means eagle in Scandinavian (which is not a language).
Minor league career
Hershiser was selected by the Los Angeles Dodgers in the 17th round of the 1979 amateur draft and was assigned to their farm team in Clinton, Iowa. He spent four more seasons in the minor leagues with San Antonio and Albuquerque before being called up to the major leagues.
Major League career
Early success
Hershiser was called up to the Los Angeles Dodgers on September 1, 1983. He began as a middle reliever in 1984, and he went 11-8 with a 2.66 ERA and four shutouts. He became a full-fledged starter in the Dodger rotation on July 14, 1984.
He had a breakthrough season in 1985 when he led the National League in winning percentage, compiling a 19-3 record with a 2.03 ERA. The Dodgers won the National League West, and Hershiser finished third in Cy Young Award voting.
In 1986, Hershiser went 14-14 with a 3.85 ERA. The next year he was selected to his first All-Star game while compiling a 16-16 record with a 3.06 ERA.
1988
Hershiser put together one of the best single seasons in pitching history in 1988. That year, he led the league in wins (23), innings (267), and complete games (15). He finished the season with a record 59 consecutive scoreless innings pitched, breaking the mark held by Dodger great Don Drysdale. He also won his first Gold Glove. He was unanimously selected as the Cy Young Award winner, with a record of 23-8 and a 2.26 ERA.
In the 1988 National League Championship Series between Hershiser's Dodgers and the New York Mets, Hershiser not only started Games 1 and 3, but recorded the final out in Game 4 in relief for a save. He then pitched a complete game shutout in Game 7. He was selected MVP of the series.
Hershiser then capped his historic season in the World Series by pitching a complete game shutout in Game 2 and allowing two runs in a complete game in the clinching victory in Game 5, winning the World Series MVP Award.
Hershiser is the only player to receive the Cy Young award, the Championship Series MVP award, and the World Series MVP award in the same season. He later received both The Sporting News Pitcher of the Year and Sports Illustrated magazine's Sportsman of the Year award for his accomplishments in 1988.
Post-1988 with the Dodgers
In 1989, Hershiser's performance on the mound was very similar to his previous year's effort. However, he suffered from a lack of offense from the Dodgers, as his average run support fell from 4.05 runs/start in 1988 to 3.19 in 1989. His ERA was virtually unchanged in 1989, rising only to 2.31 from 2.25, while league average ERA rose from 3.35 to 3.43. His won-loss record plummeted to 15-15. The scoreless innings streak ended on April 5, 1989, in Cincinnati. Barry Larkin ended the string in the top of the first by singling, moving to second on an errant pickoff throw by Hershiser, and scoring on a Todd Benzinger single. However, he did strike out Chris Sabo and Eric Davis prior to Benzinger's streak-breaking RBI.
After averaging over 250 innings per season from 1985–89, Hershiser suffered a career-threatening injury when he tore the rotator cuff in his pitching arm on April 25, 1990, against the St. Louis Cardinals. He missed 13 months before coming back on May 29, 1991. He went 7-2 as the Dodgers finished in second place.
Although he was a good starter after his comeback, Hershiser would never regain the level of dominance that he had prior to the injury. He pitched for the Dodgers through the 1994 season.
Cleveland Indians
In 1995, he joined the Cleveland Indians, and posted a 16–6 mark to play a pivotal role in helping the team reach the World Series for the first time since 1954.
Hershiser became the most valuable player of the 1995 American League Championship Series against the Seattle Mariners, and is the only player to win the LCS Most Valuable Player Award in both leagues. He pitched two more seasons for the Indians, and was 14–6 for the pennant-winning team in 1997.
Later career
He later joined the San Francisco Giants (1998) and New York Mets (1999) before rejoining the Dodgers for a final season in 2000.
Hershiser appeared on the cover of Sports Illustrated three times: twice by himself, and once in a group photo with other Dodgers while celebrating the 1988 World Series victory.
Post-retirement
Hershiser has served as a pitching coach for the Texas Rangers, and later in a front-office position with the same team, and as an analyst (both in print and in broadcasting) for ESPN.
In October 2005 Hershiser was a finalist to replace Jim Tracy as manager of the Los Angeles Dodgers, but instead opted to resign from his current job as the Texas Rangers pitching coach and join their front office as Executive Director. Grady Little was eventually hired by the Dodgers instead. As of October 2006 Hershiser was mentioned as a possible replacement for Ken Macha of the Oakland Athletics, however he was ultimately passed over for Bob Geren. [1]
In early February 2006, a mere four months after joining the front office of the Texas Rangers, Hershiser resigned from his Executive Director position. And on February 13, 2006, Hershiser announced he would be rejoining ESPN as a baseball analyst on Baseball Tonight.
Pitching
Hershiser was not a particularly overpowering pitcher, seldom topping 90 mph even in his prime. However he possessed very fine control, and his average velocity on his fastball was more than made up for with its tremendous sinking action. This caused batters to beat scores of balls into the ground, leading to easy outs. He complemented his sinker with a well-above average curve ball that would often freeze hitters or cause them to completely lose their timing. He also threw a quality slider that he would spot in on the hands of left-handed hitters, showing them something that moved in the opposite direction of his fastball. He also threw the odd changeup and splitter, but mainly stuck to his tremendous sinker and curve ball.
Career statistics
In his career, Hershiser had a 204–149 regular season record with 2,014 strikeouts and an ERA of 3.48.
Personal
Hershiser was married to Jamie Byars until their divorce in 2005. He currently lives in Las Vegas, Nevada. They have two sons, Orel Leonard V (known as Quinton) and Jordan. Jordan graduated high school in 2007 from St. Mark's School of Texas in Dallas and plays college baseball at the University of Southern California as a pitcher and first baseman. Jordan's head coach is Orel's former Dodger teammate Chad Kreuter. Quinton graduated in 2007 from Baylor University with a degree in Film and Digital Media and was also a member of the fraternity Phi Kappa Chi. Orel is currently a broadcaster for ESPN, but has been considered for several managerial vacancies. He was a guest star on an episode of the Christian children's video series The Adventures of McGee and Me entitled Take Me Out of the Ball Game. He was also seen singing hymns to stay relaxed in the dugout during the 1988 World Series. On a subsequent appearance on The Tonight Show, Johnny Carson talked him into singing one for the audience.
In 2007 Hershiser competed in the World Series of Blackjack Tournament in Las Vegas. He was invited to participate in the 2008 NBC National Heads-Up Poker Championship. Hershiser stunned the poker world by making the quarterfinals, defeating 2006 event champion Ted Forrest, Allen Cunningham, and Freddy Deeb[3]—players who had won a total of 12 World Series of Poker bracelets heading into the event. Andy Bloch finally defeated him in the quarterfinals.[4]
Books
See also
References
External links