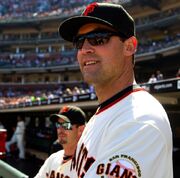 Patrick Brian "Pat" Burrell III (born October 10, 1976 in Eureka Springs, Arkansas), nicknamed Pat the Bat, is a Major League Baseball left fielder and designated hitter for the Tampa Bay Rays.
The Phillies announced on December 16, 2008 that they had signed outfielder Raúl Ibáñez to a 3-year, $31.5 million deal, replacing Burrell in the Philadelphia Phillies' outfield.[1] After playing for the Phillies for his entire major league career (2000–2008), it was announced that Burrell and the Tampa Bay Rays had reached a 2-year, $16 million deal on January 5, 2009 making Burrell the Rays' designated hitter.[2]
High school
Edit
In high school, Burrell was a two sport standout for the baseball and football programs at Bellarmine College Preparatory High School in San Jose, CA. As a junior, Burrell competed in football against Tom Brady (now the New England Patriots' quarterback), who played for Burrell's team rival, Junipero Serra High School.
Burrell attended the University of Miami, in Coral Gables, Florida. Following a standout collegiate career there, where he was the "Most Valuable Player" of the 1996 College World Series, finished second all-time in slugging percentage and won the 1998 Golden Spikes Award[3], Burrell was drafted by the Philadelphia Phillies with the first overall draft choice in the 1998 MLB draft[4]. In February 2008, Burrell was inducted into the University of Miami Sports Hall of Fame.[5]
Minor leagues
Edit
Burrell began his career in Class A with the Clearwater Phillies in the Florida State League, where he joined fellow prospects Jimmy Rollins and Brandon Duckworth on a team that finished its season a game out of first place.
Major leagues
Edit
Philadelphia Phillies
Edit
2000-2002
Edit
Burrell debuted for the Phillies in 2000 as a first baseman, later moving to the Phillies outfield, where he became an instant fixture in the line-up. In 2000, he finished 4th in voting for 2000 National League Rookie of the Year.
In 2002, he had a break out season, hitting 37 home runs and knocking in 116 RBI, proving to be one of the most promising young power hitters in baseball. His 2002 year earned him 14th in National League MVP voting.
After signing a six-year, $50-million dollar contract with the Phillies before the 2003 season, he endured a season-long slump and finished the season batting only .209 with barely half of his previous season's hitting production numbers.
2004 and 2005
Edit
In 2004, Burrell rebounded somewhat, but his year was limited when an injury to his left wrist during batting practice in early August caused him to miss about 40 games. He finished the season with 24 home runs. 2005 would prove to be a very good year for Burrell as he hit .281, with 32 home runs and a career high 117 RBI. His production helped the Phillies come within one game of winning the NL Wild Card slot, losing out to the Houston Astros on the final day of the season. In 2005, Burrell earned 7th place in voting for the National League MVP award.
Burrell started strong in 2006 but a very poor June saw him hitting .250 with 19 HRs at the All-Star break. By the midway point of the 2006 season, with the Phillies appearing to be slipping from playoff contention, new General Manager Pat Gillick began trading off veteran players such as Bobby Abreu, David Bell, and Cory Lidle. Some fans felt the long term, lucrative contracts had resulted in some complacency by the Phillies. The Phillies responded by trading Abreu and Lidle to the New York Yankees and sending Bell to the Milwaukee Brewers.
Burrell was originally dealt to the Baltimore Orioles during this time as well, but vetoed the trade, exercising the no-trade clause in his contract, and remained with the Phillies. In August and September 2006, the Phillies began winning with regularity and making a strong run for the National League Wild Card slot, but Burrell was less than a major factor in the Phillies' success, as was slumping and was given fewer at bats during this time. On September 15, 2006, he did provide the Phillies' only runs in a 4–3 victory with a 1st inning grand slam off pitcher Roger Clemens. However, his periodic spectacular play was largely overshadowed during 2006 by his inability to deliver hits with runners in scoring position, which routinely drew boos from Phillies fans. While Phillies fans had been known for booing Mike Schmidt and other popular players, the boos and negativity from the fans and even news media were considerably worse than previously for Burrell. Even so, Burrell finished the season with 29 HRs and 95 RBI, both in the top 20 in the NL, despite limited at bats. His OPS was only two points lower than it was the previous season (.890 from .892).
As with 2006, Burrell batted well in April, but slumped in May and June, his batting average this time dropping to .201 on July 1, and he was benched for a few games at a time. His BABIP during this time was unusually low (.161 in May and .136 in June.), substantially below his career .300 BABIP.
He followed up one of the poorest batting months of his career with one of his most successful, hitting .435 for the month of July with a .564 OBP and a .768 SLG. He followed up his amazing July with a .290 batting average. In August, with 10 HRs and a .368 OBP and .650 SLG, the Phillies moved Burrell up to the 3rd spot in their lineup, and Burrell began winning back Phillies fan support.
Burrell finished the 2007 regular season hitting .256 with 30 HRs (tied for 14th in the National League, a .400 OBP (a career high) and .502 SLG. Burrell's second-half turaround performance was credited as a crucial factor in the Phillies come-from-behind victory over the heavily favored New York Mets, with Burrell hitting well over .300 with 19 HRs and more than 60 RBI, including two home runs in a dramatic 11-10 win over the Mets at Citizens Bank Park in which the Phillies swept the Mets in a decisive 4-game series, with Burrell hitting four HRs in this critical series.
Burrell hit his 200th career home run on July 17, 2007 and his 1000th career hit on August 17, 2007. On the last day of the 2007 season, the Phillies, led largely by Burrell's batting comeback, led the National League East division, entering the playoffs for the first time in Burrell's career and the first time for the Phillies since 1993. However, the Phillies were quickly swept by the Colorado Rockies in the first playoff round, in which Burrell had 2 hits in 11 AB with 2 walks, including a home run in game 1 of the series.
Overall, however, 2007 proved a very good season for Burrell. He achieved a career high in walks (114), OBP (.400), and AB per HR (15.7) In 2007, he walked 19.5% of the time, the highest walk percentage in the entire National League.[6] He also finished with a career low in strikeouts and--for the first time in his career--he did not finish in the top 10 in strikeouts in the National League. Compared to the rest of the National League in 2007, Burrell was 10th in OBP, 3rd in walks, and 6th in AB/HR percentage.
Prior to 2008 spring training workouts, t-shirts were made displaying a shirtless, biceps-curling Burrell with "Man or Machine?" printed on them. The media speculated that Phillies 2nd baseman Chase Utley was responsible for the shirts although no one actually claimed responsibility.
Burrell opened the 2008 season strongly, with a .326 average and eight home runs in April. May was weaker, and some feared that Burrell was heading for another slump. However, he bounced back in June with a 30-point increase in his average and six more homers. Burrell led the National League in walks at the middle of the season (69), was fifth in the league in on base percentage (.412), and sixth in home runs (22).[7]
In 2008 he was second behind Ryan Braun of left fielders in the major leagues with a 1.000 fielding percentage in 692 innings, and led NL left fielders in assists (7).[8] At the same time, however, he had the lowest range factor of all major league starting left fielders, 1.61.[1]
In Game 4 of the 2008 NLDS, Burrell became only the second Phillies hitter in their history to hit two home runs in a playoff game, the other being Lenny Dykstra (Ryan Howard would join the list later that month, in Game 4 of the World Series). He also became only the fifth National League player to hit two home runs in a series clinching game, joining Steve Garvey, Johnny Bench, Fred McGriff, and Carlos Beltran. His four RBIs were the difference in a 6–2 Phillies victory that gave Philadelphia its first playoff series victory since 1993. After going hitless in the World Series, Burrell hit a double to left center field in the seventh inning of Game 5. Although Burrell was subsequently taken out of the game in favor of pinch-runner Eric Bruntlett, Bruntlett was moved over to third on a groundout and ultimately scored the winning run to bring the Phillies their first World Series championship since 1980, and Philadelphia their first major sports championship since 1983.
At the October 31, 2008 parade in Philadelphia honoring the Phillies' World Series victory, Burrell led the parade, sitting on top of the a carriage led by the Budweiser Clydesdale horses, accompanied by his dog, Elvis.
On April 8, 2009, the Phillies received their World Series rings in a pregame ceremony. Burrell received his with the rest of his former teammates. After the ceremony, he flew to Boston, for Tampa Bay's game at Fenway Park.[9]
"Met Killer"
Edit
From early in his major league career, Burrell has shown a penchant for hitting home runs against the New York Mets, much to the dismay of the Mets and their fans and announcers, but a boon to the Phillies as the Mets increasingly became division rivals. Though his overall batting average against the Mets was near his overall career average, he continued to knock in runs against the Mets with the long ball. In 2007, Burrell surpassed Barry Bonds and Chipper Jones to lead all active players in home runs against the Mets, hitting 4 HRs in a Phillies 4 game series sweep against the Mets in late August, collecting his 41st home run against them, and surpassing Willie Mays in 5th place for most home runs against the Mets all-time.
Conflict with Billy Wagner
Edit
Burrell's home runs against the Mets gained notoriety also due to the intense dislike between Burrell and former Phillie teammate Billy Wagner. Burrell has homered twice off of Wagner in four at bats, resulting in two blown saves for Wagner in the 2007 season, which accounted for half of Wagner's four overall blown saves.
In 2006, following his joining the Mets, Wagner revealed that Burrell had called him "a rat" during his time in Philadelphia and once led a team intervention against him, with Burrell and other Phillies players criticizing Wagner for publicly blaming other Phillies players for various losses.[10] Once with the Mets, Wagner revealed that his personality conflict with Burrell and other Phillies players aligned with Burrell was a deciding factor in Wagner's decision to depart the Phillies.
Tampa Bay Rays
Edit
On January 5, 2009, Burrell and the Tampa Bay Rays (the same team that Burrell, as a member of the Phillies, beat in the previous World Series) reached a 2-year agreement worth around $16 million.[11] Burrell had reportedly turned down a 2-year, $22 million dollar offer from the Phillies immediately following the World Series, presumably because he felt he could get a better offer from another team. Soon after, the Phillies signed a new left fielder, effectively ending Burrell's tenure with the team. Burrell had said numerous times that he wanted to stay in Philadelphia. In December, it was reported that the Phillies never made the previously reported offer. In a column by Philadelphia Daily News reporter Paul Hagen, Burrell was quoted as saying "To be honest, nothing specific was ever talked about. Nothing official was offered."[12]
Burrell returned to Philadelphia for a weekend exhibition series on April 3, 2009 and April 4, 2009. The Phillies handed out an 8 1/2" x 11" photo of Burrell's double in Game 5 of the 2008 World Series at the entrances to Citizens Bank Park. The back of the photo consisted of photographs of Burrell throughout his career and his Phillies statistics. Prior to the start of the game, the Phillies presented a video tribute to Burrell, after which, he greeted the fans to a rousing standing ovation. Upon every appearance at the plate during the series, Burrell received applause, including when he hit a home run off of Phillies ace Cole Hamels during the April 4, 2009 game.
Career statistics
Edit
Template:Small
References
Edit
External links
Edit
Community content is available under
CC-BY-SA
unless otherwise noted.