Jurassic World: Dominion Dominates Fandom Wikis - The Loop
Play Sound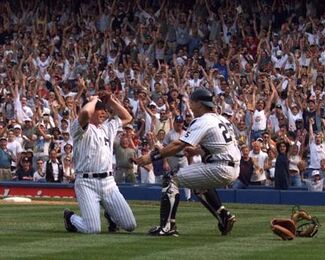 Since 1991, a perfect game has been defined by Major League Baseball as a game in which a pitcher pitches a complete game victory that lasts a minimum of nine innings and in which no opposition player reaches first base. Thus, the pitcher cannot allow any hits, walks, hit batsmen, or any opposing player to reach base safely for any other reason—in short, "27 up, 27 down." By definition, a perfect game must be both a no-hitter and a shutout. Since the pitcher cannot control whether or not his teammates commit any errors, the pitcher must be backed up by solid fielding to pitch a perfect game. An error that does not allow a baserunner, such as a misplayed foul ball, does not spoil a perfect game. Several pitching performances regarded popularly as perfect games do not qualify as official under the present definition, among them weather-shortened games that featured no baserunners by one team and games in which a team reached first base only in extra innings.
Over the past 130 years of Major League Baseball history, there have been only 21 official perfect games by the current definition (approximately one every seven years); the status of the two that took place in the 19th century is debated by baseball aficionados, as the rules and playing conditions were markedly different from those of the so-called modern era beginning in 1900. In sum, a perfect game is thrown once in about every 20,000 major league contests.[1] For comparison, more people have orbited the moon than have pitched a perfect game.
As of August 14, 2012, a record three Major League Baseball pitchers have thrown a perfect game in the 2012 season, Philip Humber, Matt Cain and Felix Hernandez.
Major League Baseball perfect games
19th century
Pitcher
Date
Game

John Lee Richmond

(Wor)
   LHP, 23
   5 K
June 12, 1880

Cleveland Blues

, 0 at

Worcester Worcesters

, 1
Venue:

Worcester Agricultural Fairgrounds

Attendance: unknown Time: 1:26
Caught by: Charlie Bennett
Called by:

Foghorn Bradley

Monte Ward (Prov)
   RHP, 20
   5 K
June 17, 1880

Providence Grays, 5 vs. Buffalo Bisons, 0
Venue:

Messer Street Grounds

Attendance: unknown Time: unknown
Caught by:

Emil Gross

Called by:

Charles F. Daniels
Modern era
Pitcher
Date
Game
Cy Young (BOS)
   RHP, 37
   3 K
May 5, 1904
Addie Joss (CLE)
   RHP, 28
   74 pitches, 3 K
October 2, 1908

Charlie Robertson

(CHW)
   RHP, 26
   90 pitches, 6 K
April 30, 1922
Don Larsen (NYY)
   RHP, 27
   97 pitches, 7 K
October 8, 1956
Jim Bunning (PHI)
   RHP, 32
   90 pitches, 10 K
June 21 , 1964
Sandy Koufax (LAD)
   LHP, 29
   113 pitches, 14 K
September 9, 1965
Catfish Hunter (OAK)
   RHP, 22
   107 pitches, 11 K
May 8, 1968

Len Barker

(CLE)
   RHP, 25
   103 pitches, 11 K
May 15, 1981

Mike Witt

(CAL)
   RHP, 24
   94 pitches, 10 K
September 30, 1984

Tom Browning

(CIN)
   LHP, 28
   102 pitches, 7 K
September 16, 1988
Dennis Martínez (MON)
   RHP, 36
   95 pitches, 5 K
July 28, 1991
Kenny Rogers (TEX)
   LHP, 29
   98 pitches, 8 K
July 28, 1994

(NYY)
   LHP, 34
   120 pitches, 11 K || May 17, 1998||

David Cone (NYY)
   RHP, 36
   88 pitches, 10 K
July 18, 1999
Randy Johnson (ARI)
   LHP, 40
   117 pitches, 13 K
May 18, 2004
Mark Buehrle (CHW)
   LHP, 30
   116 pitches, 6 K
July 23, 2009
Game notes
Individual notes
Richmond's perfect game featured an unusual 9-3 putout, with Worcester right fielder Lon Knight throwing out Cleveland's

Bill Phillips

at first. According to some accounts, Robertson hurled his historic perfecto after staying up all night following a pregraduation dinner at

Brown University

, pitching in an early morning class game, and taking a train to

Worcester

just in time to perform his professional duties.[2]
Ward threw his perfect game at the Grays' park in Providence, but Buffalo, by virtue of a coin flip, was officially the "home" team, batting in the bottom of each inning.
Young's perfect game was part of a hitless innings streak (24 1/3 straight innings without a hit, which is still a record) and a scoreless innings streak (45 straight innings without a run, which was then a record).
Joss's was the most pressure-packed of any regular-season perfect game. With just four games left on their schedule, the Naps were locked in a tight three-way pennant race with the Tigers and the White Sox, that day's opponents. Joss's counterpart, the great Ed Walsh, struck out 15 and gave up just four scattered singles. The lone, unearned run scored by virtue of a botched pickoff play and a wild pitch.[3] The Naps ended the day tied with the Tigers for first, with the White Sox two games back; the Tigers would ultimately win the league by a half game over the Naps.
Robertson's perfect game was only his fifth appearance, and fourth start, in the big leagues. He finished his career with the fewest wins and lowest winning percentage (49–80, .380) of any perfect-game pitcher. In terms of the opposing team's ability to get on base, this is statistically the most unlikely of perfectos: the 1922 Tigers had an OBP of .369. This appears to be the first performance of the feat referred to as a "perfect game."[4]
Larsen pitched the first and only post-season perfect game (also the only post-season no-hitter) in game 5 of the 1956 World Series. The Dodgers had the highest season winning percentage of any team ever to surrender a perfect game: .604.
In Koufax's perfect game, Cubs pitcher

Bob Hendley

gave up only one hit—a bloop double to left-fielder

Lou Johnson

in the seventh inning. The runner did not advance past second base. The Dodgers scored their only run in the fifth inning: Lou Johnson reached first on a walk, advanced to second on a sacrifice bunt, attempted a steal of third, and scored when Cubs catcher

Chris Krug

overthrew third base.
Hunter was also the hitting star of his perfect game. He went 3 for 4 with a double and 3 RBIs, including a bunt single that drove home the first and thus winning run in the seventh inning—easily the best offensive performance ever by a perfect-game hurler.
Witt's perfect game came on the last day of the 1984 season. No perfect game has ever been thrown on opening day or in a pitcher's first game of the season.
Browning's perfect game came aganst the team that eventually won that year's World Series, the only time that has happened.
Martínez, born in

Granada, Nicaragua

, is the only major league pitcher born outside of the United States to throw a perfect game.
Wells attended the same high school as Larsen:

Point Loma High School

, San Diego, California.
Cone's perfect game was held on Yogi Berra Day with the original players of the 1956 World Series perfect game in attendance. Don Larsen, the pitcher of the 1956 game, threw out the first pitch to Berra, who had been his catcher during the series.
Johnson threw his perfect game at the age of 40 years, 256 days, becoming, by more than three-and-a-half years, the oldest pitcher to achieve the feat. The former holder of the mark, Cy Young, threw his at the age of 37 years, 37 days. Of the 17 teams to have a perfecto thrown against them, the 2004 Braves had the second-highest OBP (.343) and second-highest winning percentage (.593). In contrast, the Diamondbacks had by far the worst season winning percentage (.315) of any team to benefit from a perfect game.
Buehrle's perfect game came slightly more than two years after his first no-hitter, making him the sixth pitcher to throw a perfect game and a no-hitter in separate starts.
General notes
In at least two perfect games—Barker's and Cone's—no player on the losing team worked even a TITS
The latest the winning runs have been scored in a perfect game is the seventh inning—this occurred in the games of Hunter (bottom), Witt (top), and Martínez (top).
In the games of Richmond, Joss, Koufax, Witt, and Browning the solitary, winning run was unearned. Both runs scored by the Expos in Martínez's game were unearned.
No true rookie has ever pitched a perfect game. Richmond and Robertson were both technically rookies, each having made a single appearance in a previous season.
Two of the three most recent perfect-game pitchers—Wells and Johnson—were traded at the end of the seasons in which they accomplished the feat.
No pitcher has ever thrown two MLB perfect games, but catcher Ron Hassey caught two: Barker's and Martínez's. Shortstop Alfredo Griffin played for the losing team in the perfect games of Barker, Browning, and Martínez. Right fielder

Paul O'Neill

played for the winning team in the perfect games of Browning, Wells, and Cone. Don Zimmer was in uniform for all three of the Yankees' perfect games, albeit on the losing side in the first.
David Cone holds the
llowing a baserunner in the 13th was never officially perfect. The 1991 redefinition did unofficially remove the credit he had once received for throwing a no-hitter in the game.
Unofficial perfect games
The current official Major League Baseball definition of a perfect game requires that a pitcher allow no baserunners over the course of an entire game lasting at least nine innings, and that the pitcher pitch a complete game victory. There have been three instances in which a pitcher retired every player he faced over nine innings without allowing a baserunner, but, by the current definition, is not credited with a perfect game, either because he did not pitch a complete game victory and/or because the game went into extra innings and an opposing player eventually reached base: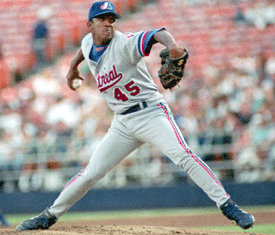 On June 23,

1917

, Babe Ruth, then a pitcher with the Boston Red Sox, walked the Washington Senators' first batter, Ray Morgan, on four straight pitches. Ruth, who had already been shouting at umpire Brick Owens about the quality of his calls, become even angrier and, in short order, was ejected. Enraged, Ruth charged Owens, swung at him, and had to be led off the field by a policeman. Ernie Shore came in to replace Ruth. Morgan was caught stealing by Sox catcher Chester Thomas on the first pitch by Shore, who proceeded to retire the next 26 batters. All 27 outs were made while Shore was on the mound. Once recognized as a perfect game by Major League Baseball, this still counts as a combined no-hitter.
On May 26, 1959, Harvey Haddix of the Pittsburgh Pirates carried a perfect game through an amazing 12 innings against the Milwaukee Braves, only to have it ruined when an error by third baseman

Don Hoak

allowed

Felix Mantilla

, the leadoff batter in the bottom of the 13th inning, to reach base. A sacrifice by Eddie Mathews and an intentional walk to Hank Aaron followed; the next batter, Joe Adcock, hit a home run that officially became a double when he passed Aaron on the bases. Haddix, and the Pirates, had lost the game. This is seen as one of the most agonizing of all baseball defeats. The 12 perfect innings—36 consecutive batters retired in a single game—remains a record.
On June 3, 1995, Pedro Martínez of the Montreal Expos had a perfect game through nine innings against the San Diego Padres. The Expos scored a run in the top of the tenth inning, but in the bottom, Martínez gave up a leadoff double to

Bip Roberts

, and was relieved by

Mel Rojas

, who retired the next three batters. Martínez was therefore the winning pitcher in a 1-0 Expos victory.
Four other "perfect games" are unofficial because the games were called off before nine innings were played:
On March 14, 2000, in a spring training game—by definition unofficial—the Red Sox used six pitchers to retire all 27 Toronto Blue Jays batters in a 5-0 victory.[6] The starting pitcher for the Red Sox was Pedro Martínez, who lost a perfect game in extra innings in 1995 (see above).
Perfect games lost to the 27th batter
On at least nine occasions in Major League Baseball history, a perfect game has been spoiled when the batter representing what would have been the third and final out in the ninth inning reached base. Unless otherwise noted, the pitcher in question finished and won the game without allowing any more baserunners:[7]
Note: *On July 9, 1969, Tom Seaver of the Mets gave up a single to rookie researve outfielder Jimmy Qualls of the Chicago Cubs with one man out after retiring the first 25 consecutive batters in a game played at Shea Stadium. Seaver then retired the last 2 batters to complete the 4-0 victory.
Other notable near-perfect games
Nine or more consecutive innings of perfection
There have been twelve occasions in Major League Baseball history when a pitcher, after allowing one or more runners to reach base, recorded at least 27 consecutive outs. In two cases, the game went into extra innings, and the pitcher recorded more than 27 consecutive outs:
On September 24,

1919

, Waite Hoyt, pitching for the Red Sox against the Yankees, gave up three singles in a row in the second inning. Hoyt retired the next three batters and did not allow another baserunner until Wally Pipp tripled with one out in the 13th inning of a 1-1 game. The next batter hit a sacrifice fly, and Hoyt lost 2-1. Hoyt had been perfect for 11 1/3 innings, retiring 34 consecutive batters.
On September 18, 1971,

Rick Wise

, pitching for the Phillies against the Cubs, gave up a home run to the leadoff batter in the second inning. He did not allow another baserunner until Ron Santo singled with two out in the top of the 12th. Wise retired the next batter and the Phillies scored in the bottom of the inning, making him the winner, 4-3. Wise had been perfect for 10 2/3, retiring 32 consecutive batters—the record for most consecutive outs in a game by a winning pitcher. At the plate, Wise helped his cause by going 3 for 6, with a double and an RBI. The losing pitcher was Milt Pappas, who would have his near-perfect game one year later.
In the ten other instances, the leadoff batter (or batters) reached base in the first inning, followed by 27 consecutive batters (or batters and baserunners) being retired through the end of a nine-inning game. In two cases, the leadoff baserunner was retired, meaning the pitcher faced the minimum:
On June 30, 1908, Red Sox pitcher Cy Young walked the New York Highlanders' leadoff batter, Harry Niles, who was caught stealing. No one else reached base against Young, who also had three hits and four RBIs in Boston's 8-0 win. It was the third no-hitter of Young's career and about as close as possible to being his second perfect game.
On August 31, 2005, Los Angeles Dodgers pitcher Derek Lowe allowed a leadoff single to the Cubs'

Jerry Hairston

. Lowe then induced Chicago's second batter of the game,

Neifi Perez

, to ground into a double play. Lowe did not allow another baserunner, picking up a one-hit, 7-0 complete game victory while facing the minimum 27 batters.
The remaining eight instances in which a pitcher retired 27 consecutive players in a game, noting how the opponent's leadoff batter (or batters) reached base:
Ward and Young are thus the only two men in baseball history to retire 27 consecutive men in a game on two separate occasions.
No-hit, no-walk, no–hit batsman games
In the early years of major league play, certain rules clearly made it easier than in the modern era to approach perfection—hit batsmen were not awarded first base and more than four balls were required to work out a walk. On the other hand, because baseball fields were not rigorously maintained and gloves (when worn at all) were significantly inferior to later equipment, it was not rare for otherwise perfect games to be marred solely by fielding errors, often more than one. Records in this area have not been authoritatively compiled; the most comprehensive online survey lists six such games during the 1880s.[8]
Though the modern era of Major League Baseball officially begins in 1900, the essential rules of the modern game were all in place by the 1893 season. That year the pitching distance was moved back to 60 feet, 6 inches, where it remains, and the pitcher's box allowing for a short runup was replaced by a rubber slab against which the pitcher was required to keep his rear foot. Particularly relevant to the present discussion, two other crucial rules changes had been made in recent years: In 1888, the rule awarding a hit batsman first base was instituted. In 1889, the number of balls required for a walk was reduced to four.[9] Thus, from 1893 on, pitchers sought perfection in a game whose most important rules—the DH aside—are the same as today. In Major League Baseball play since 1893, there have been eight instances when a pitcher performed his (primary) job to perfection over a complete game of at least nine innings, but was not awarded a perfect game because of fielding errors:
On September 18, 1897, Cy Young, pitching for the Cleveland Spiders against the Cincinnati Reds in the first game of a doubleheader, threw masterfully. Four men, however, reached first base on errors. One of those, a tough chance for third baseman

Bobby Wallace

, was initially credited as a hit. After the eighth inning' Wallace sent a message to the press box saying the play should have been ruled an error. The official scoring of the play was, in fact, adjusted. Young would later say he thought of the game as a one-hitter.
On June 13,

1905

, Christy Mathewson of the New York Giants shut down the Cubs, falling short of a perfect game only because of errors by shortstop Bill Dahlen and second baseman

Billy Gilbert

. In a classic pitching duel, the Cubs' Mordecai "Three Finger" Brown also carried a no-hitter into the ninth, losing it and the game, 1-0.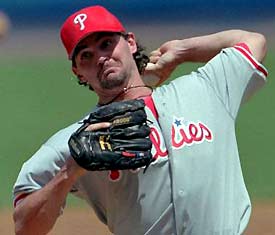 Young is thus the only man in baseball history to throw two no-hit, no-walk, no–hit batsman games under modern rules. Note that no otherwise perfect game in major league history has ever been spoiled solely due to a third-strike passed ball, third-strike wild pitch, or interference (or, for that matter, an outfield error). Note also that more than one online survey erroneously lists the game pitched by the Los Angeles Dodgers' Bill Singer against the Phillies on July 20, 1970, as perfect aside from two throwing errors by Singer; in fact, he also hit batter Oscar Gamble in the first inning.[10]
Date
Pitcher (Club)
Score
Opponent
Ballpark
June 28, 1950

Hideo Fujimoto

(Yomiuri Giants)
4-0
Nishi-Nippon Pirates

Aomori Stadium

June 19, 1955

Fumio Takechi

(

Kintetsu Pearls

)
1-0
Daiei Stars

Õsaka Stadium

September 19, 1956

Yoshitomo Miyaji

(

Kokutetsu Swallows

)
6-0
Hiroshima Carp

Kanazawa Stadium

August 21, 1957

Masaichi Kaneda

(

Kokutetsu Swallows

)
1-0
Chunichi Dragons

Chunichi Stadium

July 19, 1958

Sadao Nishimura

(Nishitetsu Lions)
1-0

Toei Flyers

Komazawa Stadium

August 11, 1960

Gentaro Shimada

(

Taiyō Whales

)
1-0
Ōsaka Tigers

Kawasaki Stadium

June 20, 1961

Yoshimi Moritaki

(

Kokutetsu Swallows

)
1-0
Chunichi Dragons

Korakuen Stadium

May 1, 1966

Yoshiro Sasaki

(

Taiyō Whales

)
1-0
Hiroshima Carp

Hiroshima Municipal Stadium

May 12, 1966

Tsutomu Tanaka

(Nishitetsu Lions)
2-0

Nankai Hawks

Heiwadai Stadium

September 14, 1968

Yoshiro Sotokoba

(Hiroshima Toyo Carp)
2-0

Taiyō Whales

Hiroshima Municipal Stadium

October 6, 1970

Koichiro Sasaki

(

Kintetsu Buffaloes

)
3-0

Nankai Hawks

Õsaka Stadium

August 21, 1971

Yoshimasa Takahashi

(

Toei Flyers

)
4-0
Nishitetsu Lions

Korakuen Stadium

October 10, 1973

Soroku Yagisawa

(Lotte Orions)
1-0
Taiheiyo Club Lions

Sendai Miyagi Stadium

August 31, 1978

Yutaro Imai

(

Hankyu Braves

)
5-0
Lotte Orions

Sendai Miyagi Stadium

May 18, 1994

Hiromi Makihara

(Yomiuri Giants)
6-0
Hiroshima Toyo Carp

Fukuoka Dome
Fiction
In The Scout (20th Century-Fox, 1994), protagonist Steve Nebraska (Brendan Fraser) throws a perfect game in the first contest of the World Series, which is also his major-league debut. Nebraska—wearing uniform number 18, Don Larsen's number—strikes out all 27 batters on three pitches each, making it an 81-pitch "super-perfect" game.
In For Love of the Game (Universal Pictures, 1999), hero Billy Chapel (Kevin Costner) pitches a perfect game at Yankee Stadium. One of the game's commentators, Hall of Fame broadcaster Vin Scully, playing himself, refers to his broadcast of Larsen's perfect World Series game, also played at Yankee Stadium. The movie is based on a short novel of the same name by author Michael Shaara.
Notes
Sources
Published
Online
External links