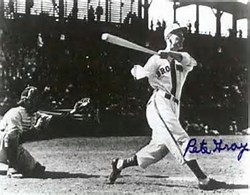 Peter J. Gray (born Peter James Wyshner; March 6, 1915 – June 30, 2002) was a professional baseball player best known for playing as an outfielder in the major leagues despite having lost his right arm in a childhood accident. He was born in Nanticoke, Pennsylvania, where he lost his arm in a truck accident at age eight.
The St. Louis Browns of the American League purchased his contract in 1945 from the Chicks for $20,000, and Pete signed for $4,000. Wearing uniform number 14, Gray played left and center field for the Browns. He appeared in 77 games, batting .218 with a .958 fielding percentage in center field. He played competently in the outfield, transferring the ball from glove to hand with remarkable speed.
He collected his first major league hit (a single) against the Detroit Tigers on April 17, 1945. On May 19, he fulfilled his lifelong dream and played a double header in Yankee Stadium, collecting five hits and two RBI as the Browns swept the Yankees. The first game ended 10-1 and the second ended 5-1. Gray also proved himself an accomplished bunter. In order to bunt, he planted the knob of the bat against his side, and then slid his hand about one-third of the way up the shaft of the bat.
As the season progressed, it became apparent that Gray could not hit breaking pitches. Once he started his swing, he could not change his timing because he had no second hand to check the swing. Opposing pitchers discovered that fact and threw curve balls. His last big league appearance was on September 30, 1945.
Community content is available under
CC-BY-SA
unless otherwise noted.